Requiem
Volume CX, No. 3
March, 2010
Robert B. Ayers
Robert B. Ayers, 69, a percussionist and an 802 member since 1961, died on Jan. 14.
Mr. Ayers was a graduate of Juilliard and also owned and operated Ayers Percussion in New York City for over 20 years. Besides playing on Broadway, Mr. Ayers was a freelance percussionist and performed with the Goldman Band, New Jersey Symphony, National Ballet of Canada, Bolshoi Ballet, American Symphony Orchestra, American Ballet Theatre, Milwaukee Symphony and Baltimore Symphony among others.
He was also a licensed pilot, an avid outdoorsman and took great joy in motorcycle riding.
Mr. Ayers is survived by his mother Clara, brother Tom, wife Doreen, son Stuart, son Glen, daughter-in-law Heather and grandchildren Katie, Michael and Donna,
The family suggest that gifts be made to the American Cancer Society regional office in Parsippany, New Jersey. Call (973) 331-9300 and press option 2.
See the Musicians' Voice this issue for two letters in tribute to Mr. Ayers.
Obituary edited from the New Jersey Herald.
---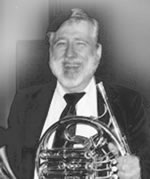 Stephen Christen
Stephen Christen, 67, a French hornist and a Local 802 member since 1970, died on Dec. 20.
Raised in New Jersey, Mr. Christen was already gigging by the age of 13, playing club dates on trumpet. He earned a B.A. at Montclair State College in music education.
Mr. Christen soon found a job teaching music at Memorial High School in West New York, New Jersey, while also playing with the New Jersey Symphony Orchestra. He left full-time teaching to earn his master's degree at the Manhattan School of Music. Later, Mr. Christen won a position as adjunct instructor of horn at Wagner College in Staten Island, where he taught for 15 years while maintaining a busy freelance schedule.
Mr. Christen performed with the Staten Island Symphony, Hudson Symphony, St. Patrick's Church in Jersey City, the orchestra and band at New Jersey City University, Sound Tapestry of Hoboken, Riverside Brass Quintet, Wagner College Collegium, SIMS Band, Orchestra of St. Peter-By-The-Sea, Metro Lyric Opera, Imperial Brass Band and the Richmond County Orchestra, with which he soloed on the Haydn Concerto No. 1 in D. He also wrote transcriptions and arrangements for various groups and individuals, including many professional brass and woodwind quintets.
Mr. Christen is survived by his brother Gary, sister-in-law Ann, nieces Renata, Miranda and Regina, and many cousins and other extended family.
---
Jane Jarvis
Jane Jarvis, 94, a jazz pianist, composer, and baseball stadium organist, died on Jan. 25. She had been an 802 member since 1962.
By the time she had finished high school, Ms. Jarvis was already considered a piano prodigy. She soon entered show business on a local TV station in Milwaukee, hosting a show called "Jivin' with Jarvis" while serving as staff pianist and organist. At the time, the Milwaukee Braves had just relocated from Boston and sought out Ms. Jarvis to be the organist at Milwaukee County Stadium. She stayed with the Braves for eight seasons and then headed to New York City, where she took a position with the Muzak Corporation as a staff composer and arranger. She would rise to become a corporate vice president and its director of recording and programming. As a member of ASCAP, she had over 300 compositions to her credit at the time of her death.
In 1964, she was hired by the New York Mets to play the organ at Shea Stadium. She is remembered at Shea for playing the Mets's theme song, "Meet the Mets," as the team took the field before every game, as well as for her renditions of the Mexican Hat Dance during the seventh-inning stretch.
Ms. Jarvis later became a fixture at New York nightclubs, frequently playing alongside bassist Milt Hinton or collaborating with trombonist Benny Powell and bassist Earl May. She helped found the Statesmen of Jazz, a group of jazz musicians aged 65 and older.
Ms. Jarvis is survived by her son Brian, daughter Jeanne and several grandchildren and great-grandchildren.
Edited from Wikipedia.
---
Hal Miles
Hal Miles, 85, a music copyist and saxophonist and a member of Local 802 since 1946, died on Jan. 15.
He served in the Army during World War II and saw action in Europe as a gunner on a halftrack. From 1946 to 1955, he played saxophone with Johnny Morris, Sonny Dunham, Vincent Lopez, Russ Morgan, Jerry Wald, Buddy Morrow, Tex Beneke, Charlie Barnet, Tito Rodriguez and others. During his career as a sideman, Mr. Miles played the Paramount, the Strand and the Apollo Theatres among other venus.
He segued into music preparation in 1954. Mr. Miles's craft as a music copyist was highly respected throughout the business. He also served as an orchestra contractor in the recording field, working with such artists as Barbra Streisand, Quincy Jones, Nat Cole, Liza Minelli, Ray Ellis, Billie Holiday, Jerry Vale, Lena Horne, Claus Ogerman and O.B. Masingill, among others.
Mr. Miles served as the first secretary of the American Society of Music Copyists and remained a lifelong member.
His wife of 48 years, Helen, a Broadway performer and studio singer, died in 2007. He is survived by his son Randy, daughter Jenna and six grandchildren.
---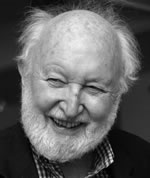 Bob Thompson
Bob Thompson, 83, a drummer and a Local 802 member since 1950, died on Jan. 13.
After serving in the Navy and working as a chemist, Dr. Thompson earned his Ph.D. in experimental psychology from Columbia University in 1959, where he began teaching in 1957. He became associate professor at Hunter College in 1964, establishing the biopsychology program there and heading it for many years during his long and distinguished academic career.
At the same time, Dr. Thompson was an accomplished jazz musician, playing drums with what Allegro called "some of the greatest jazz performers of the 20th century" in an April 2008 profile. He led the Red Onion Jazz Band, a New Orleans style jazz band founded in the early 1950's, for over 50 years. For almost two decades the band was featured on Saturday nights at the Cajun in Chelsea.
Dr. Thompson was a founding member of the Society for Neuroscience, and an active member of the New York Academy of Sciences and its psychology section. He co-edited the Academy volumes The Self Across Psychology and Psychology: Perspectives and Practice. His early research was on the experimental analysis of learned behavior in various animal species; his later work focused on self-awareness and self-conception in monkeys and chimpanzees.
Dr. Thompson is survived by Virginia Held, his partner of 30 years, as well as her children, their spouses, and her grandchildren to whom he was always "Grandpa Robert." He also leaves behind his stepdaughter Elyn MacInnis, her husband, and their daughters, who will miss their "Grandba."
We also remember . . .
Helen Baldwin, piano
Edward Crockett, bass
Harold Keinz, saxophone
To report the death of a member, please call Tamea Dunn at (212) 245-4802. Be sure to ask about any possible refund of Local 802 membership dues. Spouses of deceased members should also call the AFM Pension Fund at (800) 833-8065, ext. 1311, to ask about any possible benefits. To submit an obituary to Allegro, e-mail Allegro editor Mikael Elsila at Allegro@Local802afm.org or call (646) 765-9663.