Requiem
Volume CX, No. 6
June, 2010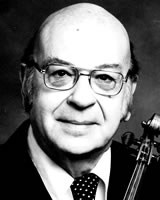 Herbert Baumel
Herbert Baumel, 90, a violinist and a member of Local 802 since 1946 died on April 22.
Mr. Baumel was a longtime, close friend of Leonard Bernstein. He performed under the baton of Leopold Stokowski, Igor Stravinsky, Aaron Copland and Benny Goodman.
He soloed with the New York City Ballet, working closely with George Balanchine and Jerome Robbins. His sonorous tones accompanied music icons Edith Piaf, Arthur Rubenstein and Tallulah Bankhead.
In 1964, Mr. Baumel became concertmaster for the eight-year run of "Fiddler on the Roof." His resonant violin mimicked by the rooftop Tevye (played by Zero Mostel and Herschel Bernardi) is on the original cast recording. He was also concertmaster of the original Broadway productions of "Fiorello!" (1959) and "She Loves Me" (1963).
Mr. Baumel was concertmaster with the Fort Wayne Philharmonic in Indiana from 1945 to 1948, the New York City Opera Company in 1948 and the Orquesta Sinfonica Venezuela in Caracas (1949 to 1950).
In 1965, Mr. Baumel taught at Oregon State University, heading up the faculty string quartet and leading the school's orchestra.
Mr. Baumel formed the interracial Baumel-Booth-Smith Trio with pianist Alan Booth and cellist Patrick Smith. In the wake of the civil rights movement, the group toured the South in 1969.
In the 1970's Mr. Baumel returned to Broadway, leading pit orchestras in productions of "A Little Night Music," and "Dancin."
Mr. Baumel is survived by his wife Joan, daughter Susan, son Samuel, brother Rey, former wife Rachel Bail, and grandchildren Ely, Elizabeth and Jessica.
---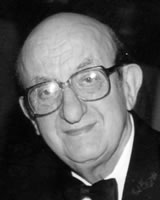 Michael Bloom
Michael Bloom, 84, a violist and a member of Local 802 since 1943, died on April 9.
His long career included the position of principal viola of both the Kansas City Philharmonic and the Stadt Orchestra of Lucerne, Switzerland. He played in the Pittsburgh Symphony for four years under Fritz Reiner.
Mr. Bloom performed with the Queens Symphony, Long Island Philharmonic, Grand Opera of New York and the Leonia Chamber Musicians. He also played with the Washington D.C. Symphony, Denver Symphony, Knickerbocker Chamber Players, New York City Opera, Little Orchestra Society, Paul Taylor and the Martha Graham Dance Company.
With his wife, Barbara Long, he performed duo concerts in major halls in Amsterdam and Berlin. A tour sponsored by the U.S State Department took them both to nine countries of the Far East with the Lyrica Quartet.
As a certified Suzuki violin teacher, Mr. Bloom taught at Rockland Community College, Summit Middle School in New Jersey, and in the New York City schools
He is survived by his wife Barbara Long, son David, brother-in-law Dr. Jules Ladenheim, sister and brother-in-law Dr. and Mrs. Al Globus of California, and 12 nieces and nephews.
The family suggests that contributions in Mr. Bloom's memory be sent to the Jewish Association for Developmental Disabilities in Hackensack, New Jersy. See www.j-add.org.
---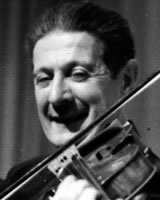 Joseph Cuviello
Joseph M. Cuviello, 103, a member of Local 802 since 1970, died on May 2. He was a violinist, violinist, bassist and mandolin player.
Mr. Cuviello was a violist with the New Jersey Symphony Orchestra and the Bergen Philharmonic and also played club dates on the side. He held both a bachelor's and master's degree in history from New York University, taught music in the New Jersey public school system, and, by the end of his teaching career, was chair of the History Department of Memorial High School in West New York, New Jersey.
In 1940, he began a hiatus from music and teaching in order to serve in the Army. He began his service as a quartermaster officer and eventually became commander of the 4177th Service Company, Third Army Engineers. He participated in all of Gen. Patton's Third Army's campaigns from July 1944 until the end of the war in 1945. Mr. Cuviello landed in Normandy with the Army and was there for all movements in Europe including the Battle of the Bulge and the occupation of Germany. He was discharged from active duty in 1946 and remained in the reserves until his retirement in 1962.
Mr. Cuviello was active with Local 802's Senior Musicians Orchestra for many years, served on its board, and played with the orchestra until the age of 93.
He is survived by his son James; daughter-in-law Carolyn; grandsons Jonathan and Matthew; great-grandchildren Carson, Robert, Austin, Grace, Megan, Caleigh and Connor; and numerous nieces and nephews.
See also a letter in tribute to his father from Mr. Cuviello's son James in Musicians' Voice.
---
Jesse Drakes
Jesse Drakes, 85, a trumpeter and a member of Local 802 since 1943, was found dead in his apartment in early May.
Mr. Drakes hung out at Minton's Playhouse in his youth, and attended Juilliard in the 1940's. Soon after, he played with Al Cooper's Savoy Sultans, Sid Catlett, J.C. Heard, Eddie Heywood, Deke Watson, and Sarah Vaughan. He may be best known for his extensive work with Lester Young; the pair collaborated on and off between 1948 and 1956. Mr. Drakes also played with Harry Belafonte, Gene Ammons, Sonny Stitt, Louie Bellson and Duke Ellington.
In the 1950's and 1960's, he played less jazz and more R&B. He toured with King Curtis, played at the Motown studios and performed with the Ray Charles Band.
Starting in 1969, he was based in New York, leading dance ensembles and singing.
He is survived by his son Charles and cousin Robert.
Obituary from Wikipedia.
---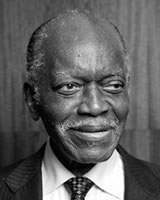 Hank Jones
Hank Jones, 91, the jazz pianist, died on May 16. He had been a Local 802 member since 1946.
One of seven children, Mr. Jones was raised in a musical family. His mother sang; his two older sisters studied piano; and his younger brothers – Thad and Elvin – became two of the most influential musicians in jazz.
In 1944, Mr. Jones met Lucky Thompson, who invited him to work in New York City at the Onyx Club with Hot Lips Page.
In New York, Mr. Jones also worked with John Kirby, Howard McGhee, Coleman Hawkins, Andy Kirk, and Billy Eckstine. In 1947, he began touring in Norman Granz's "Jazz at the Philharmonic" ensemble, and from 1948 to 1953 he was accompanist for Ella Fitzgerald. He also recorded with Charlie Parker.
Engagements with Artie Shaw and Benny Goodman followed, and recordings with artists such as Lester Young, Cannonball Adderley, and Wes Montgomery. From 1959 through 1975 Jones was staff pianist for CBS studios.
In 1989, The National Endowment for the Arts honored Hank Jones with its highest honor in jazz, the NEA Jazz Masters Award. In 2008, he was awarded the National Medal of Arts.
At the age of 87, he performed at the Monterey Jazz Festival with both jazz singer Roberta Gambarini and the Oscar Peterson Trio.
Mr. Jones's career was too rich to summarize in this small space. For more background, see www.OfficialHankJones.com.
Mr. Jones is survived by his wife Theodosia and several nieces and nephews.
Obituary from Wikipedia
---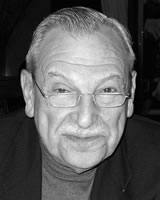 Walter Sear
Walter Sear, 80, a keyboardist, composer, audio engineer and tuba player, died on April 29. He had been a member of Local 802 since 1954.
Mr. Sear was the owner of Sear Sound, a studio highly in demand for its collection of analog recording equipment.
Among the musicians who recorded there were Norah Jones, Wynton Marsalis, Steely Dan, Wilco, Lou Reed, Joanna Newsom, Bjork and Bono. David Evans (a/k/a "The Edge") of the band U2 was recently there working on music for the Broadway musical "Spider-Man: Turn Off the Dark." Sonic Youth mixed its 2006 album "Rather Ripped" there.
Mr. Sear graduated in 1951 from the Curtis Institute of Music. After performing in orchestras as a tubist, he invented a new form of valve for the tuba and had a Belgian factory manufacture the new tubas for him to sell.
The New York Times wrote that Sear Sound opened in 1970 in the Paramount Hotel on West 46th Street and in 1990 moved to its current location on 48th Street, a space that had once been used by another famous studio, the Hit Factory. Mr. Sear built much of the studio himself, and over the decades acquired a trove of analog gear, including decommissioned tape machines from Abbey Road Studios in London that had once been used by the Beatles. Mr. Sear maintained all the equipment and was a regular sight at the studio until March, when he fell on his way home from work.
Mr. Sear is survived by his wife Edith, daughters Shana and Julia, son-in-law James, and grandchildren Adam, Maggie and Christopher.
Edited from the New York Times.
We also remember . . .
Bob Emry, drums
Abram B. Kaptsan, violin
Bert Kosow, saxophone
Jerry Ross, piano
David Shapiro, piano
Hale Smith, piano
Joseph G. Welch, vibraphone
To report the death of a member, please call Tamea Dunn at (212) 245-4802. Be sure to ask about any possible refund of Local 802 membership dues. Spouses of deceased members should also call the AFM Pension Fund at (800) 833-8065, ext. 1311, to ask about any possible benefits. To submit an obituary to Allegro, e-mail Allegro editor Mikael Elsila at Allegro@Local802afm.org or call (646) 765-9663.