Requiem
Volume 111, No. 3
March, 2011
Helena Mary Kaprielian
Helena Mary Kaprielian, 83, a pianist and organist and a Local 802 member since 1951, died last year, on July 30, 2010.
Ms. Kaprielian graduated from Fresno (Calif.) State University with a bachelor's degree in music and went on to two years of graduate piano studies at Juilliard. In 1976, she earned a master's degree in divinity from the Pacific School of Religion in Berkeley.
Early in her career, Ms. Kaprielian responded to an advertisement in which the Manhattan Savings Bank on Madison Avenue in New York City was seeking a pianist to entertain customers in the lobby of the bank for two weeks during the holiday season. Her music attracted new customers and as a result, she continued as the bank's pianist for 13 years. She was also the pianist with various ensembles that performed at the Town Hall and the Carnegie Recital Hall. Additionally, Ms. Kaprielian was a soloist and accompanist for a Columbia Artists Male Quartet for five concert seasons, touring the U.S., Puerto Rico, and Canada.
After returning to Fresno, she was briefly engaged in youth work at the Pilgrim Armenian Congregational Church. Returning to her love of music, Ms. Kaprielian served for many years as a church and synagogue organist and pianist. Additionally, she served at the California Opera Association and the Fresno Grand Opera as the choral preparation accompanist.
Ms. Kaprielian is survived by her brother Elmer and his wife Gloria. She is also survived by nieces, nephews and cousins.
The family suggests that donations be made to the music program at St. John's Cathedral in Fresno, Calif. (call 559-485-6210), or to the the American Cancer Society or the charity of your choice.
From the Fresno Bee
---
Harold Seletsky
Harold Seletsky, 83, a clarinetist and composer and a Local 802 member since 1945, died on Dec. 28. Mr. Seletsky attended the High School of Performing Arts and later studied theory and composition with Josef Schmid, a prize pupil of Alban Berg. He went on to compose music for films, commercials, opera and ballet, and has written jazz and Yiddish songs
Mr. Seletsky's award-winning scores for commercials include those for Eastern Airlines, Air France, Chevrolet and U.S. Steel. As an instrumentalist, he was a member of the Houston Symphony under Leopold Stokowski, appeared on stage in the Broadway production of "Rags" and was the leader of the West End Klezmorim. He took great pride in his composition studio, which included some of the most accomplished jazz musicians in the city. Mr. Seletsky is survived by his daughter Susan and daughter Robin, who is also a clarinetist.
---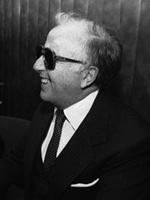 George Shearing
George Shearing, 91, the jazz pianist and a Local 802 member since 1947, died on Feb. 14.
Mr. Shearing, blind since birth, was already popular in his native England before moving to the U.S. in 1947. The George Shearing Quintet's first big hit came in 1949 with a version of songwriter Harry Warren's "September in the Rain."
In a 1987 Associated Press interview, Shearing said the ingredients for a great performance were "a good audience, a good piano, and a good physical feeling, which is not available to every soul, every day of everyone's life. Your intent, then, is to speak to your audience in a language you know, to try to communicate in a way that will bring to them as good a feeling as you have yourself."
Shearing's bebop-influenced sound became identified with a quintet – piano, vibes, guitar, bass and drums – which he put together in 1949. More recently, he played mostly solo or with only a bassist. The luminaries with whom Shearing worked over the years included Tito Puente, Nancy Wilson, Nat "King" Cole, Mel Torme, Marian McPartland, the Boston Pops, Peggy Lee, Billy Taylor, Don Thompson, Stephane Grappelli and Sarah Vaughan.
Mr. Shearing wrote the jazz standard "Lullaby of Birdland" in 1952.
"I'm not sure that technique and improvisational abilities improve with age," the pianist said. "I think what improves is your sense of judgment, of maturity. I think you become a much better editor of your own material."
During World War II, the young pianist teamed with Stephane Grappelli, the French jazz violinist, who spent the war years in London. Grappelli recalled to writer Leonard Feather in 1976 that he and Shearing would "play during air raids. Was not very amusing."
Mr. Shearing is survived by his wife Ellie Geffert and daughter Wendy.
Edited from the AP obituary.
---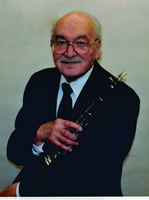 Herbert Tichman
Herbert Tichman, 88, a clarinetist and a Local 802 member since 1946, died last Oct. 31.
Mr. Tichman was one of the few clarinettists of his generation to devote his career almost exclusively to chamber music. He founded the Berkshire Chamber Players as well as the Tichman Trio and the Tichman/Budnevich Duo. These ensembles recorded repertoire by Beethoven, Brahms, Bartok, Reger, Schubert, Milhaud, and Stravinsky for the Concert Guild label. He was also a longtime faculty member of the Manhattan School of Music.
Mr. Tichman graduated from Juilliard at the top of his class. With his wife, pianist Ruth Budnevich, he studied the chamber music repertoire under the guidance of Edward Steuermann, the "house pianist" of Arnold Schönberg and his circle, an association that became a close friendship and lasted until Steuermann´s death in 1964. This was the beginning of his deep involvement with contemporary music. Tichman earned a master´s degree in composition from Queens College, where he worked with Robert Starer and Hugo Weisgall.
During the early days of television, he composed music and played for a series of TV plays on ABC that illustrated the workings and activities of the Federation of Jewish Philanthropies. Many great theatre actors participated in this series, including Lee J. Cobb, Eli Wallach and Anne Jackson. Later in his career he commissioned compositions from Pulitzer Prize-winning composers Yehudi Wyner and Henry Brant, which he performed in the United States, in Europe and in Asia.
Mr. Tichman was said to be the first clarinetist to present a solo recital in New York City.
He is survived by his daughters Nina, Nomi and Nadya, who is the associate concertmaster with the San Fransisco Symphony. He is also survived by his grandchildren David and Fanya.
---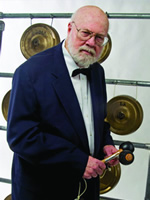 Howard Van Hyning
Howard Van Hyning, 74, a percussionist and a Local 802 member since 1957, died last Oct. 30.
Mr. Van Hyning was playing the drums professionally by the time he was a teenager. After earning bachelor's and master's degrees from Juilliard, he won a position with the Baltimore Symphony before joining New York City Opera in 1966.
He spent 40 years with City Opera before retiring in 2006 because of Parkinson's disease. At his retirement, he was the company's principal percussionist; he was also a longtime faculty member of Mannes College.
Mr. Van Hyning was also a collector who amassed a trove of vintage percussion instruments that he rented to orchestras worldwide. Comprising more than 1,000 items, his collection includes a snare drum built by Billy Gladstone, a highly regarded Radio City Music Hall drummer of the 1930's and 40's. The collection's crown jewel is a rare set of gongs constructed for Puccini's "Turandot."
These gongs were special. When struck, a traditional Chinese gong – properly called a tam-tam – produces a shuddering "whump" of indefinite pitch. But when Puccini was writing "Turandot," the tale of a Chinese princess, he envisioned a whole family of gongs, each tuned to a specific pitch, that could lift their brass voices in song. He commissioned the Tronci family, an Italian cymbal-making dynasty, to build a graduated set of 13. Mr. Van Hyning later acquired them and played them in concerts of Puccini's music. The gongs are expected to continue to be used by opera companies around the country.
Mr. Van Hyning's recordings include "Ancient Voices of Children," George Crumb's song cycle for voices and chamber ensemble, for the Nonesuch label.
He is survived by his wife Marlene, son Kirk, daughter Victoria and sister Shirley.
Edited from the New York Times obituary for Mr. Van Hyning written by Margalit Fox.
---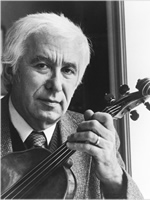 Emanuel Vardi
Emanuel Vardi, 95, a violist and a Local 802 member since 1936, died on Jan. 29.
At age 6, Mr. Vardi had already made his recital debut on the piano at Aeolian Hall, on West 42nd Street in Manhattan. The New York Evening Mail called him a young pianist to watch.
He entered the Institute of Musical Art, a forerunner of Juilliard, as a violin student at 12, and studied there until he was about 20. Soon after, he took up the viola and won a spot in the NBC Symphony Orchestra under Arturo Toscanini. He made his solo recital debut in February 1941 at Town Hall to glowing notices. During World War II he was a soloist with the United States Navy Symphony Orchestra.
Critics praised Mr. Vardi's virtuosic technique, masterly control of color and tone, and willingness to perform music by 20th-century composers, a circumstance born partly of necessity, as the viola has suffered historically from a dearth of solo repertory.
To this problem Mr. Vardi brought a four-pronged approach. First, he adapted violin and cello literature for his instrument, a time-honored strategy by which violists have added arrows to their quivers. An especially noteworthy achievement was his recording in the 1960s of Paganini's 24 caprices for solo violin.
Second, he haunted archives in search of forgotten compositions – unearthing, for instance, a sonata by Alessandro Rolla (1757-1841), Paganini's teacher and a composer of many works for viola.
Third, he solicited new music from contemporary composers, giving premieres of pieces by Henry Brant, Michael Colgrass, Alan Hovhaness, Alan Shulman and others.
Finally, he composed solo viola works, among them "Fantasy Variations on a Theme of Paganini."
Partly through Mr. Vardi's efforts, the viola emerged from the shadows, with solo recitals now a routine feature of classical concert programming.
He is survived by his wife Lenore and daughters Andrea and Pauline.
Edited from the New York Times obituary for Mr. Vardi written by Margalit Fox.