Requiem
Volume 112, No. 12
December, 2012
Stanley Hunte
Stanley G. Hunte, 81, a violinist and a member of Local 802 since
1974, died on Oct. 22.
Mr. Hunte studied at the High School of Music and Art and later at
Juilliard and Queens College. His violin teachers included Clarence Cameron
White and Sanford Allen.
After enlisting in the Army and serving in Korea, Mr. Hunte joined
the New York City Police Department in 1957, where he enjoyed a 27-year career.
It was only after he retired from the police force, at the age of 46, that he
began his dream job as a professional violinist, eventually becoming the music
contractor for many of Spike Lee's films, including "Do the Right
Thing," "Malcolm X," "Crooklyn," and "Jungle
Fever."
Mr. Hunte also played in groups that backed up Frank Sinatra,
Stevie Wonder, Aretha Franklin, Ray Charles, Luther Vandross, Alicia Keys and
Johnny Mathis. He performed on Broadway and in a number of ensembles, including
the the Tulsa Symphony Orchestra, where he played first violin. He performed
with the Westbury Music Fair Orchestra, the Housing Authority Orchestra, the
Antara Ensemble, Harlem Philharmonic, Symphony of the New World, the Dance
Theatre of Harlem Orchestra and the Alaria Chamber Music Program at the Mannes
School of Music.
Mr. Hunte taught at the Spring Creek Youth Symphony of Starrett
City, Brooklyn, from 1993 to 2012.
He is survived by his son Alan, daughter-in-law Roylene, grandsons
AJ, Kyle and Chad and many more relatives and friends.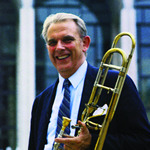 John W. Swallow
John W. Swallow, 88, a trombonist and a Local 802 member since
1946, died on Oct. 20.
A member of the acclaimed New York Brass Quintet for more than 25
years, Mr. Swallow was considered one of the most important trombone performers
and teachers in the United States. He enjoyed performance associations with the
Utah Symphony under the direction of Maurice Abravanel and the Chicago Symphony
under Fritz Reiner. He was principal trombonist with the New York City Ballet
Orchestra for over 40 years and was a member of groups such as Gunther Schuller's
Twentieth Century Innovations and Arthur Weisberg's Contemporary Chamber
Ensemble.
Mr. Swallow, who studied trombone at Juilliard, served as professor
of music at the Yale School of Music, where he was head of the brass department
for many years. He also taught at the New England Conservatory of Music, Hartt
School of Music and the Manhattan School of Music. During World War II, Mr.
Swallow served in the Army Band in Washington, D.C. where he played for Franklin
D. Roosevelt's funeral and the return home of Dwight D. Eisenhower.
Mr. Swallow was responsible for several contemporary music
commissions such as "Eine Kleine Posaunenmusik" by Gunther Schuller,
"Elegy" by Joan Tower and "Sonata for Trombone and Piano" by
Alec Wilder.
He was the subject of a doctoral thesis by Brett Shuster,
"John Swallow: A Study of his Life and Influence in the Trombone
World" (Arizona State University, 2002).
Mr. Swallow is survived by his wife Myra, children Eric, Geoffrey
and Heather, stepsons Andrew and Christopher and 12 grandchildren.
The family suggests that contributions be made to one or more of
the following: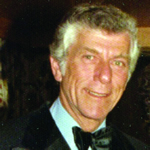 Manny Singer
Manny Singer, 87, a drummer and a Local 802 member since 1946, died
on Oct. 26.
Mr. Singer was born and raised in Brooklyn, where he became a
professional drummer at a young age. After serving in World War II and earning
the Bronze Medal, he traveled the world as a drummer for several years, touring
Europe, parts of Asia, and the United States. He married Thelma Meshel; they had
three children in Rego Park, Queens, and then raised them in Suffern, N.Y.,
before she passed away at age 52.
Along with his lifelong career as a drummer, he worked as a
wholesale sales representative for ladies' handbags and accessories for the
northeast United States, a job that he loved and pursued right up to his final
days. He married Charmaine Lucoski and they lived together in Irvington and then
Tarrytown. Together they shared 20 years, living and working together in the
same field of business. He was a passionate fan of music, particularly all types
of jazz. He was also a zealous tennis fan, which he continued to play well into
his 80s. He loved New York City, inventing reasons to travel by train from
Tarrytown at least twice a week during his older years.
Besides his wife Charmaine, Mr. Singer is survived by his children
Seth, David and Amy, and eight grandchildren.
We also remember . . .
Lee W. Armentrout, arranger

Michael Kessler, piano

Abraham Marcus, drums

Robert Maxwell, harp

William Schatzkamer, piano
If you have any reminiscences, memories or stories about deceased
musicians on these pages, please e-mail them to Allegro@Local802afm.org
To report the death of a member, please call Avelon Ramnath at
(212) 245-4802. Be sure to ask about any possible refund of Local 802 membership
dues or about the union's death benefit (there are certain eligibility
requirements).
Spouses of deceased members should call the AFM Pension Fund at
(800) 833-8065, ext. 1311, to ask about any possible benefits.
To submit an obituary to Allegro, e-mail Allegro editor Mikael
Elsila at Allegro@Local802afm.org
or call (646) 765-9663. Photos are also welcome.
To make a contribution to Local 802 in honor of a deceased member,
contact the financial vice president's office at (212) 245-4802.
To continue receiving Allegro in the mail after a spouse is deceased, e-mail Allegro@Local802afm.org
or call (646) 765-9663.