Requiem
Volume 113, No. 6
June, 2013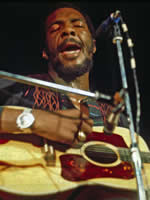 Richie Havens
Richie Havens, 72, a singer-songwriter and guitarist, died on April 22. He had been a Local 802 member since 1963. Mr. Havens earned his enduring fame at the 1969 Woodstock Festival, where he improvised a tune based on "Sometimes I Feel Like a Motherless Child"; it was later named "Freedom" and became an anthem of the times. (The song was used as recently as last year in Quentin Tarantino's film "Django Unchained.")
Mr. Havens grew up in Brooklyn, where he sang doo-wop with his friends. In his 20s, he played all over Greenwich Village, met Bob Dylan's manager, and won several record deals. After Woodstock, recognition of him took off; he formed his own label and appeared on major TV shows, including the Ed Sullivan show and the Tonight Show.
Mr. Havens was also an actor, an environmental activist, and a successful jingle writer.
He performed everywhere from Bill Clinton's 1993 presidential inauguration to Pete Seeger's 90th birthday concert in 2009. That same year, he appeared in the acclaimed film "Soundtrack for a Revolution," where he performed a haunting rendition of "Will the Circle Be Unbroken."
In 2003, the National Music Council awarded Mr. Havens the American Eagle Award for his place as part of America's musical heritage and for providing "a rare and inspiring voice of eloquence, integrity and social responsibility."
He is survived by three daughters, five grandchildren and two great-grandchildren.
Obituary information from www.RichieHavens.com and Wikipedia.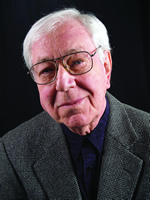 Marc Gottlieb
Marc Gottlieb, 82, a violinist and a member of Local 802 since 1947, died on April 21. Mr. Gottlieb, who became one of the most successful and best-known names in chamber music, came to the U.S. as a child from his native Leipzig, Germany. He made his solo recital debut at Town Hall when he was 10 and graduated from the Professional Children's School in New York. Later, while a student at Juilliard, he earned a seat with the Little Orchestra Society. He was a founding member of the internationally acclaimed Claremont Quartet, which toured throughout the world for over 20 years. He appeared at the famed Casals Festival in Puerto Rico, the American Music Festival in Rome and many Marlboro festivals.
Mr. Gottlieb made his conducting debut in 1966 at the Peabody Conservatory in Baltimore and also served as the music director of the Corcoran Gallery of Art in Washington D.C. He went on to serve as both conductor and concertmaster of several orchestras, including the Kansas City Philharmonic and the Tulsa Philharmonic. He served on the jury of the Irving M. Klein International String Competition in San Francisco for almost three decades. He also served as concertmaster of the prestigious Musica Aeterna Orchestra of New York and the Piedmont Chamber Orchestra.
Mr. Gottlieb held faculty positions at the Peabody Conservatory, Penn State University and the California Music Center. In May 2006 he was awarded the prestigious Harwelden Arts and Humanities Award for his artistic contribution to the state of Oklahoma.
He is survived by his wife Carol.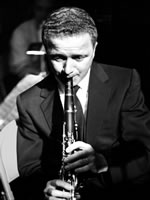 Bernard Kaufman
Bernard Kaufman, 98, a saxophonist and a Local 802 member since 1932, died on April 22. Mr. Kaufman was a noted studio and session musician who started playing professionally in dance bands and society bands at age 15. A virtuoso woodwind player, he worked and recorded with the most important musicians of his generation, including Frank Sinatra, Lena Horne, Billy Eckstine, Billie Holiday, Bing Crosby, Tony Bennett, Nat King Cole, Ella Fitzgerald and Sarah Vaughan, with whom he recorded "Black Coffee" in 1949. For over 60 years, Mr. Kaufman was a mainstay of radio, television and recording studios. He played the CBS Radio Show, the Perry Como Show, the Ed Sullivan Show, the Tonight Show and the Jack Paar Show, among many others. Bernie was admired by fellow musicians for his warm yet big sound and his impeccable sense of humor. He is survived by his sons Glenn and Jeff, daughters-in-law Sharon and Helen, and grandchildren Jeremy and Elana.
Hugh McCracken
Hugh McCracken, 70, a Local 802 member since 1967, died on March 29. Mr. McCracken was a virtuoso guitarist to the stars, including Paul Simon, Bob Dylan, Steely Dan, B. B. King, Jefferson Airplane, Billy Joel, Laura Nyro, Neil Diamond, Van Morrison, Carl Perkins, the Monkees, Carly Simon, James Taylor, John Lennon, Paul McCartney, Ringo Starr, George Harrison and Aretha Franklin.
By age 16, Mr. McCracken was already playing guitar in local clubs with a band. His first big break was playing on King Curtis' 1961 album "Trouble in Mind." He would go on to play on such hits as "Brown Eyed Girl" by Van Morrison, "Girl, You'll Be a Woman Soon" by Neil Diamond, "Hey 19" by Steely Dan, "Happy Xmas (War Is Over)" by John Lennon and Yoko Ono, "50 Ways to Leave Your Lover" by Paul Simon, "If I Ain't Got You" by Alicia Keys, and Roberta Flack's recording of "Killing Me Softly With His Song."
In addition to studio recording, Mr. McCracken also toured, composed jingles and played on film soundtracks. He doubled on mandolin and harmonica. One of his trademarks in the studio was that he improvised many of his parts.
Mr. McCracken is survived by his mother Ethel, wife Holly, sons Scott and Marc, daughters Jodi and Kimberly, sister Pat, brother Don, former wife Lynn White, and grandchildren Tori, John and Spencer.
Local 802 members who have reminiscences of working with Mr. McCracken are encouraged to e-mail them to Allegro@Local802afm.org.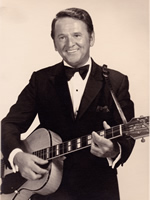 Al Melanson
Al Melanson, 96, a bassist and guitarist, and a member of Local 802 since 1956, died on April 17. Mr. Melanson began his music career with Lester Lanin in the mid-1940s; he became Lanin's personnel and business manager. After 14 years of putting together bands for every type of public and private event all over the world, Mr. Melanson opened his own office in 1959 under his professional name Al Madison.
Besides weddings, private parties and club dates, Mr. Melanson played college dances at Princeton, West Point and other schools. For over 22 years, his music groups were frequently seen at Shea Stadium during Mets games and other events there. At some games, there was a band greeting the crowd entering the stadium. Other bands would roam around the stadium during a game.
Mr. Melanson and his wife Helen retired and moved to Daytona Beach in 1987. Helen died in 2000.
Mr. Melanson is survived by his son Al Jr., daughter Gale Mauch, seven grandchildren and 20 great-grandchildren.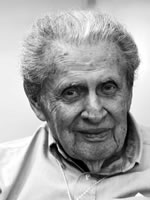 Morty Rapfogel
Mortimer "Morty" Rapfogel, 100, a flutist and a Local 802 member since 1932, died on Jan. 31. Early on, Mr. Rapfogel studied music at Stuyvesant High School. During his high school years, he played in the Youth Orchestra, New York Philharmonic Society Orchestra, Heckscher Foundation Orchestra, National Orchestral Association, Stringwood Trio, American Symphony Orchestra, Keith's Boys Band, Greenwich Band and the Broxonian Trio. He performed many times at Carnegie Hall and on radio programs.
After winning a three-year scholarship from the New York Philharmonic to study in Europe with the French flute masters Georges Barrere and John Amans, he returned to play with the New York Philharmonic under Arturo Toscanini, John Barbirolli and Arthur Rodzinski, and also played with the Columbia Broadcasting Symphony and the NBC Symphony.
He played on Broadway as well on over 500 recordings and films. Mr. Rapfogel also performed with Leonard Bernstein, George Gershwin, Leon Barzin, Igor Stravinsky, Sergei Rachmaninoff, Bruno Walter and Victor Borge.
In 1957, Mr. Rapfogel moved to Fort Worth where he immediately joined the Fort Worth Symphony and the city's ballet and opera orchestras. He also became a strong advocate for keeping live music in local productions.
Mr. Rapfogel is survived by his daughter Judith, son Steve and daughter-in-law Marsha. He is also survived by his grandchildren: Robin Cooper Frisbie and her husband Scott; Stefanie Cooper Toppel and her husband Steve; Lisa Rapfogel Ostroff and her husband Dave; and Robert Rapfogel. His great-grandchildren are Mandy, Sammie, Alex, Taylor and Andrew, and his nieces and nephews are Nan Freund, Richard Rapfogel and Beth Roy.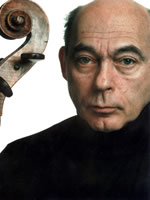 Janos Starker
The cellist Janos Starker, 88, a Local 802 member since 1949, died on April 28. During the course of Mr. Starker's career, he appeared as recitalist and soloist with the top orchestras and became one of the most sought-after virtuosi and teachers in the world.
Mr. Starker's two older brothers were violinists, and he was given a cello before his sixth birthday. A child prodigy, Mr. Starker gave his first public performance at age six. He entered the Franz Liszt Academy of Music in Budapest and made his debut there at age 11, giving his professional debut at 14.
Mr. Starker spent three months in a Nazi concentration camp. His parents also survived the camps, but his two brothers died.
He made his first recording in 1947, a sonata by the Hungarian composer Zoltán Kodály. It won a Grand Prix du Disque and brought him early international fame.
He immigrated to the United States in 1948 and played for the Dallas Symphony, Metropolitan Opera Orchestra and Chicago Symphony before becoming a full-time concert soloist and teacher when he joined the Indiana University Jacobs School of Music in 1958.
The cellist amassed an extensive discography of more than 165 works, including a Grammy-award winning recording of the Bach suites for unaccompanied cello.
Allegro published an in-depth story about Mr. Starker in 2010, written by his biographer and former student Joyce Geeting. See www.bitly.com/JanosStarker.
Mr. Starker is survived by his wife Rae, daughters Gabriella and Gwen, and grandchildren Alexandra, Nicole and J. P.
The family has asked that memorial contributions be made to the Janos Starker Research Institute and Archives, P.O. Box 5462, Bloomington, IN 47407.
Obituary edited from Indiana University news service (see newsinfo.iu.edu).
We also remember . . .
Andre Badalamenti, clarinet
Barney Bragin, saxophone
Pritchard Cheesman, saxophone
Oliver Colbentson, violin
Arthur J. Rando, saxophone
Jerry Scott, piano
Joseph B. Smith, organ
If you have any reminiscences about deceased musicians on these pages, e-mail Allegro@Local802afm.org
To report the death of a member, please call Avelon Ramnath at (212) 245-4802. Be sure to ask about any possible refund of Local 802 membership dues or about the union's death benefit (there are certain eligibility requirements).