Requiem
Volume 120, No. 4
April, 2020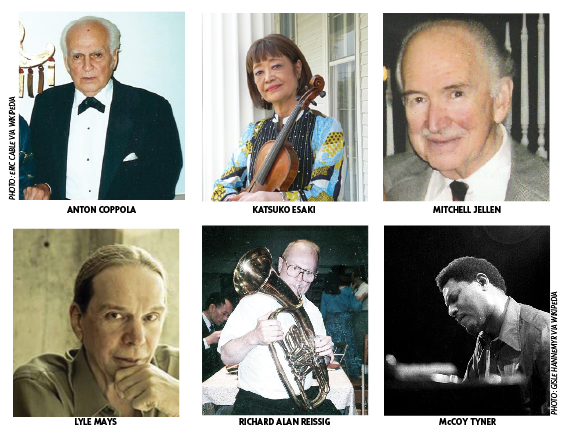 Anton Coppola
Anton Coppola, 102, the conductor and composer, died on March 9. He had been a member of Local 802 since 1935. Mr. Coppola was possibly the oldest conductor in the world and was still actively conducting up until the end of his life. During his career, he conducted on Broadway as well as at the New York City Opera and with opera orchestras in Cincinnati, San Francisco, Seattle and Tampa. Mr. Coppola studied at Juilliard before conducting his first work at the age of 18. A year later, he won a seat at the Radio City Music Hall Orchestra, where he played oboe. (He later conducted the orchestra.) In World War II, he served as a musician in a stateside band. Later, he served as the director of both the symphony and opera departments at the Manhattan School of Music, from 1964 to 1980. Two of his recent works ("Sacco and Vanzetti" and "Lady Swanwhite") were premiered at the Opera Tampa, where Mr. Coppola conducted from 1995 to 2012. Mr. Coppola even appeared as an actor in season two of the Amazon series "Mozart in the Jungle." Four years ago, Mr. Coppola conducted Local 802 members and others in a rendition of "La Marseillaise" in Times Square as a tribute to the victims of the terrorist attack of July 2016 in France. (A beautiful photo of the event with reminiscences from event organizer Dominic Derasse appears at www.local802afm.org/allegro/articles/music-for-peace.) Mr. Coppola was honored with the lifetime achievement award from the Puccini Foundation and recognized by the Italian government as a "Cavaliere, Gran Ufficiale." He is survived by his wife Almerinda Drago, daughter Lucia, son Bruno, six grandchildren and a number of great-grandchildren. His family tree is immense and also includes famous actors and directors, including his nephew Francis Ford Coppola, grandnewphew Nicolas Cage and grandniece Sofia Coppola, among many others. Obituary information from the New York Times and from previous Allegro articles about Mr. Coppola by Dominic Derasse.
---
Katsuko Esaki
The violinist Katsuko Esaki, 77, died on Nov. 20, 2019 after a long illness. She was born in Tokyo and was a member of Local 802 since 1974. She earned a bachelor of music degree from Musashino Music Academy and a master's degree from Sarah Lawrence College, where she studied with Dorothy Delay. Her other teachers included Ivan Galamian and Itzhak Perlman. Katsuko came to the United States in 1968, where she first performed with the North Carolina Symphony and Rochester Philharmonic. In New York, she was a member of the Mostly Mozart Festival Orchestra at Lincoln Center, Little Orchestra Society, American Symphony, Stamford Symphony and Arco Ensemble, as well as the OK Mozart Festival and the Grammy-nominated Harmonie Ensemble/New York, conducted by her husband of 35 years, Local 802 member Steven Richman. With the latter she recorded the Dvořák "Terzetto" on the Music & Arts album "Dvořák Discoveries," which was chosen by James Oestreich, music editor of The New York Times, as one of the five best recordings for the Dvořák centennial in 2004. She also performed with the New York City Ballet, American Ballet Theatre and New York Pops. Ms. Esaki recorded on the EMI, RCA Victor, Angel, Nonesuch, Vox, Koch, Bridge, Harmonia Mundi, PIAS and Atlantic record labels. She recorded with the Modern Jazz Quartet, performed with everyone from Chick Corea to Garrison Keillor, appeared on Saturday Night Live, and served as concertmaster of many Broadway shows including "Dreamgirls" and "Guys and Dolls." She toured throughout Europe, Japan, the USSR, Mexico, Canada, and the U.S., and participated in the festivals in Aspen, Spoleto, Madeira and Lacoste (France). Ms. Esaki was much beloved and respected by countless friends and colleagues. Here are some reminiscences and tributes that were sent to us:
"I remember Katsuko as a great colleague and violinist but above all as the wonderful and generous friend that she was. I will miss her cheerful smile with which she always greeted me when she saw me. I know you are now playing with the angels, Katsuko!" — Francisca Mendoza
"When I look in my closet, I still see some timeless garments given to me by my dear friend Katsuko. They still clothe me as do memories of her kindness and generosity throughout our long friendship. It's thanks to Katsuko that I received my very first opportunity to enter the world of Broadway; asking me to sub for her in 'Camelot.' Being with her in conversation was somewhat like 'Camelot.' I always felt that there was a bright side to everything. As a friend she was always reassuring, encouraging me with a hand on my shoulder. It makes me sad to think she is no longer with us. I can only hope to imitate her kind nature." — Mineko Yajima
"I met Katsuko in the early 80s in NYC. I had just graduated from Juilliard and was trying to get a foothold in the freelance scene. Back then, one of the hottest organizations in the city was the New York Chamber Symphony conducted by Gerard Schwarz. I auditioned for Schwarz and managed to get hired. It was a fantastic group of professionals, and I was just a kid. Katsuko (a long-time member) came over and was lovely to me. We spent that first break chatting and became instant friends. This was so typical of Katsuko — taking time to make a stranger feel comfortable and welcome. She had the warmest of hearts and the kindest of souls. Our friendship lasted through all the years until she passed recently. We worked together on Broadway, at Mostly Mozart, and at dozens of other gigs I don't even remember any more. When Mostly Mozart started traveling to Japan, Katsuko helped several of us who were struggling to learn the language and was happy to chaperone us around Tokyo and other areas. And Katsuko was a superb musician and violinist. I miss her deeply and we are all much poorer since she left us." — Scott Ballantyne
"I admired Katsuko for her enthusiastic desire to meet the adventures of life with their inevitable challenges and with a hopeful determination. Sitting with her on the same stand at the OK Mozart Festival in Oklahoma, her musical sensibilities were finely tuned. She had a generous, caring nature that always made our working relationship very enjoyable. On occasion, we would travel outside the bounds of Bartlesville, Oklahoma, where I would sometimes not quite remember which road to take, but Katsuko would invariably guide us with the correct names and directions (well before GPS), getting us back on track with her upbeat and supportive encouragement. I will always cherish her thoughtful gifts as will many others on whom she bestowed them. Together with her husband, conductor Steve Richman, she provided a rich, nurturing environment to help to bring their music to audiences around the world. We will miss dear Katsuko." — Robin Bushman
"I was saddened to find my friend Katsuko Esaki's name listed among 802 members who'd recently passed away. I first met Katsuko somewhere in the early to mid-1980s when she played in the string section of shows for which I served as house contractor. I first came to know and appreciate her as a highly skilled and consistently reliable professional who possessed a beautifully personal sound and a musically elegant style. I got to know Katsuko in a more personal way when she first opened her Christmas Japanese gift store in her home, in support of her husband, conductor Steven Richman's Harmonie Ensemble/New York. The sale was made up of very special items that her mother in Japan had made. I went, that first year, with my daughter and we both fell in love with Katsuko's collection, which was full of unique items that you wouldn't find anywhere else and would be fun and attractive gifts. I ended up purchasing more than I ever intended and then actually had to look around for people to give them to. Invariably, though, whenever I presented my Katsuko gifts the scenario would play out the same way, with delight often followed by disappointment. When recipients would express their delight at the beauty and elegance of their gift I'd simply say to them 'That's Katsuko!' But then, sometimes, they'd ask how they could acquire another, for themselves or a friend, and I'd have to disappoint them by, again, pointing out that these gifts were like Katsuko herself. That is to say, they're special and one of a kind. And now, I'm sad to add, greatly missed." — Kamau Adilifu
"Katsuko was a beautiful and sensitive artist who enhanced everyone around her. It was a privilege to work with her. She had integrity and creativity and always shared the joy of music making. Her spirit will always be with me." — Jack Rosenberg
"I met my dear friend Katsuko in 1973, while playing with the Rochester Philharmonic. She was the first Japanese person I had ever met. I was very shy about our meeting, but I was stunned by her kindness. Years later, we ended up working together in many different freelance situations and it was always a joy to see her. When we spent time in Tokyo together with Mostly Mozart, she always guided me to her favorite spots. Since she lived only a few blocks away from me, we would often travel to gigs together and we had many wonderful and serious heart to heart conversations. I will hold in my heart her beautiful smile and stunning appearance and her heart! R.I.P. dear friend." — Lois Martin
"Violinist Katsuko Esaki was my good friend and colleague. Among many jobs we played together it was on the many tours to Japan we did where she was a wonderful and very special personal tour and cultural guide. She helped us with many dinners, purchases and trips, making sure we experienced the best of Japan and took home with us many beautiful memories." — Dorothy Strahl
"I played with Katsuko at the Stamford Symphony for the past 25 years and she was of course an extraordinary musician. She was also an extraordinarily warm and generous colleague. She always found ways to be inclusive and treated everybody the same way. She will be greatly missed." — David Steinberg
---
Mitchell Jellen
Mitchell Jellen, 92, a trumpeter and a member of Local 802 since 1953, died on March 1. He started his career by playing first trumpet with the Mitchell Field Air Force band for four years. After leaving the service, he played first trumpet with the Florida Symphony under Frank Miller and with the Denver Symphony under Saul Caston. He toured and performed as first trumpeter and contractor with many Sol Hurok productions, including the Royal Ballet of London, Kirov Ballet of Leningrad, Bolshoi Ballet of Moscow, various Russian and Polish folk festivals, and others. He later played first trumpet for the Broadway show "La Cage aux Folles" for four years while performing many other gigs in and around NYC. He is survived by his wife Pat, his daughter and son, five grandchildren and two great-grandchildren.
---
Lyle Mays
Lyle Mays, 66, the jazz keyboardist, composer and arranger, died on Feb. 10. He had been a member of Local 802 since 1977 and was best known for his ongoing work with the Pat Metheny Group. "Lyle was one of the greatest musicians I have ever known," wrote Mr. Metheny on his Web site. "Across more than 30 years, every moment we shared in music was special." Metheny added, "From the first notes we played together, we had an immediate bond. His broad intelligence and musical wisdom informed every aspect of who he was in every way. I will miss him with all my heart." Mr. Mays attended the University of North Texas, where he composed the music to the One O'Clock Lab Band's album "Lab 75," which was nominated for a Grammy. In 1975, he toured with Woody Herman's big band shortly before beginning his long association with Mr. Metheny. Besides releasing 17 albums, the Pat Metheny Group also wrote the score for the 1985 movie "The Falcon and the Snowman"; a song from that movie that they recorded with David Bowie became a Top 40 hit. Mr. Mays also recorded or played with Rickie Lee Jones, Bobby McFerrin, Joni Mitchell, Marc Johnson, Peter Erskine, Mark Walker and others. He also composed classical music and recorded children's audio books. In his career, Mr. Mays won 11 Grammy awards and was nominated for many more. He is survived by his sisters Joan and Jane, and niece Aubrey. Obituary information from the New York Times and Wikipedia.
---
Richard Alan Reissig
Richard Alan Reissig, 91, a French hornist (who also played Wagner tuba) and a member of Local 802 for almost 60 years, died on Feb. 20. Born in Bridgeport, Connecticut in 1928, Mr. Reissig grew up in Illinois. He earned a degree from Juilliard in 1954 and ultimately won chairs in the Metropolitan Opera Orchestra and Baltimore Symphony, among other distinguished ensembles. Mr. Reissig also served in the Marines during the Korean War. He is survived by his brother Daniel, sister-in-law Kim, son Andrew, daughter-in-law Christine, son Frederick and daughter-in-law Rosalie. He is also survived by his beloved dog Bailey and his social media family. A memorial service will be held at the Union Congregational Church in Montclair at a future date; check www.unioncong.org for updates. Obituary from legacy.com and www.facebook.com/richard.reissig.
---
McCoy Tyner
The jazz pianist McCoy Tyner died on March 6 at the age of 81. He had been a member of Local 802 for over 50 years. Mr. Tyner's blues-based piano style, replete with sophisticated chords and an explosively percussive left hand, transcended conventional styles to become one of the most identifiable sounds in improvised music. His harmonic contributions and dramatic rhythmic devices formed the vocabulary of a majority of jazz pianists. Born in 1938 in Philadelphia, he became a part of the fertile jazz and R&B scene of the early 50s. At 17 he began a career-changing relationship with John Coltrane. Mr. Tyner joined Coltrane for the classic album "My Favorite Things" (1960), and remained at the core of what became one of the most seminal quartets in jazz history. In 1965, Mr. Tyner left the group to explore his destiny as a composer and bandleader. For the next five decades, he led his own ensembles made up of top players like Jon Henderson, Ron Carter, Elvin Jones, Michael Brecker, Stanley Clarke, tap dancer Savion Glover, Joe Lovano, Christian McBride, Jeff "Tain" Watts and others. He released nearly 80 albums under his name, earned four Grammys and was designated a Jazz Master from the National Endowment for the Arts in 2002. He left his mark on generations of improvisers, and yet remained a modest and spiritually directed man. Mr.Tyner's survivors include his wife Aisha, son Nurudeen (Deen), brother Jarvis, sister Gwendolyn-Yvette Tyner, nephew Kolby and three grandchildren. Obituary edited from Mr. Tyner's biography at www.McCoyTyner.com with additional information from the New York Times.
---
We also remember
Philip Greiss, drums
Mike Longo*, piano
Ray Mantilla*, percussion
Leo Ursini, saxophone
*Full obituary will appear in next issue
---