Requiem
Volume 120, No. 5
May, 2020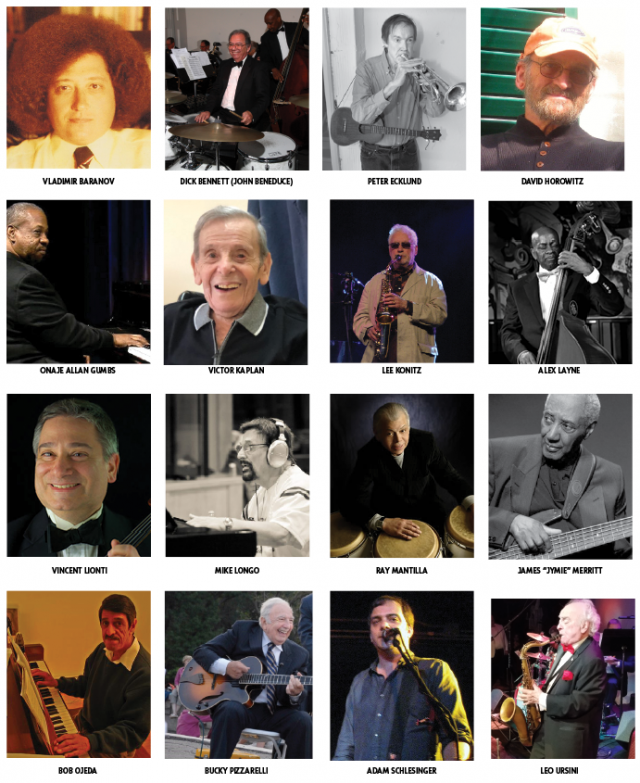 Vladimir Baranov
Vladimir Baranov, 74, who played first violin in the Metropolitan Opera Orchestra for three decades, died last fall, on Nov. 1, 2019. He had been a member of Local 802 since 1978. Mr. Baranov was born and raised in Baku, the current capital of Azerbaijan, when it was part of the Soviet Union. He started violin lessons at the age of 5 and showed enough promise to be admitted to a school for musically gifted children. At age 17, he won second prize at a prestigious competition for young violinists and was admitted in violin performance to the Moscow Tchaikovsky Conservatory, where he graduated with distinction. He was soon teaching violin and performing in chamber orchestras. Mr. Baranov was also a professional pianist and guitarist and had a beautiful baritone voice. He performed professionally as a vocal soloist his whole life with a large repertoire of songs and arias. In 1978, Mr. Baranov immigrated to the U.S. with his mother, brother and brother's family. His first job was with the New Jersey Symphony. In 1979, Mr. Baranov won a chair in the Metropolitan Opera Orchestra as first violinist, a position he held until an untimely stroke that forced him into early retirement in 2006. After his stroke, he was gradually able to attend concerts and other performances and travel extensively in Europe. He was constantly listening to music and enjoying operas and concerts on TV. Mr. Baranov leaves behind his wife of 40 years, Dr. Faina Baranov and his stepson Igor Levin (and Igor's wife Julia). He is also survived by his brother Marc (who is also a violinist), his nephew Michael, and his grandchildren Gregor, Schuyler, Nathan and Jacob. At his funeral, which was officiated by the rabbi of the Carlebach Shul in NYC, members of the Metropolitan Opera Orchestra performed a Mozart string quintet and his grandson Gregory sang "Hallelujah."
---
Dick Bennett (John Beneduce)
Dick Bennett (born John Beneduce), 85, a drummer and a member of Local 802 since 1951, died on March 26 from complications of the coronavirus. Mr. Bennett started playing drums at an early age and went on to study with Ted Reed. He traveled with the Leonard Sues quintet to Las Vegas, where he backed up Mickey Rooney and famed comedians Olsen and Johnson. Upon returning to New York he went to work as the first drummer for the Marty White club date office and taught drums out of the Gene Krupa/Cozy Cole drum studios. Eventually he became a partner in his own club date office, the Souvenirs Orchestra, and started taking on private students in his own teaching studio. His most notable students included Carmine Appice and Vinnie Appice, who went on to achieve much success. After the club date business slowed, Mr. Bennett formed his own 15-piece big band called M.A.S. Swing, which he ran in conjunction with his life partner Marie Stack, who is also a Local 802 member. Besides Marie, Mr. Bennett is survived by his daughters Deborah and Ellen Buttacavoli; grandchildren Brett, Ryan, Chelsea, Brielle and Dean; and great-grandchildren Julia and Frankie.
---
Peter Ecklund
Peter Johnson Ecklund, 74, a member of Local 802 for over 40 years, died on April 8. A Yale graduate, Mr. Ecklund pursued a 50-year professional career in New York as a cornetist, composer and arranger. He performed with Leon Redbone, the David Bromberg Band, Greg Allman, and the Orphan Newsboys with Marty Grosz as well as Vince Giordano's Nighthawks, among others. He also played on the soundtracks for the Ken Burns documentaries "The Civil War," "Baseball" and "The American West" and regularly arranged music for Saturday Night Live. Mr. Ecklund published two books of solos by Louis Armstrong and Bix Beiderbecke. Friends and family remember Mr. Ecklund's quiet and unassuming manner, his keen intelligence and his dry humor. He is survived by his sisters Hilda and Lisa, brother Jack, stepmother Constance, and his nieces and nephews. See many more additional tributes at www.facebook.com/peter.ecklund.52
---
David Horowitz
David Horowitz, 77, a composer and a jazz pianist, died on April 6 from complications of the coronavirus. He had been a member of Local 802 since 1968.
Born in Brooklyn, Mr. Horowitz was the sort of precocious child who began playing the piano by ear at age 3. Though he couldn't bear piano lessons, he eventually studied piano, musical theory and composition in New York with Hall Overton, Lennie Tristano and Mischa Portnoff.
In college he led the Dave Horowitz Jazz Quintet, and soon began doing session and performance primarily as an arranger and pianist. He toured Europe and the U.S. with folk singer Tom Paxton, also co-writing with Mr. Paxton.
From 1965 to 1977 he was a pioneer in the jazz world on synthesizer/keyboards, notably with the Gil Evans Orchestra, with whom he appeared at Carnegie Hall, the Jazz at Lincoln Center festival, and many jazz clubs. He was the first person to be awarded Downbeat Magazine's "Synthesist of the Year."
He next toured with drummer Tony Williams' band Lifetime; then, from 1973 to 1974, Mr. Horowitz was composer in residence at Arena Stage in Washington, D.C. He arranged and produced albums for Peter Allen, Tom Paxton, Carol Hall, Gerri Granger and Webster Lewis.
In the late 70s he participated in many art projects, including a series of film scores for the avant-garde Ian Hugo and Anaïs Nin collaboration, as well a film with the Japanese mime Yass Hakoshima for WNET and others for WBGH Boston. Mr. Horowitz composed both original music and worked to assemble a ballet score using music of the Beach Boys for Twyla Tharpe's groundbreaking work "Deuce Coupe," commissioned by the Joffrey Ballet in New York. At this time he also did composition and orchestration for composer Michael Small on the feature film "Klute" and the original score for "Hu-Man" with Jeanne Moreau and Terrance Stamp.
In 1974, David accepted a recording session working on an advertising campaign, a gig that changed the course of his career. By 1979, Mr. Horowitz had opened his own company, David Horowitz Music Associates, Inc., specializing in music for advertising and film. Though he never stopped composing for TV and film, David's work focused primarily on orchestral and jazz underscores. For over 32 years, David composed thousands of pieces of music and supervised sessions and film shoots for the most prestigious clients and agencies in NYC. His many awards include seven Clio awards for best original music, the 1980 Grand Prix at the International Film & Television Awards, and numerous Addy and Andy awards. David's compositions helped win the first Emmy award ever awarded to a commercial. His work can be found in the permanent collection of MoMA. David worked with a wide variety of celebrities including B.B. King, Frank Sinatra Jr., Lou Rawls and Gladys Knight.
However, a life in music is much more than awards. To his colleagues and collaborators. David was "The Maestro." David's writing style was known for its ability to translate the joys, sorrows and humor of life into perfectly calibrated musical terms, earning him the trust and respect of his clients. He enjoyed the admiration and camaraderie of musicians, singers and studio personnel in New York, Los Angeles and the U.K., where he often worked.
His style in the studio was known for sheer musicality and humanity. In 1997 he began a series of annual concerts in Rimini, Italy, bringing a large ensemble and singers from New York which included many notable performers, including Lou Marini, Wayne Pedzwater, Jack Cavari, Ed Walsh, Buddy Williams, Tony Kadleck, David Mann and Vaneese Thomas. In Italy he was introduced to singer/songwriter Claudio Chieffo, with whom he arranged and produced the CD "Come La Rosa."
After closing his company in 2011, Mr. Horowitz turned to "composing music for myself" — compositions for his grandchildren, and the score for the indie feature film "Patient 001." Most recently he accepted a commission to set a Psalm of King David for the Ghostlight choir under the direction of Evelyn Toester DeGraf. He elected to use verses from several of the psalms in service of his chosen theme "Strangers in a Strange Land." The work was first performed in 2016 and is dedicated to the plight of refugees throughout the world.
Mr. Horowitz will be missed for his warmth, for his own music and a genuine love of making music with others, no matter what the project or setting.
He is survived by his wife Jan; daughter Dr. Mara T. Horowitz; son Jesse along with Jesse's wife Ariel and their children Henry and Naomi; brother Marc Horowitz and Marc's wife, Christine; and sister Abby Sierzputowski and Abby's husband Joe Sierzputowski.
---
Onaje Allan Gumbs
Onaje Allan Gumbs, 70, a member of Local 802 for almost 25 years, died on April 6. Mr. Gumbs was a pianist, composer, arranger and producer who was well known for collaborating on projects across all genres. He graduated from the High School of Music and Art and SUNY-Freedonia and also studied with David Baker at Indiana University. His first big break was playing with Kenny Burrell at Baker's Keyboard Lounge in Detroit; his long and varied career also included performances with Woody Shaw, Nat Adderley, Betty Carter, Buster Williams, Stanley Jordan, Jimmy Owens, Frank Foster, Sadao Watanabe, Terumasa Hino, Michael Carvin, Ronald Shannon Jackson, Avery Sharpe, Winard Harper, Mem Nahadr, Norman Connors, Phyllis Hyman and Kurtis Blow. In addition to his contributions to jazz and R&B, Mr. Gumbs was also known for being a pioneer in smooth jazz. Two especially eclectic projects he was proud of included "Sack Full of Dreams," which featured Obba Babatundé singing the title track, and "Just Like Yesterday," which featured bassists Victor Bailey and Marcus McLaurine, drummer Omar Hakim, guitarist William S. Patterson and percussionist Chuggy Carter. Mr. Gumbs is survived by his wife Sandra, sister-in-law Linda, niece Shameka and nephew Nero. Obituary information from Mr. Gumbs' Facebook page and from www.wbgo.org.
---
Victor Kaplan
My father, Victor Kaplan (otherwise known as Vic Carlton), died on Jan. 3 at the age of 100 after being a member of Local 802 since 1941. He sang, played sax and clarinet, and was a great entertainer who brought joy to parties, weddings, bar mitzvahs, and all kinds of social functions. He had a great sense of humor and was one of the best musicians I ever knew. He played for many celebrities during his career, but two come to mind right now. One was the incomparable Barbara Walters. The other was President Ford, whom he entertained at the Waldorf Astoria by singing the national anthems of both the U.S. and Israel!
Every summer, my Dad played the Catskills and was featured in one of the top bands. He brought the whole family along, including his wife Shirley Jean, who was his accompanist and a terrific keyboard and accordion player; they made a lot of people happy with their music. Mom passed away in 1988, but Dad continued working until he was 92.
Getting out of NYC for 10 weeks each summer to hang out in the Catskills was the best. Dad played his shows on the weekend and ran activities for guests during the week. We really weren't supposed to bring our dog, so Dad would sneak our beagle down the back steps of our bungalow so the owners wouldn't see, and I can still see the funny expression on my beagle's face as my Dad carried him, wondering what was going on.
My dad sang lead vocals and played sax with big bands, including a longstanding gig with Gray Gordon and his Tic-Toc Rhythm. I also remember that he played with Buddy Wagner. I have many records of his performances, which are a treasure to me.
Dad had a warm, giving personality. We grew up in Sheepshead Bay and Dad would take us to Coney Island. I remember stickball and movies. My dad adored his family and had a few close friends, but no enemies! He was loved by everyone.
Up until the end, Dad was never really sick a day in his life. But for the last four and a half years, he had to use a walker, and I was Dad's caregiver. Every night, I made him walk 60 times back and forth in our living room to make his legs stronger. That's probably why he lived to 100. I am going to miss him so much; we were very close. He was an angel on Earth, and now definitely an angel in heaven.
Besides myself, Dad leaves behind my sister Laurie and her husband Charlie, and my sister Doreen, plus his grandchildren Shana, Mara, Westley, Lisa, Jackie, Shannon and Jason, and great-grandchildren Jake, Scarlett, Alex and Brady. (Many of us are musicians. Doreen plays piano; I play guitar and sing.)
Children growing up today would have it so good if they had parents like we did. I'm going to miss my dad musically — and I'm going to miss him as my best friend.
— Michael Kaplan
---
Lee Konitz
Lee Konitz, 92, the jazz saxophonist, died on April 15 from complications of the coronavirus. He had been a member of Local 802 for over 40 years. David R. Adler, writing at www.wbgo.org, called Mr. Konitz "an exemplar of modern jazz improvisation, and arguably the most influential alto saxophone soloist after bebop progenitor Charlie Parker." According to Mr. Konitz' official bio on his agency's website, when Mr. Konitz first came to prominence in the late 1940s, he was one of the very few alto players of the period who was able to escape the dominating presence of Charlie Parker and create a completely personal, recognizable sound and style on the instrument. Influenced at first by suave, pre-bop saxophonists like Benny Carter, Johnny Hodges, and Lester Young, he developed a demeanor which was thoughtful and reserved, and a tone nearly transparent but with a lithe lyricism and a resilience that suggested shadowy undercurrents of emotion. He appeared in Claude Thornhill's impressionistic big band (which included charts by the budding genius arranger Gil Evans), Stan Kenton's most progressive orchestra, Miles Davis' Birth of the Cool nonet, his teacher Lennie Tristano's intricate combos and Gerry Mulligan's "cool" bands of the 1950s before moving on to lead his own bands including the formation of the Lee Konitz Nonet. His discography was a dazzling assortment of sessions of all sizes, shapes, and styles — from mid-sized ensembles to trios and duos (usually drummerless or pianoless) and even one totally unaccompanied saxophone recital. Some of the highlights include a hard-blowing trio date with drum dynamo Elvin Jones, a round-robin series of duos with the likes of tenor saxophonist Joe Henderson, guitarist Jim Hall and ex-Ellington fiddler Ray Nance, soloing over imaginative scores for string quartet, a five-man saxophone section with Jimmy Giuffre, and breathtaking collaborations with the brilliant French pianist Martial Solal. Mr. Konitz also performed or recorded with Charlie Haden, Bob Brookmeyer, Randy Brecker, Paul Bley, Paul Motian, Steve Swallow, Brad Mehldau, Derek Bailey, Andrew Hill, Karl Berger, Dan Tepfer, Michel Petrucciani, Kenny Werner and Gary Versace, among others. The National Endowment for the Arts awarded Mr. Konitz the title of Jazz Master in 2009. Mr. Konitz is survived by his children Josh, Paul, Rebecca, Stephanie and Karen; three nephews and a great-niece; three grandchildren; and one great-grandchild. Text above from Mr. Konitz' official bio at www.theamiagency.com/leekonitz with additional information from www.wbgo.org.
---
Alex Layne
Alex Layne, 80, a bassist and a member of Local 802 for over 17 years, died on March 31 from complications related to the coronavirus. Shortly after graduating from the High School of Music and Art, he landed a chair in Steve Pulliam's house band at Count Basie's nightclub in Harlem. Mr. Layne later graduated with honors from Bronx Community College and continued his studies as a music major at Queens College while also studying privately with Ron Carter, Stuart Sanky and Alvin Bhrem. Mr. Layne became a major player in NYC and appeared with Coleman Hawkins, Max Roach, Freddie Hubbard and Cedar Walton as well as with several Broadway pit orchestras. He was also well known for accompanying top vocalists and bandleaders from a huge variety of genres, including Billy Eckstein, Carmen McRae, Gloria Lynn, Johnny Hartman, Miriam Makeba, Josh White, Jimmy Witherspoon, Little Anthony and the Imperials and others. His knowledge of music theory was formidable. In addition to his major performances and touring work, he was also a regular at the refurbished Minton's Playhouse jazz club in Harlem and was employed by the Jazz Foundation of America to perform in schools, hospitals and nursing homes. Mr. Layne also served in the house band at the Jazz Foundation's Monday night jam session, which was held for many years at Local 802. He is survived by his wife Kiyoko and children Terrence, Khalid and Malaika.
---
Vincent Lionti
Vincent Lionti, 61, a violist and a member of Local 802 since 1981, died on April 4 from complications of the coronavirus. Mr. Lionti joined the Metropolitan Opera Orchestra in 1987. He earned his bachelor's and master's degrees from Juilliard, where he performed as principal viola of the Juilliard Orchestra and served as a teaching assistant to William Lincer. He was a substitute with the New York Philharmonic from 1981 to 1983 before earning a chair in the Detroit Symphony Orchestra, where he played until 1987 while also serving with the Lyric Chamber Players and Renaissance City Chamber Players and teaching at Macomb Community College. He was a founding member of the Ventura String Quartet and served as guest principal viola for the Indianapolis, New Jersey and American Symphony Orchestras, as well as the Santa Fe Opera.
Mr. Lionti served as conductor with the Greater Westchester Youth Orchestras Association, Usdan Center for the Creative and Performing Arts, Downtown Sinfonietta of White Plains, Merrick Symphony Orchestra, and the NYU Steinhardt School Symphony Orchestra. He also led numerous all-state student orchestras in Connecticut, New Jersey and Florida.
Mr. Lionti was artistic director of the Memling Ensemble and was a member of the PBS All-Star Orchestra, New England Baroque Soloists and Westchester Camerata. He appeared at many summer festivals including the Bard, Buzzard's Bay, Casals, Meadowbrook, Southampton and Sunflower festivals. He is survived by his father C. Victor Lionti, wife Kristin, son Nicholas and sister Kathryn. Obituary information from www.metorchestramusicians.org/vincent-lionti. For many more tributes to Mr. Lionti from the Facebook page of the MET Orchestra Musicians, follow this shortcut link: www.bitly.com/vincent-lionti
---
Mike Longo
Mike Longo, 83, a member of Local 802 since 1961, died on March 22 from complications of the coronavirus. Mr. Longo was a jazz pianist, composer, arranger, recording artist and jazz educator who served for many years as Dizzy Gillespie's music director. He also led the New York State of the Art Big Band and was the director of Jazz Tuesdays at the Baha'i Center NYC. When he was just a teenager, he subbed in Cannonball Adderley's band. He later earned a degree in classical piano at Western Kentucky State University and found work with Hal McIntyre, Hank Garland and others. He also studied with his mentor Oscar Peterson at the Advanced School of Contemporary Music in Toronto. He ultimately moved to NYC and where he played with Henry "Red" Allen and others before Dizzy Gillespie discovered his talent and hired him. Mr. Longo is survived by his wife Dorothy, sister Ellen, and his cousins, nieces and nephews. Obituary information from www.wbgo.org.
---
Ray Mantilla
Ray Mantilla, 85, the Latin percussionist and bandleader, died on March 21. He had been a member of Local 802 for 35 years. Mr. Mantilla, who described his own music as "Latin jazz with authentic Latino rhythms" was born in 1934 in the rhythm-rich, dance-crazed atmosphere of the South Bronx where Afro-Cuban rhythmic forms mixed with jazz harmonies and sensibilities in the streets, the homes and dance halls. By 21, Mr. Mantilla was on the bandstand playing conga drums along with contemporaries Eddie Palmieri and Ray Barretto. With flutist Herbie Mann, Mr. Mantilla entered the international spotlight in 1960 when Max Roach invited him to be part of the classic "Freedom Now Suite" recording. After a stint in Puerto Rico where he honed his skills on the drum set, Mr. Mantilla began touring in Europe and Japan with Art Blakey and the Jazz Messengers. For the seven years Mr. Mantilla was with Blakey, he occupied his off-hours doing studio work while recording and performing with almost every major figure in jazz including singers Eartha Kitt and Josephine Baker. In 1977, Mr. Mantilla became the first North American Latin musician to play in Cuba since the Cuban Revolution when he appeared there as an essential member of the historic goodwill ensemble led by Dizzy Gillespie. Mr. Mantilla's career has also included collaborations with Tito Puente, Charles Mingus, Gato Barbieri, Sonny Stitt, Bobby Watson, Cedar Walton and Freddie Hubbard. Prolific in the studio, Mr. Mantilla can be heard on more than 200 albums, including the Grammy-nominated "Fifty Years of Mambo." He was voted percussionist of the year by the Jazz Journalists Association. Writing at www.wbgo.org, Local 802 member Bobby Sanabria said that he will always cherish his friendship with Mr. Mantilla. Sanabria added, "Ray was on the music board of the Bronx Music Heritage Center, where my wife Elena Martinez and I are co-artistic directors. We always looked forward to our meetings, as Ray and fellow Bronxite Jimmy Owens would hold court with the memories of our beloved borough." Mr. Mantilla is survived by his brothers Kermit, Rolando and Lisandro; sisters Irma and Sara; and his extended family. Obituary information from Mr. Mantilla's official bio at www.mantillamusic.com with additional information from www.wbgo.org. (For more on Mr. Mantilla's life, see here and here.)
---
James "Jymie" Merritt
James "Jymie" Merritt, 93, a bassist, bandleader and composer, died on April 10, 2020. He was a pioneer of the electric bass and best known for his association with Art Blakey & the Jazz Messengers, with whom he played from the late 50s to the early 60s. He also worked with B.B. King, Dizzy Gillespie, Max Roach, Chet Baker, Lee Morgan and Bull Moose Jackson. Mr. Merritt grew up in a musical household and served in the Army during World War II. His son, bassist Mike Merritt, a member of Local 802 for almost 30 years, is well known for playing in Conan O'Brien's house band. Besides Mike, Mr. Merritt is also survived by his partner Ave and children Marlon, Marvon, Mharlyn and Jamie. Obituary information from www.wbgo.org.
---
Bob Ojeda
Bob Ojeda, 78, a trumpeter and a member of Local 802 since 1992, died on March 26. Originally from Chicago, Mr. Ojeda performed early on with the big bands of Stan Kenton, Woody Herman, Buddy Rich, Ralph Marterie and Les Elgart. During his long career, he performed everywhere from Broadway to a gig with the Rolling Stones, and also wrote music for TV, including the Tonight Show. Mr. Ojeda played with Hank Jones, Thad Jones, Frank Rosolino, Bill Holman, Joe Williams, Sarah Vaughan, Peggy Lee, Lionel Hampton, Nancy Wilson, Benny Carter, Carl Fontana, Duke Jordan, Lena Horne, Julie London and Dizzy Gillespie. Mr. Ojeda enjoyed a long stint with the Count Basie Orchestra from 1985 through 2001. He performed on all Basie band recordings during this time and arranged for Diane Schuur and George Benson. One of the highlights of this period was backing Frank Sinatra with the Basie Orchestra. Mr. Ojeda also wrote symphonic pieces, which were performed by the Dallas, Detroit and Indianapolis symphony orchestras. A concerto for a combined 80-piece jazz and symphonic orchestra was commissioned through a private grant and recorded at Mandel Hall at the University of Chicago campus. For over a decade, Mr. Ojeda served as chief judge for the Luminarts Cultural Foundation's jazz competition. Mr. Ojeda is survived by his siblings Gil, Liz, Ron and David Ojeda, and sister Gloria Koller. Obituary information from the Chicago Tribune and www.bobojedamusic.com.
---
Bucky Pizzarelli
Bucky Pizzarelli, 94, the legendary jazz guitarist, passed away on April 1 due to complications from the coronavirus. He had been a member of Local 802 since 1951. I had the pleasure of interviewing Bucky a few years back at his home in Saddle River, N.J. He was one the nicest guys I've ever met.
The pianist and composer Dick Hyman, who collaborated with him on Joe Venuti's "Sliding By" and Woody Allen's film "Sweet and Lowdown," called Bucky "a founding member of our New York gang, a great player and a close friend." The singer Sandy Stewart, who first worked with Bucky when she was 16 and he was in his late 20s, said that she "never met anyone who wasn't charmed by his warmth. You couldn't help but feel good to be in his presence." She jokingly added that he was one of the only musicians who got along with Benny Goodman.
Fellow guitarist Ed Laub, who played hundreds of gigs with him for 17 years until Bucky retired in 2016 due to a stroke, called him "the most generous musician I have ever known. He loved to share his knowledge and talent with anyone who asked and he was always happiest when he was playing, whether at a local community venue or Lincoln Center."
Although Bucky took solos, he considered himself a rhythm player first and foremost: "I'm setting the beat [and] playing with the drummer. The bassist plays the first note of the measure and I hit the second beat. You gotta stay right on top of that beat — b'chink, b'chink, b'chink, you know?"
Two of his main influences were Al Casey (with Fats Waller & His Rhythm) and Freddie Green (the Count Basie Orchestra). Freddie Green only played in the low register, "the fat portion of the neck," he noted, adding that "everybody tried to do what he was doing." Al Casey, who worked with the Count prior to Green, used an amplified guitar and his sound was "too powerful and stuck out too much," so Basie ended up hiring Freddie Green. "I also knew Claude "Fiddler" Williams, who also played electric guitar and TAUGHT Green — can you believe that!"
Bucky took up the guitar at age 9, inspired by his uncle Bobby Dominick, who "played in a lot of bands. I saw him coming and going, on and off the road and it looked like a million bucks. And I thought, Jeez, that's what I want to do." He added, "Music has been my whole life."
In 1944, when he was a senior in high school, Bucky got his first real job with the baritone singer Vaughan ("Ol' Leather Tonsils") Monroe's dance band. "He was a great guy," remembered Bucky. "It was a great bunch of musicians and we had a great arranger, Don Costa, who later worked with Sinatra, Paul Anka and Eydie Gormé."
More recently, in 2012, he collaborated with Paul McCartney on the ex-Beatle's "Kisses on the Bottom."
Bucky's final recording, "Renaissance: A Journey from Classical to Jazz" (with Ed Laub), was released in 2015. During his 77-year career, he appeared on hundreds of records, including such mega-hits as "Georgia on My Mind" (Ray Charles), "Stand by Me" (Ben E. King) and "The First Time Ever I Saw Your Face" (Roberta Flack). Notably, he went on several tours with Benny Goodman, whom he described as "swinging all the time — kick you right in the ass!" His favorite guitarist was Barry Galbraith, who played with Claude Thornhill (he didn't care for Jimi Hendrix), while his favorite memory was jamming with Duke Ellington on the Duke's birthday: "They were celebrating it at clubs all over town," he recalled, "and George Barnes and I were down at the Playboy Club. Duke showed up when he was making the rounds and he invited us to his apartment on Central Park South. We played for him all night. He sat on a big couch and said, 'Before you guys leave, I want to sing with you.' And he sang 24 choruses, making up the lyrics right there on the spot. [It was a blues.]"
Bucky loved performing for an audience. "You can sit and practice a song all day in a parlor, but you haven't really learned it until you've played it in front of people, you know what I'm talking about? You can play it beautifully in your house, but you don't have it down until you've played it for a group of people."
Bucky leaves behind his sons John and Martin (both members of Local 802) as well as his daughters Anne and Mary and four grandchildren. The family asks that donations be made to the Jazz Foundation of America, at www.jazzfoundation.org.
— Peter Zimmerman
---
Adam Schlesinger
Adam Schlesinger, 52, a member of Local 802 for almost 25 years, died on April 1 from complications due to the coronavirus. Mr. Schlesinger was a singer-songwriter, record producer, bassist, guitarist, keyboardist and drummer. His prodigious talent garnered him three Emmys, a Grammy and the ASCAP Pop Music Award, and nominations for Academy, Tony and Golden Globe Awards. He was a founding member of the bands Fountains of Wayne, Ivy and Tinted Windows, and was a key songwriting contributor and producer for Brooklyn-based synth-pop duo Fever High. Mr. Schlesinger wrote music for the TV show "Crazy Ex-Girlfriend," where he won an Emmy for the song "Antidepressants Are So Not a Big Deal." He won an Oscar nomination for Fountains of Wayne's most famous song, "Stacy's Mom," and a Grammy for his work on "A Colbert Christmas: The Greatest Gift of All!" Mr. Schlesinger's creativity could be seen in many different genres: he wrote the music for the 2008 Broadway show "Cry-Baby: the Musical" as well as a song in the 1996 Tom Hanks film "That Thing You Do" and he even wrote songs for "Sesame Street." He was set to collaborate with Sarah Silverman to turn her memoir "The Bedwetter" into a musical and was also going to adapt "The Nanny" for Broadway. Mr. Schlesinger is survived by his parents Bobbi and Stephen, daughters Sadie and Claire, sister Laurie, and his partner Alexis Morley. His marriage to Katherine Michel ended in divorce. Obituary information from Wikipedia, JTA and the New York Times.
---
Leo Ursini
I didn't feel it was right to let the passing of Leo Ursini go by without an acknowledgement of what he meant to his fellow musicians. Leo, who died on Jan. 24 at the age of 82 after being a member of Local 802 since 1955, was a mainstay of the club date field for many years. He contracted and led gigs for Peter Duchin, Bob Hardwick and many others. He was also a dedicated educator who taught public school for many years. He knew every tune and harmony part and was first call all over town in the society field. Like Elvis or Cher, Leo didn't need a last name; when you said "Leo" in the club date field, everyone knew who you meant! I know that his father was also big in the music field, but I don't know more. He is survived by his spouse Antoinette; his children, Angela Galante (Angelo) and James Ursini (Noreen); and his grandchildren, Mario, Jacob, Liliana and Antonia. If you remember any other stories about Leo, write to Allegro@Local802afm.org.
— Richard (Dick) Frank
---
We also remember . . .
Dr. Lyn Christie*, bass
Eddy Davis*, banjo (click for tribute written by Scott Robinson)
Alfred Ferrari*, bass
Elaine Howard, staff member of Local 802
Richard Teitelbaum, composer & keyboardist
*Tributes will appear in next issue and online
To submit an obituary to Allegro, e-mail Allegro@Local802afm.org