Rock in musical theatre
Member to member
Volume 120, No. 4
April, 2020
Although I've sung all my life, I don't consider myself a singer. I know that's an odd statement coming from someone who just wrote a book on singing. What I am is a musician who freely uses his voice in his career as a music director, composer and arranger — and as a vocal coach and professor. On the podium, conductors use their singing voices to demonstrate an articulation, a dynamic, a rhythmic feel or a phrasing. Vocal coaches, naturally, refer to their own vocal production and musicianship to help a singer understand and enact a song. I know that many of my musical colleagues of all varieties will identify.
In truth, almost everyone sings. Most people, obviously, do not sing professionally, but singing is inherently and universally human. Even some not-so-good singers have achieved great success as singing actors, entertainers or creative artists. This is true in rock, and it's true in musical theatre, too. This is just one parallel between rock and musical theatre. There are many others, and there are just as many differences.
My new book "Rock in the Musical Theatre: A Guide for Singers" addresses these differences and works to reconcile them. It also outlines the commonalities and how they can work to the performer's advantage. The book provides students, professional singers and coaches at all levels with information on the aesthetics, theory and performance practices most relevant to singing rock on the musical theatre stage.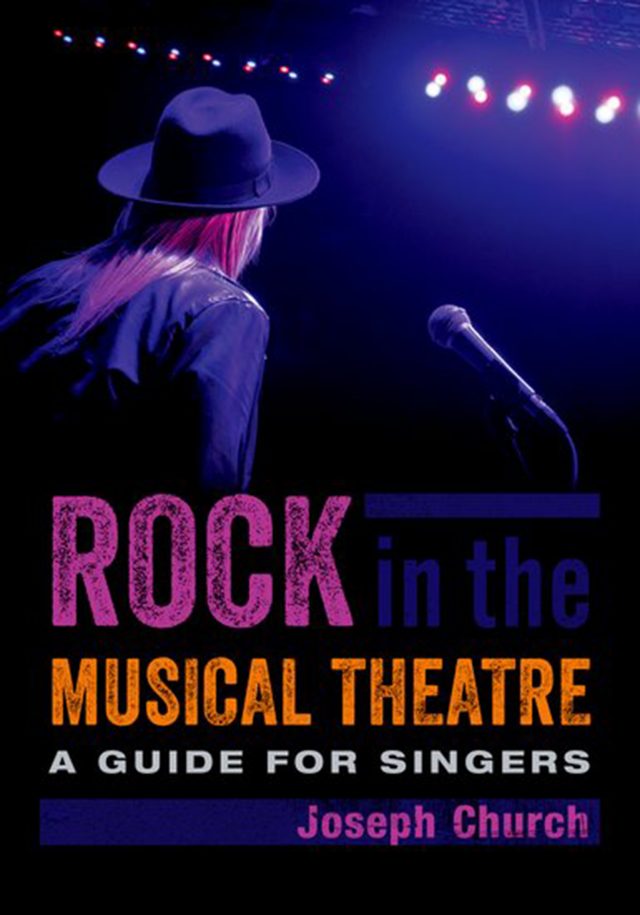 In the book, rock is defined very broadly, inclusive of almost all popular music from the 1950s onward — music that was first dubbed "rock 'n' roll" and rapidly grew more sophisticated, branching out into a myriad of new, musically revolutionary styles. Soul, country rock, progressive rock, hard rock, soft rock, funk, pop, rap and countless other genres are all now part of the expanse we call rock.
Rock has had quite a robust lifespan (despite taking all those drugs) and the millennial generation has further lifted sales off the charts. What's more, almost every rock style ever born is still alive and well somewhere. It seems there will never be a shortage of rock songs. And now, we hear these songs and these styles on Broadway and stages around the world.
The variety of rock styles we've recently heard on Broadway is remarkable. There's the rap of "Hamilton," the electronic dance music (and a whole lot more) of "Natasha & Pierre," groovy folk-rock in "Dear Evan Hansen," salsa in "On Your Feet" and just about every pop style ever conceived in "Moulin Rouge," to name just a few. And then there are all the jukebox musicals, most of which are built around a rock artist or songwriter. On top of that, rock musicians such as Cyndi Lauper and Sara Bareilles are themselves writing for the theatre. It's no wonder that younger audiences are enjoying Broadway now more than ever. Most Broadway theatregoers today, even the older ones, now think of rock as the norm of popular music and therefore of the theatre.
Still, rock took a firm hold in the theatre rather slowly and we still hear a good deal of older-fashioned music and pastiche in musicals. Whereas it's true that musical theatre is traditionally conservative, it has also sometimes been quite forward-thinking. It was only natural that rock would eventually migrate into new theatre scores. To some extent, musical theatre music has always reflected the pop music of its time (despite all the throwbacks), but rock, with its deliberately anti-establishment stance, took a little getting used to. The prevalence of rock is now reflected, as well, in most music and musical theatre training programs, which have recently begun to include rock in their curricula.
Younger singers, though and many of their coaches, too, are now removed from "original" rock — rock, that is, at its points of origin — by one and sometimes two generations. They may be unfamiliar with the cultural and musical history that made rock such an extreme break from earlier song styles, and they may not fully understand the musical language of the melodies they are interpreting. They may lack awareness of the upheavals in society and belief systems that accompanied the shift to rock music and how it influenced the sorts of characters they will portray on stage. My book combines theoretical and pragmatic approaches to these topics, using extensive musical examples, detailed repertoire lists, analytical studies, and chronicles of coaching sessions showing the aesthetics and theory in practice.
Of course, the technique of singing rock is also a primary focus. Hopefully, the mistaken assumption that rock is the enemy of healthy singing will be dispelled.
Rock only modifies the way singers produce sound — your technique won't need an overhaul. All vocal production is the product of a physiology that everyone shares, modified by variables belonging to individuals — singers and characters — and the songs themselves. When performing rock in the theatre, you are extending vocal techniques you already use.
There are many exercises in the book that engender good singing habits and long-term vocal health, using the elements of rock music as a foundation. The exercises emphasize proper breathing and breath control, effective articulation of text, rhythmic accuracy, timbre and placement and many other issues, all with an eye toward stylistic authenticity.
Writing this book became over time more than an attempt to examine an as-yet-unexamined topic. As I looked ever more deeply into the songs and stories that shaped my life and the lives of many musicians and actors, it became a music appreciation. My wish is that every reader will have a similar experience and that they will learn something along the way. Rock has evolved into something more than the "soundtrack of our lives" — now, it defines our lives. That's why we make it into musicals.
Joseph Church, a member of Local 802 since 1983, is best known for his work as music director and supervisor of two groundbreaking Broadway musicals, "The Who's Tommy" and "The Lion King." Also an active composer, he has written for film, television, the concert stage and over 30 plays and musicals. The opinions of writers in Allegro do not necessarily reflect the opinions of the staff, members or officers of Local 802. To submit a story to Allegro, send an e-mail to Allegro@Local802afm.org.