Rockin' on the Campaign Trail
Music and Politics
Volume CVII, No. 3
March, 2007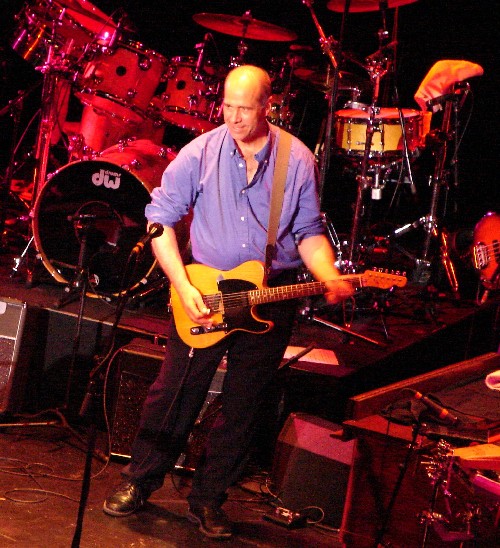 John Hall backing up Bonnie Raitt last October. Photo by Robert L. Furlong.
"Organized people have always had to take on organized money. If they had not, blacks would still be three-fifths of a person, women wouldn't have the vote, workers couldn't organize, and children would still be working in the mines." — Bill Moyers
John Hall became the first Local 802 member to win a seat in Congress thanks to lots of help. Fellow 802 member Bill Ochs volunteered virtually full time from mid-June through Election Day. Ochs organized phone banks at Local 802 and canvasses in the Hudson Valley, and performed many other tasks for the campaign. Here is Ochs's story.
I was a student activist in the '60s and '70s, but drifted away from direct political involvement after the Vietnam War ended. Bush's "election" in 2000 was a wake-up call for me. I volunteered for John Hall's campaign first and foremost because of Bush's invasion of Iraq and my desire to stop the president from doing even more damage. John hoped to challenge Sue Kelly, a 12-year Republican incumbent who was a staunch supporter of Bush on the war and a reliable vote for the Far Right whenever they needed her. But first John had to get through a Democratic primary in which three other candidates were vying for the right to take on Kelly.
John's platform called for universal healthcare, ending our dependence on foreign oil, and extricating our troops from Iraq as quickly as possible. Though the other primary candidates had positions very similar to his, John looked much more electable to me than did his opponents. He had run successfully for county and local office three times, and had a distinguished record as an environmental activist. At 6'3″ with a deep baritone voice, John had a commanding presence on the stump. He was also smart, mature, charismatic, and very likable.
But what really closed the deal for me and set John Hall apart from the rest of the Democratic primary field was his campaign organization. It was first-rate — and light years ahead of those of his competitors.
It also didn't hurt that John had written two songs that almost everyone in the country knows — "Dance with Me" and "Still the One." In this media-driven world, you need a hook, and John Hall had one. His connections in the music world were sure to help with fund raising.
So in my mind John Hall was the man who could flip New York's 19th congressional district seat from red to blue. And since I didn't think we'd have a shot like this again anytime soon, I threw myself into the race body and soul.
At this point in my career I am a self-employed music teacher and not gigging very much. I was able to consolidate my lesson schedule to maximize the amount of time I could give to the campaign. When I wasn't teaching, I was working for John. The better I got to know him, the more inspired I was. That inspiration, and my anger towards Bush, motivated me to get out of bed every morning and think, "What can I do today to help elect John Hall to Congress?"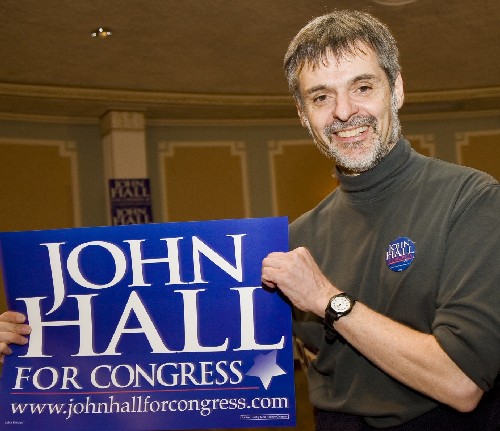 The author on election night, as results were coming in. Photo by Brian Stanton.
I phone-banked, canvassed, organized, registered voters, entered data, hosted a house party, wrote letters to the editor, staffed John at photo shoots, recruited a volunteer film crew, copy edited the campaign web site, worked as part of John's advance team, and generally tried to light a fire under every person I knew who lived in the district, which includes all of Putnam County, and some of Orange, Dutchess, Westchester and Rockland counties.
We had several hundred volunteers active during the primary and our hard work paid off. John won by a wide margin, almost doubling the vote total of his closest competitor, who actually outspent him by two hundred thousand dollars. What's relevant about our story from a union point of view is the benefit of collective action. John's staff honed the campaign's ground game during the primary, and then put together the largest grassroots mobilization the district has ever seen. We had over 1,200 volunteers working in the field for John during the general election.
And that's not counting all of John's union support. FEC regulations forbid the unions and a candidate's campaign from coordinating their efforts. But we knew that many labor groups were mounting independent drives on John's behalf — most notably 1199 SEIU, NYSUT, IBEW, PEF, CWA and the state AFL-CIO. To be part of this coalition so much larger than myself was exhilarating — the best thing I have ever done in my life.
And to beat the odds was sweet. Even though John had won an impressive victory in the primary, the pundits, talking heads, and party insiders all said he was "too liberal" for this majority-Republican district and could not win "the big one" against Sue Kelly. Kelly had the advantage of incumbency, a huge campaign war chest, and three ballot lines to John's one. She had routed her six previous Democratic challengers by wide margins. Though a few commentators acknowledged that the race would be somewhat closer this year, the conventional wisdom was that Sue Kelly had nothing serious to worry about.
But a funny thing happened. Kelly relied on a relentless, nasty media blitz following the usual Republican playbook. And John Hall did not buckle. He stood tall, stuck to his progressive message, and his grassroots base provided unflagging support just as it had in the primary. Phone bankers made thousand of calls and canvassers knocked on thousands of doors. Organized labor rallied its members to John's side. Veterans came to his defense. Musicians played benefits for him. Bloggers championed his cause. Rank-and-file Democrats dug deep in their pockets to keep him competitive. And even the Democratic Party leadership finally woke up and — in the last two weeks of the race — said, "Hey, this guy is for real!"
When it was all over, John Hall, ex-soft rocker, had become the Honorable John Joseph Hall. He won by 4,760 votes — four votes per volunteer. It was the way democracy is supposed to work and this time, it did.
I'd like to give special thanks to 802 Recording Vice President Bill Dennison who helped set up a phone bank at 802; to members Matt Cowan, Bob Ingliss and Deirdre McCardle-Manning who helped make the phone bank a success; and to 802 recording rep Joel LeFevre who came up to Poughkeepsie on Get-Out-The-Vote Weekend to knock on doors for John.