Showing Solidarity With Our Musicians' Union Colleagues in Britain
President's Report
Volume 115, No. 9
September, 2015
Summertime usually means vacation travel, but in the life of a union president today, it means nonstop conferences, meetings and strategy sessions all over the world. I began the summer with a trip to London for a meeting with the British Musicians Union (MU). John Smith, the president of the MU, graciously invited me to attend his union's biannual conference of delegates. This meeting is much like the AFM's convention, where bylaw resolutions can be submitted for ratification and matters dealing with the governance of the union are discussed and addressed. As part of the meeting, I spoke on a panel with Naomi Pohl, the MU's regional organizer for London's West End theatres. For several years, the MU and Local 802 have been meeting about the commonality between the West End theatres and Broadway. This is an important relationship because many of the London producers also produce here in New York. As our employers become more and more global, we in turn must look to our colleagues for support and offer our support when needed. The most interesting aspect of the visit was the similarity of our agreements. Local 802's agreement with the Broadway League and the MU's agreement with the Society of London Theatre have many common threads. I find it fascinating that two agreements, which evolved completely separate from each other, address many of the same issues. Musicians across the world who work in the same facets of the music business have many of the same concerns.
This is also the time of year when our musicians' player conferences and other organizations hold their annual conventions. This summer, I attended meetings of the Locals Conference Council and the Players' Conferences Council (LCC/PCC), ROPA, TMA and ISCOM.
The LCC/PCC is an opportunity to hear reports from representatives of the various locals and player conferences as well as an opportunity for the International Executive Board to offer status reports on the general well being of our union. Although every conference has its own issues, there is a concern that affects all musicians – the struggle to achieve fair wages, good working conditions and benefits that are representative of the value of our work. Additionally, the frequency in which musicians allow themselves to be engaged for work that is not covered by a union contract is alarming. This devalues what we do and adds to the struggle in bargaining for good wages and benefits. We need to stick together, and our union is here to help make that happen.
Recently, I also met with the International Executive Board, and earlier this summer I met with the AFM Electronic Media Oversight Committee. As you may have read, the AFM has filed suit against the record companies for various violations of the Sound Recording Labor Agreement. The violations include the failure to make appropriate payments for new use and for calling SRLA sessions for use of product other than what is provided for in the agreement. In a similar vein, the pension fund has filed suit against the record companies because of the lack of appropriate pension payments as required for digital streaming, tethered downloads and ringback tones.
INSIDE THIS ISSUE
Our cover story is an exclusive interview with husband-and-wife team Rosanne Cash and John Leventhal, who are both big supporters of the union. Local 802 Executive Board member Andy Schwartz sat down with them and was able to gain invaluable insights on their creative process.
Despite recent gains, our pension plan is still in what is called the "red zone." But what does this really mean and why shouldn't musicians be worried? Harvey Mars spells it out in his article.
Saturday Night Live is celebrating its 40th anniversary this year. Musicians who play in the SNL band are covered by an AFM union contract and we asked band members for their favorite memories of the show. Also, this year we said goodbye to David Letterman as host of the Late Show. We spoke to Paul Shaffer and members of his band for their reminiscences.
One of our oldest and most experienced members, Vincent Caruso, recently passed away at the age of 100. He had been a Local 802 member since 1937. You can read his obituary along with our tributes to Anthony Morreale, Joseph Rabushka, Federick Weber and Alex Wilson. Additionally, we mourn the loss of Gilberto Barretto, the husband of Local 802 member Su Terry. You can read Su's reminiscences here. Rest in peace.
The upcoming Local 802 membership meeting on Oct. 14 will include four bylaw amendments to vote on.
The Senior Concert Orchestra will hold its annual concert on Oct. 12 at Carnegie Hall. Tickets are free. To reserve a ticket, view additional info here.
The next edition of the Local 802 membership directory will be compiled later this year. Please make sure your information is correct.
IT PAYS TO MAKE IT UNION
We have some victories to report in our campaign to bring more film scoring, post-production work and union recording sessions to NYC.
"The Hunchback of Notre Dame," a musical that played earlier this year at the Paper Mill Playhouse in Milburn, New Jersey, has indicated that it will record its cast album under a union contract this October. The producers had originally planned to outsource the recording session to musicians in Nashville, but thanks to efforts by Local 802, the session is now slated to be done in NYC.
A massive 71-piece orchestra recorded the score to the upcoming Dreamworks film "The Light Between Oceans," under a union contract at the Manhattan Center in July. The composer is Alexandre Desplat. Producers specifically mentioned the post-production tax credits in New York as a reason to record the score here.
The soundtrack to the upcoming film by the Coen brothers, "Hail Caeser," is being recorded under a union contract in NYC. (See photo above of a recent union session for this film.)
Another recording field accomplishment is a new union session at Broadway Records, which records musicians from the venue 54 Below. Finally, Amazon.com has announced a second season of "Mozart in the Jungle," a drama about the NYC music world based on the memoir by former Local 802 member Blair Tindall. The show records in L.A. and licenses foreign symphonic work, but it also hires New York musicians for sideline shoots under AFM union contracts. This year, the show wants to record additional music in NYC, which will result in session payments to musicians in addition to the sideline work.
We salute all producers and composers who do the right thing by recording their music under a union contract here in NYC. For more information on the benefits of recording a film or TV score under a union contract, call (212) 245-4802 and ask to speak to the electronic media department. If you're a musician who has been called to play a recording session of any kind, please make a confidential call to the union so we can make sure you're paid the wages and benefits you deserve.
NEGOTIATIONS UPDATE
Local 802 recently negotiated union contracts for musicians playing in the following productions: "Jerry Springer: The Broadway Musical," "Top Hat," "Something Rotten," "FREED," "Trip of Love," "Bandstand," "Allegro," "School of Rock" and "Avenue Q." Any time you are called to play a musical theatre job of any kind, please make a confidential call to our theatre department at (212) 245-4802.
NOTES FOR RELIEF
As you read these words, Local 802 is rolling out a new campaign called Notes for Relief, which is designed to encourage donations to our Emergency Relief Fund. This is a unique campaign that will be launched entirely in social media. The campaign features the testimonials of some of our members who had faced serious crises and who were able to utilize the ERF in order to stabilize their lives. They generously allowed us to film their stories, which will be presented on our web site and Facebook page to highlight why the ERF is so important and so necessary. We'll also be posting messages from our renowned honorary advisory board members, including Bob Cranshaw and Marc Ribot. The ERF needs new resources and a stable source of income in order to continue its mission of helping musicians.
THE RIGHT TO BUSK
Allegro has reported many times over the years that musicians have the clear right to perform on subway platforms. (Restrictions do apply – for example, you can leave your instrument case open to accept donations, but you can't actively solicit them.) The organization BuskNY advocates for subway musicians and recently got City Council to introduce Resolution 705, which recognizes September 2015 as the 30th anniversary of legal artistic performance in the New York City subway. The resolution also calls on the police department and the MTA to take steps to end wrongful ejection, ticketing and arrest of subway performers. The Local 802 Executive Board unanimously voted to support this resolution. As Allegro goes to press, it was not yet known whether City Council had passed the resolution.
NYCO UPDATE
It seems that every month, the story of the defunct New York City Opera takes another strange turn. The Wall Street Journal reported over the summer that the company may now be reorganized through the bankruptcy process instead of selling off its name and assets to another entity. The reason for this is so that the company can gain access to a bequest of $5.5 million that had been gifted to NYCO before it dissolved. However this plays out, Local 802's position is that musicians must be paid all wages due to them and that whoever ends up owning NYCO must sign a fair contract with the musicians.
WELCOME, SARAH
I'd like to officially recognize Sarah Koshar to Local 802 as our newest organizer. Sarah comes to Local 802 with a variety of experience in labor and community organizing. Most recently, she was organizing fast food workers in their fight to win $15 an hour and a union. Sarah has been active with the Community/Farmworker Alliance, a volunteer collective that organizes in solidarity with a Florida-based farm worker-led organization, the Coalition of Immokalee Workers, which fights to ensure better wages and dignity in the fields. She tells us that she is very excited to continue fighting for workers' rights here at Local 802. You can reach Sarah at skoshar@local802afm.org or (212) 245-4802, ext. 150.
ANNE WALKER WINNERS
Congratulations to the winners of this year's Local 802 Anne Walker Scholarship prize: Caylen Bryant; Caroline Kuhn; Hannah Levine; Michael Migliore; Matthew O'Donnell; Ben Sherman; and Michalina Vessio. We'll accept applications for next year's prize in March 2016. Application information will be posted in Allegro, 802 Notes and on our Facebook page (www.facebook.com/Local802AFM).
CONGRATS TO ALLEGRO
I'm pleased to announce that our journal Allegro has won second place in the annual journalism conference of the International Labor Communications Association. For the past several years, Allegro has placed in the top three of all labor publications in the country. Congratulations to all staff and members who contribute to our award-winning magazine.
---
REMEMBERING GUNTHER SCHULLER (1925-2015)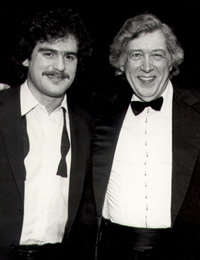 Gunther Schuller, shown here with Local 802 president Tino Gagliardi at a performance in the 1980s, died on June 21 at the age of 89. Mr. Schuller, who was a member of Local 802 from 1942 to 1976, was a conductor, horn player, jazz musician, author, historian and composer. He invented the term "third stream" to describe music that mixed elements of classical and jazz. Mr. Schuller played horn with the MET Orchestra and with Miles Davis, among many others. With John Lewis he founded the Modern Jazz Society. In this photo, President Gagliardi and Mr. Schuller had just finished playing a four-and-a-half hour concert celebrating the history of big band jazz. "He was one of the most musical minds I ever had the honor to perform for," said Gagliardi.
---
CHEEK TO CHEEK