A tribute to Sidney Saltzman
Volume 121, No. 8
September, 2021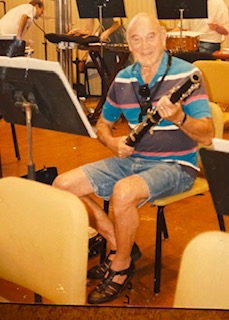 Sidney Saltzman, 95, a member of Local 802 since 1944, died earlier this year on Jan. 24, 2021. The following tribute was submitted to Allegro from Sidney's daughter Ava:
Sidney was a gentle giant. He was giant in stature, but gentle in personality — giant in talent, but gentle in humility. Sidney always greeted people with a smile, with enthusiasm and with an infectious laugh. He had a rare zest for life and was always in a pleasant mood.
Born in Brooklyn and a lifelong resident of Long Beach, Sidney studied clarinet, saxophone and bass clarinet at the Manhattan School of Music. For 51 years he played in the Chautauqua Symphony, and he also performed in the Houston Symphony, New Orleans Symphony and North Carolina Symphony. He was a sought-after teacher whose students became accomplished musicians themselves.
Sidney had a special warmth for Jewish traditions and was a self-taught cantor. He had a gifted voice that was pleasant and powerful, and had a unique ability to uplift, inspire and enliven an entire congregation.
There wasn't a favor that Sidney wouldn't do for you. He was more concerned about others than he was about himself. Although he enjoyed the simple things in life, he was also a deep thinker with a rich and expressive personality.
Sidney moved to Delray Beach, Florida about 10 years ago. He is survived by his loving wife Pearl of 67 years, daughter Ava, granddaughter Rebecca (and her husband Steven), great-granddaughter Ellie, and daughter-in-law Kristen. He was predeceased by his son Mark.