'Sing a Song of Sisterhood: A Praise Song for Thee'
Reminiscences: Women's History Month
Volume 112, No. 3
March, 2012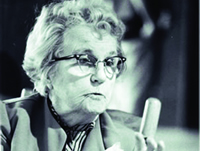 Florence Reese (1900-1986)
Photo: Greg Hamilton/Highlander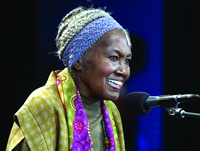 Odetta (1930-2008) Photo: West VA. Public Broadcasting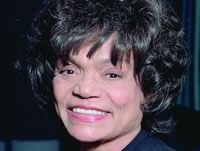 Eartha Kitt (1927-2008)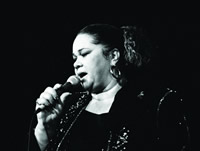 Etta James (1938-2012)
Photo: Roland Godefroy
There's history…and then there's "herstory." The herstory of labor music teaches us that Florence Reese was living in a coal mining town when private security police came to her home and arrested her husband, a union organizer. In her anger and outrage, Sister Florence wrote these words:
Come all of you good workers,
Good news to you I'll tell,
Of how that good old union
Has come in here to dwell.
Which side are you on?
Which side are you on?
On that night, in 1931, a labor song was born. Florence Reese lived and worked without ever hearing a song created in her honor. So now, this Women's History Month, I sing a praise song for Florence and all the coal mining women in the past and in the present whose story has yet to be told in song.
A year before Florence wrote "Which Side Are You On," and a lifetime away, Odetta entered the world and spent at least 64 of her 77 years singing her way into American folk music history. During the march on Washington in 1963, Odetta sang,
Oh freedom, oh freedom, oh freedom over me,
And before I be a slave, I'll be buried in my grave,
And go home to my Lord and be free.
Dr. King would later crown her the "Queen of American Folk Music." Armed with a stick of burning incense in the neck of her guitar, her voice was a clarion call to demand justice and work for peace. This is a praise song for Odetta and the civil rights singers who lifted us up and out of the quagmire of segregation into unity and solidarity.
In the name of peace, Eartha Kitt lifted her purr-fect voice to speak against the American war in Vietnam. Her courage cost her dearly. At the peak of her career, the producers and record companies put her on the "do not call" list. Like all s'heroes, Eartha did not crawl off and die in obscurity. She kept singing and dancing right up until her final concert in December 2008. This is a praise song for Sister Eartha and all the sisters who dare to speak truth to power.
At the tender age of 17 Jamesetta Hawkins sang "Roll With Henry" with a her sister friends calling themselves the Creolettes and launched the career of the woman we know as Etta James. She gave song to the struggles in her life with a voice that could make you cry or jump for joy! Sister Etta went into the studio and created a legacy of blues and jazz hits that made even the president of the United States put his hand up and say "At Last." At last, Etta, we sing this praise song for you with tears of joy for your going home because sometime "All I Can Do is Cry" and pray for your soul.
"As we come marching, marching," let us sing a praise song for the immigrant women and children who on March 12, 1912 dared to strike for "Bread and Roses." As we come marching, marching let us sing a praise song for 160 women and girls who lost their lives on March 25, 1911 during the Triangle Shirtwaist Fire. As we come marching, marching let us sing a praise song for the sisters who came together in Chicago on March 22, 1974 and founded the Coalition of Labor Union Women. As we come marching, marching we sing a praise song of sisterhood in celebration of our herstory.
Elise Bryant is a community organizer, arts educator, stage director and a lifelong union activist.