SOLIDARITY!
Volume CVII, No. 12
December, 2007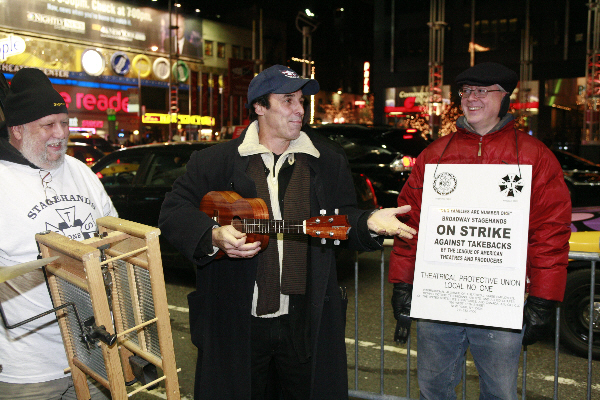 During the stagehands' strike, performed on picket lines. Photo by Claire Houston.
This November, two strikes have affected musicians in profound ways. The stagehands of IATSE Local 1 and the writers of the Writers Guild of America both took a stand. As Allegro went to press, the stagehands had just ended their 19-day strike. No details of the settlement were available at press time; stagehands were set to vote on the contract on Dec. 8. See photo story in this issue, and 802 President Mary Landolfi's letter here.
LOSS-OF-WORK BENEFITS AND EMERGENCY LOANS
The Executive Board has voted to authorize loss-of-work benefits from the Strike Fund in the amount of $30 per show to each musician scheduled to perform, both regulars and subs.
Also, you may be eligible for a short-term emergency loan offered by the Actors Federal Credit Union. Loans are available for amounts up to $5,000 at a rate of 6.9 percent for up to 36 months. Payments and interest are deferred for the first three months. Separately, the credit union is also offering holders of its ActorsFCU credit card the option of skipping a payment, if you are affected by the strike. Any musician may join the credit union, which has a branch on the fourth floor of the Local 802 building. For more information, see www.ActorsFCU.com.