Sparking imaginations for the next wave of musicians
Member to Member
Volume 118, No. 1
January, 2018
In my music classrooms, I teach kids how to compose. We start simple, with rhythms and syllables. I love to see the excitement on my students' faces when I tell them that after they write their names, they should put the copyright symbol © and the year. I tell them,  "If someone likes your song, they can not record it without asking you…or paying you!" This introduces a sense of empowerment and sparks their imaginations. We then talk about intellectual property and piracy, which broadens their scope of right and wrong.
I came to music as the product of two jazz musicians, Phyllis and Ted Brown, who met studying with Lennie Tristano in the 1950s. There was always a parade of musicians in my household, and I started playing by ear at first. Much later, I earned a degree in music education, won acceptance into the BMI Jazz Composers Workshop and founded the Anita Brown Jazz Orchestra. With a recent return to full-time work in music education, I integrate my passion for composition and jazz into the classroom. I have had the opportunity to teach music to middle school students in the Fordham Heights neighborhood of the Bronx, and most recently to elementary and middle schoolers in Mt. Vernon in Westchester County.
I like to teach American history through jazz and its iconic artists. In my Bronx classroom, equipped with only ten congas, some miscellaneous percussion, a piano and a smart board, I introduced Dizzy Gillespie and the Afro-Cuban facet of jazz through a video of Dizzy's group performing the famous Latin jazz tune "Manteca." I brought it to life by teaching a basic conga beat, writing some Spanish lyrics for the A section and playing a piano arrangement to engage everyone. My class of 100 percent Spanish-speaking students responded particularly well and often sang the melody back to me when they saw me in the hallways. We transformed a general music class into an ensemble. The level of cooperation necessary to achieve this is not common to other disciplines. It's wonderful to see kids correctly executing their parts, smiling, running to the microphone and taking charge of classmates' roles. While they may forget my name, they will always recognize the melody to "Manteca."
The general music classroom also offers ample opportunity to teach improvisation. In both districts I found success in offering middle schoolers a "freestyle rap day." I gave them a topic and a few minutes' preparation time. Their challenge was to perform an improvised rap. A pair of eighth grade boys in the Bronx delivered an impromptu performance on the topic of macaroni that was absolutely hilarious. Last year, a team of two sixth graders created such an amazing rap about Christmas that they debuted it for a packed house at the school's holiday concert that same night. We ended up publishing the rap in our new student arts magazine, complete with an authors' signing.
In seeking to incorporate listening, creativity, improvisation, production and performance for all, I began a recent school year with a drum circle of 20 five-gallon buckets from Home Depot, three congas, miscellaneous percussion and a "lollipop drum." I demonstrated the difference between a "rumble" and a steady beat. By the end of September students were volunteering to lead the class with the lollipop drum and formed their own ensembles. Some of these student-run bucket drum circles were featured at our holiday concert and included participation by the assistant principal.
Later in the year, I had the opportunity to work with Maxwell Kofi Donkor, a musician from Ghana. His work further developed students' independence using layers of ostensibly simple rhythms, that when combined create a complex matrix.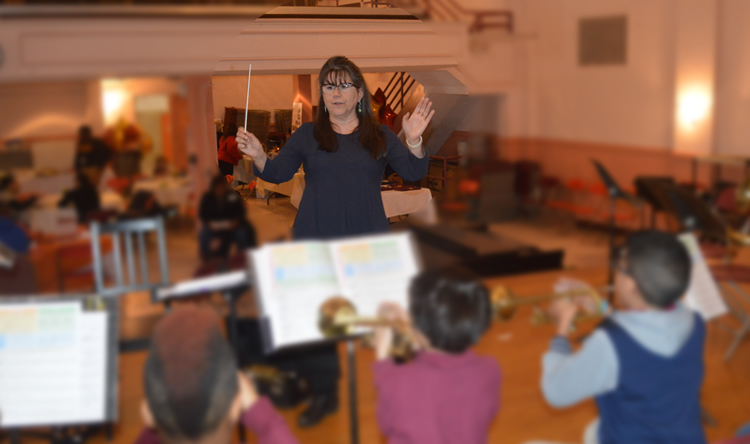 For my elementary band I've been composing simple pieces. By taking inventory of the notes they are able to play most readily, and adding a few I'd like them to reach for, I have composed several works to give first-year players a comprehensive band experience, including such "hits" as "Half Blues" and "Twelve O'Clock Jump." These charts engage players in counting, listening to other sections for cues, aurally identifying timbres of instrument sections, developing independence and fostering responsibility for their individual roles in the ensemble. I also teach players to conduct the ensemble using a baton. It empowers them with the authority to demand cooperation from their peers while exercising the responsibility of the conductor, raising many valuable questions for discussion.
In May I invited my colleague Tim Armacost, who is a woodwinds specialist and fellow Local 802 member, to work with my first-year band students. He demonstrated an array of woodwind instruments, dazzling them with masterful improvisation. Each student had time to work with him in a workshop/clinic setting. It was the highlight of the year for them, as was evidenced by a number of students indiscriminately attempting to improvise following his visit. I subsequently met with a few accomplished fourth graders and introduced them to the improvisation section of my latest piece "Smooth Up Jazzy Jam" (titled by the fourth grade lead trumpet player), on the slate for this fall.
Amid a teacher's efforts to teach and inspire, there are countless daily hurdles to be navigated, apart from teaching. Membership in the teachers' union is mandatory for all teachers. While the district provides health insurance, the union provides vision and dental coverage. Every building has at least two union representatives who inform members of current issues and who are there for support in any interpersonal challenges that may arise or in situations where a teacher may be asked to perform duties beyond the scope of the contract. The union negotiates the salary schedule, which, once ratified, is cast in stone for the duration of that contract. In other words, membership is worth every penny.
As a teacher, finding balance with my own artistic aspirations is challenging. My attempts to write music are often met with complete exhaustion. Nevertheless, a new project has recently found me. Inspired by a personal family story, I am seeking to honor the one million souls who rest on Hart Island,  which is New York City's potter's field in the Bronx, east of City Island.  I hope my piece "Hart Island Suite" will celebrate pending NYC legislation to open the island up to the public (see www.hartisland.net).
It's difficult to predict whether my young students will seek professions in the music industry. What seems more important is that each be exposed to a broad spectrum of musical experiences to hold in their memory. I can only hope to plant rich-enough seeds that might flourish and spark the imagination of each child to define the role music will play in their lives, whether as consumer or professional. The best thing that music teachers can do is spark the next wave!
Anita Brown, a member of Local 802 since 1997, is a permanently certified K-12 music educator, an award-winning composer, former copyist to the Vanguard Jazz Orchestra and primary librarian to the estate of  the late saxophonist Manny Albam. She is available for consultation for teaching artists interested in learning to integrate the formal requirements of public school music education into residencies. Visit her blog post to weigh in on your thoughts concerning music education and to read reflections by some of Anita's former students: www.anitabrownmusic.com/anitas_blog/thoughts_on_music_education.
To submit a personal essay to Allegro's "Member to Member" column, e-mail Allegro@Local802afm.org.