'Standing on the Shoulders of Those Who Came Before Me'
Member Spotlight
Volume CIX, No. 2
February, 2009
Local 802 member Ricky Gordon submitted this essay about one of our most famous members.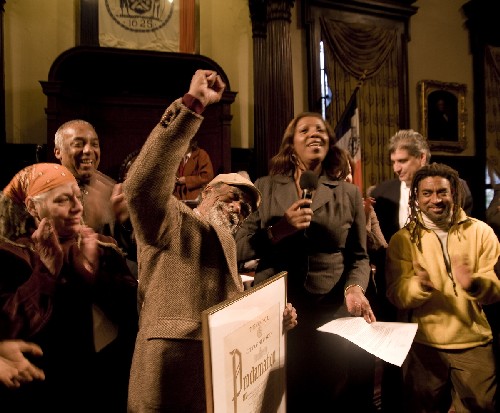 HONORING A LEGEND: On Nov 19, the New York City Council honored legendary jazz musician Bill Lee at City Hall with a proclimation of his life's work. Photo by Enid Farber.
On July 23, 1928, he was born into a family of achievers and academicians. He's a descendent of Mike and Phoebe, who were slaves in the Bible Belt's Heart of Dixie.
He was born during an era when the aluminum acoustic bass was commonly played and could be purchased at Sears and Roebuck. It would become his principal instrument. Since then he's been on a quest: aspiring to reach the heavens with jazz, as Jacob did with his ladder.
Last year he turned 80 years old. So now we reflect on and honor his accomplishments.
He graduated from Morehouse College in Atlanta in 1951. Among his schoolmates were Wendell Whalem, Babatunde Olatunji and Martin Luther King, Jr.
The four of them would later impact the world through their peace, spirituality and creativity.
King would found the Southern Christian Leadership Conference and become a champion of human rights for all.
Baba would teach us about African heritage and Nigerian culture, open a cultural center in Harlem, and conduct spiritual retreats throughout the world.
Whalem would come back to Morehouse as chair of the music department where he would lead performances of the Glee Club for presidents and world dignitaries.
And the subject of our essay would compose, record and perform on some of the most distinguished music in modern-day history, music that we have listened to and come to love. He was the bassist on "Puff The Magic Dragon" and "Mr. Tambourine Man," to name just two examples.
As a world traveler and first-class educator, this profound jazzman has continued in the footsteps of his family.
His father was the first bandmaster of Bethune-Cookman College in Daytona, Florida. His mother was a concert pianist. And his grandfather, a disciple and friend of Booker T. Washington, graduated from the Tuskegee Institute and founded the Snow Hill Normal and Industrial Institute.
He moved from the heart of Dixie first to Atlanta and then to Chicago, where he became house bassist at the Gate of Horn. He moved his family to Brooklyn in 1959, where he currently lives in Ft. Greene.
He has recorded or performed with Duke Ellington, Billy Strayhorn, Josh White, Woody Guthrie, Odetta, Pete Seeger, Olatunji, Peter, Paul and Mary, Mamas and Papas, Bob Dylan, John Lee Hooker, Gordon Lightfoot, Max Roach, Clifford Jordan, Harold Vick, Judy Collins, Carmen McRae, Stanley Cowell, Charles Tolliver, Aretha Franklin, Arlo Guthrie and Harold Mabern, among many others.
If you commend him for his accomplishments, he will thank you and say, "I'm standing on the shoulders of those who came before me."
In homage to his foreparents, he founded a music group called The Descendents of Mike and Phoebe, which included three of his six siblings — Grace, Consuela and Cliff. (He also has three other brothers: Clarence, Leonard and Arnold.)
He recorded extensively on Strata East Records, founded by Charles Tolliver and Stanley Cowell. He later founded the New York Bass Violin Choir and the Natural Spiritual Orchestra and co-founded the Brass Company band with Billy Higgins and Bill Hardman.
He's also written operas, librettos and short stories, and composed symphonies and film scores, including "Joe's Bed-Stuy Barber Shop: We Cut Heads," "School Daze," "Do The Right Thing," "Mo Better Blues" and "Accidentally On Purpose."
His descendents are Spike, Chris, David, Joie, Cinque and Arnold. (The mother of his first five kids was his first wife, the late Jacqueline Shelton Lee. He is married now to Susan Kaplan Lee.)
Like father, like sons: they all share a love of baseball and basketball and are fans of all sports.
Our honoree in this essay is bassist William James Edward "Bill" Lee III , and he's from Snow Hill, Alabama…y'all!.