STOP INJURIES BEFORE THEY HAPPEN
To your health
Volume 120, No. 1
January, 2020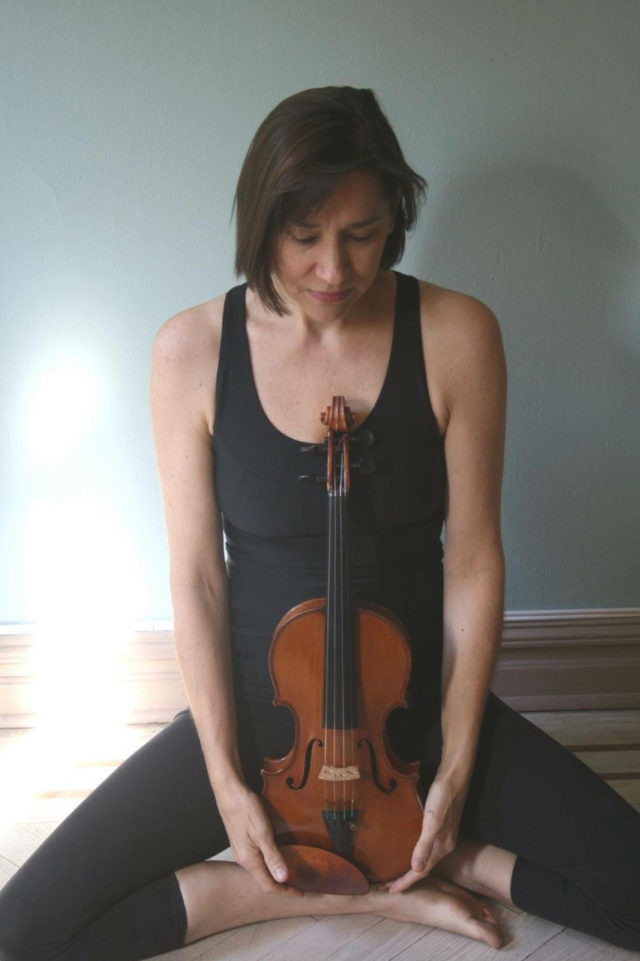 FREE INJURY PREVENTION WORKSHOPS FOR MEMBERS OF LOCAL 802
Local 802 member Katherine Hannauer (pictured above) and her classmate Nick Cerbone will lead free, hands-on injury prevention workshops at Local 802 in February. There will be flyers posted at Local 802 as well as announcements on social media. Please e-mail katherine.hannauer@downstate.edu for more info.
Here's how Local 802 member Katherine Hannauer began her remarkable journey in occupational therapy…
Getting injured is one of a musician's worst fears. But there are great strategies and best practices that we can pursue, including something coming up this winter for Local 802 members that's completely free. Local 802 member Katherine Hannauer and her classmate Nick Cerbone are occupational therapy students at SUNY Downstate Medical Center in Brooklyn and will be offering a series of workshops at Local 802 on injury prevention strategies for musicians. The strategies will be simple and user-friendly; players should be able to easily fold them into their personal practice routines. They're planning to spend some time addressing posture and stress management, too.  (They'll also hold a separate session for the office staff at Local 802.) "It's never too late to start learning about injury prevention," says Katherine, "But the earlier, the better!"  Allegro recently interviewed Katherine to learn more about what she's going to offer our members.
Allegro: You've been a member of Local 802 since 1985. What is your musical background? And how did you get interested in injury prevention and occupational therapy?
Katherine Hannauer: I took my first violin lesson when I was five, went to music school, and have been a working freelancer since the early 80s. I've worked mostly in orchestras, opera and Broadway. Around 20 years ago, I started going to yoga classes, and found it super helpful in mitigating stress and violin-related aches and pains. Just taking your body through its full range of motion is a great first step in alleviating musculoskeletal imbalance, a source of pain and discomfort for so many people. I started doing yoga teacher trainings and became fascinated with anatomy and the mechanisms of injury, partly because I was seeing so much of it among my colleagues. I now have about 800 hours of teacher training under my belt, which is something I'll be drawing on heavily for our workshops, along with the training I've had in anatomy, kinesiology and ergonomics in grad school. It was my yoga teacher, Jason Brown, who first suggested occupational therapy to me when I was thinking about a second career. I looked into it, decided it would be a perfect fit, set about taking science prerequisites and applying to grad school, and, well, here I am, straddling two professions. It's been quite an adventure.
Allegro: Have you ever been injured over the years as a musician?
Katherine Hannauer: Yes! I developed adhesive capsulitis, a form of frozen shoulder syndrome, in 2011. I lost a lot of the range of motion in my bow arm, which meant contorting the rest of my body to compensate while playing (and doing just about everything else, for that matter). When I look back on that time now, I can't believe I kept working! I went for therapy with Caryl Johnson, an occupational therapist and hand therapist whose name will be familiar to many people in the business. In addition to helping me get movement back in my arm, she was a huge inspiration to me because she herself had made a career in occupational therapy after training as a musician. Her practice consisted mainly of injured musicians, and when this assignment came up, it was her practice, which consisted mainly of injured musicians, that I thought of immediately. There's clearly a lot of need among musicians.
Allegro: What is one thing that's especially surprising that you want fellow musicians to know about injury prevention?
Katherine Hannauer: One thing that surprises me is that music schools are not more ahead of the curve in addressing injury prevention. It's great that some schools are making physical therapy and occupational therapy available to injured students, but it would be so helpful to identify potentially damaging movement patterns while lifelong habits are being established and mitigate them BEFORE they cause injury.
Allegro: What are best practices for musicians to avoid injury?
Katherine Hannauer: We came across a lot of research on this when we searched the literature. General themes include proper warmup techniques, proper posturing for different instruments and positions, smart practicing, pacing, acknowledging tension and stress management. We'll be exploring all of these themes in our free program for Local 802 members.
Allegro: We all know that we shouldn't play through pain. But what if we have an audition or an important gig that we must play through? What if our livelihood depends on playing through pain –  and there is just no alternative? Is there any safe way to mask the pain or play through pain? What do you have to do in emergency situations, like playing for the most important audition of your life while injured?
Katherine Hannauer: The short answer is "it depends." Generally, it's not a good idea to ignore pain. Physiologically, pain is an important protective mechanism. That said, there's a whole spectrum of playing-related complaints — from mild soreness, to chronic, severe conditions like tendonitis or nerve entrapment syndromes — so there's no single answer that applies to every situation. We've all found ourselves having to play with pain in order to get through a gig or audition. Sometimes taking some ibuprofen and powering through it won't do lasting damage, but if you find yourself making a habit of that, it's time to see a doctor. My advice would be to take it case by case and use your common sense.
Allegro: Getting injured is a horrible feeling, partly because of the pain and partly because it means that we're out of commission as a musician. It can be depressing because we have to do therapy and not practice. Do you have any advice for injured musicians on how to deal with feelings of hopelessness or self-doubt or self-blame about getting injured?
Katherine Hannauer: This is a tough one, because our identity and sense of self-worth can be so strongly tied to what we do. It's important, first and foremost, to attend to your health — and not just your therapeutic regimen, but also eating well and getting regular, good-quality sleep. Fear of re-injury is often a source of anxiety, so stay in touch with your medical providers to monitor your progress, and consider movement and mindfulness practices, such as yoga or tai chi, which are safe for you to do and can help you prevent re-injury once you start playing again. And of course, if you're having a really tough time emotionally, don't hesitate to consult a mental health professional for help in developing coping strategies.  Remind yourself often that this too shall pass and that you'll be better off in the long run for having given your body time to heal.
Allegro: You just spent the fall semester researching the medical literature. What have you found that was particularly helpful or surprising that you want to mention to members in this article?
Katherine Hannauer: One thing that surprised us was the sheer volume of literature specific to the music profession! We were expecting to have to extrapolate from research done on sports-related injuries, but there was a lot of material that addressed exactly what we were looking for. This validated our initial concept, and we can proceed with confidence, knowing our program will be supported by evidence.
Allegro: What can you tell us about your degree program?
Katherine Hannauer: My classmate Nick Cerbone and I will graduate from SUNY Downstate this spring with master's degrees in occupational therapy. The program is extremely well-regarded in the field, and with good reason: it is very rigorous. We began our first semester with gross anatomy, and progressed through other foundational courses: kinesiology, research methods, medical science, and a whole lot of neuroscience. (That was the hardest, but also fascinating). Now, in our second year, we get to build on that foundation and start looking at clinical applications. Nick and I both did fieldwork in hand therapy clinics, which, as you can imagine, is perfect for us as musicians. It's great getting out into the field and working with people. The hands-on workshops that we will be offering at Local 802 will be the culmination of a three-semester community partnership assignment, in which we are encouraged to explore application of occupational therapy principles outside of traditional areas of practice. Local 802 was very receptive to our proposal, and we're really looking forward to implementing our program there in February.
This article is not a substitute for professional medical advice. What works for one person does not necessarily work for another. Use common sense and always consult a health professional before attempting any treatment.