Let's talk about streaming
Volume 122, No. 11
December, 2022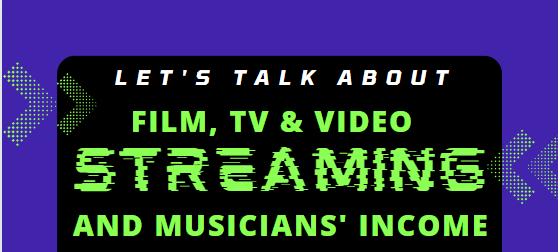 Local 802 presented a special info session on Nov. 2 where musicians and union officials discussed the future of film/television streaming payments. The session was hosted by RMA-NY, Marc Sazer and Joanna Mauer, and was based on the AFM's campaign called Fair Share for Musicians, which explains the project on their website as follows.
For more than a decade, musicians working on made-for-streaming movies and TV shows have been exploited by the multi-billion dollar media conglomerates that make up the Alliance of Motion Picture and Television Producers Association. Recording musicians performing on soundtracks are making 75% less on content premiering on streaming platforms. These musicians, like singers and actors, create unique performances that are captured in real time — yet, they are not being compensated accordingly for streaming media. This is because the entertainment industry has fundamentally shifted. Content now premieres primarily on streaming platforms rather than in movie theaters and on network television.
This shift has resulted in considerably less residual income for musicians, threatening our livelihoods. In essence, the talent bringing scores to life is being commoditized without a fair share of the considerable profits made by companies such as Disney, Paramount, Universal, and Warner Bros. This practice is neither fair nor sustainable.
Musicians, essential to the streaming economy, demand a fair contract which includes streaming residuals.
Did you know?
Musicians make as much as 75% less on content premiering on streaming platforms as opposed to content premiering in a movie theater or on network television.
From 2019 to 2022, streaming has gone from making up 13.9% of our film, TV and new media wages to 58.9%.
Dancing With the Stars is now a streaming show, made for Disney+, as well as many major motion pictures such as Hamilton, Home Sweet Home Alone, Better Nate Than Ever, and Disenchanted.
The Alliance of Motion Picture and Television Producers Association has refused to give us residuals for more than a decade despite affording them to singers, writers, actors and directors.
The seminar discussed the following questions:
Why the trend toward original streaming content is not sustainable for musicians without residuals
Why we receive residuals from some recording sessions and not others
How streaming works in our Film/TV and Live TV contracts
Why our current Film/TV contract has been extended to Nov. 2023
How we build power to win streaming residuals
We're hoping that November's meeting is just the beginning as we educate our members about streaming residuals.  Building solidarity is an ongoing priority for our campaign over this next year.
To get involved, sign the petition and check out the campaign's website.