Taking It to the Street
Taking It to the Street
Volume 111, No. 12
December, 2011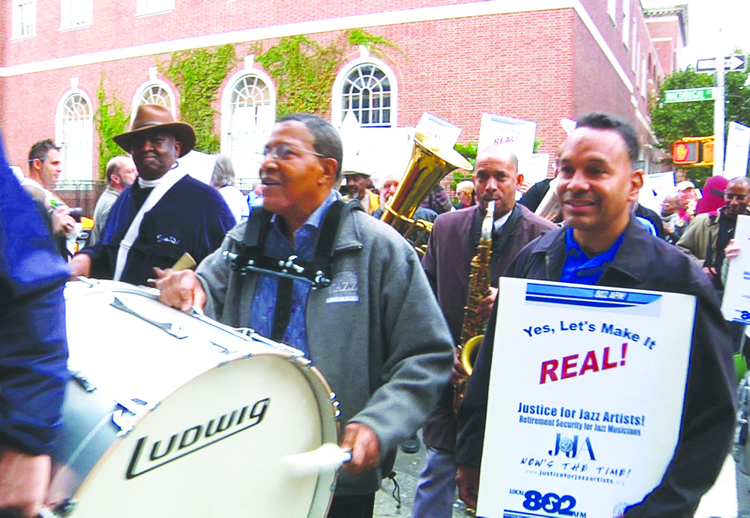 Musicians make a joyful noise at the union's big jazz rally on Sept 29, 2009.
Photo: Ron Grunhut
The time for waiting is over. Meet us in front of the Blue Note to make some noise.
It's time to turn up the heat. As of Dec. 8, Local 802 and its allies will begin keeping a presence at the Blue Note and other recalcitrant clubs, handing out leaflets and demanding that they enter into collective bargaining with the union over pension and other issues.
Why are we doing this?
We've all heard the story. A legendary jazz musician who did well when his or her career was in full swing has now fallen on hard times and is struggling to make the rent or pay the mortgage.
This kind of thing happens so often that a charitable organization known as the Jazz Foundation of America was created with the mission of helping musicians, many in their elder years, with financial help to keep the wolf away from the door.
Musicians who are members of Local 802 can find additional help through our Musicians' Assistance Program and its Emergency Relief Fund. In fact, Local 802's 90th anniversary gala is all about replenishing the fund so that emergency help is available to those in need.
What about pension? The AFM pension fund was established in 1959 to begin the task of giving musicians a secure retirement future. Over the years the fund grew stronger and covered more and more musicians, from the recording session field to Broadway to symphonic orchestras.
But along the way jazz musicians, those who changed the face of American music, were left out of the equation.
Why?
The work that jazz musicians did was chiefly in the nightclub scene in New York and other American cities.
The fact that none of the clubs were covered by a union contract with pension benefits belies the myth of the "union nightclub." When it came to fairness under collective bargaining, there was never such an animal as a "union club."
Jazz musicians joined the union and paid their dues, but derived nothing in the way of a pension, unlike their brothers and sisters at Lincoln Center, on Broadway and those working society, casual or wedding gigs.
The need for the Emergency Relief Fund and the Jazz Foundation would be greatly lessened if career jazz musicians collected a regular monthly pension check guaranteed upon retirement.
And that's exactly what would happen if these musicians were covered by the AFM pension fund.
The few jazz musicians who have benefited from the pension fund are those who managed to gain regular work covered by a union contract, such as Broadway work or work on network television.
Changing the past
Our Justice for Jazz Artists campaign began in the mid-1990's, but we never really tackled the basic reality: the clubs themselves must become unionized.
For a variety of reasons, Local 802 and other AFM locals have failed to find an effective way to make this happen.
And so, as of today, jazz and other music nightclubs remain nonunion, even though many of these clubs can well afford to pay the benefits that would make the difference between poverty and a decent life in the latter years of countless musicians.
We aim to change that. We envision a world in which a musician can, while touring the jazz circuit, rack up enough pension benefit credit to be vested in the AFM pension fund and have a steady pension income when the time comes that it is needed.
A solution exists
In 2007, a law was passed that eliminated the tax on admissions to nightclubs of a certain size. The union worked with the major jazz clubs to lobby for that law.
The money that clubs and customers would save on this tax would allow them to pay pension to their musicians.
The enacted legislation provided the tax break to the nightclubs, but the musicians are still waiting for their pensions. Allegro readers are well-acquainted with this story.
By the time I took office in 2010, numerous attempts had already been made to bring the major jazz clubs into a conversation about all of this. Local 802 heard only one thing from those clubs: silence.
One of the first things I did as recording vice president was to send another letter to the clubs reiterating our desire to open a dialogue. That letter was not answered by a single club. This fall we sent out another letter.
This time was different. One club owner responded to our overture and is engaged in discussions with Local 802. He has expressed an interest in providing pension benefits for musicians and our talks are continuing.
Other clubs, most notably the Blue Note, have failed to respond in any manner and refuse to acknowledge receipt of our letters or respond to our phone calls. Local 802 decided last month that it will wait no longer.
Our fight for justice begins now
The union will be targeting the Blue Note and other jazz clubs until they agree to enter into negotiations. Of course, we are still hopeful other jazz clubs will come forward voluntarily to seek a workable solution to long-standing injustices.
Our goals in this campaign are:
Negotiate minimum pay scales that will apply to the major jazz clubs.

Obtain pension payments for all performers in the clubs.

Provide musicians with protection against the unauthorized recording and broadcasting of their performances.

Create a process for the discussion of musician concerns and resolution of grievances.
We have been cautioned by some that an aggressive leverage campaign against the clubs is not a good idea.
But if we don't apply pressure, how will this goal – which the union has had for years – ever be achieved?
For more than 15 years we have been having this conversation with no results.
Of course, we would be more than happy to solve this with the cooperation of the clubs. But it's up to them.
The cost of paying pension benefits to musicians in the clubs is much less than the tax break the clubs and their patrons have been eligible for since 2007. Those taking advantage of the tax break have been richer for it, while musicians still go without pension benefits.
Our campaign for collective bargaining in nightclubs does not end with New York. This is just a beginning. Our goal is to extend the basic framework to other clubs in the city and to expand the campaign to a wider level.
With new leadership at the top of the AFM, we have begun conversations with President Ray Hair and officers of other locals who are committed to organizing goals similar to Local 802.
Justice for Jazz Artists is a national campaign, and it will be played out on a national map. We can start with high-profile venues in cities like Seattle, Portland, Nashville, Boston and Washington, D.C. Over time, we will spread the word: clubs can and will pay pension benefits to musicians.
Though there are no guarantees, we believe we can make this happen. The journey has begun. We call on all members and supporters of jazz music to join us in this just struggle. Join us outside the Blue Note and help make history.
For details on when and where to join us outside the Blue Note and other jazz clubs, contact Local 802 jazz rep Todd Weeks at Tweeks@Local802afm.orgor (212) 245-4802, ext. 185.