The Amazing Urbie Green
Volume 114, No. 6
June, 2014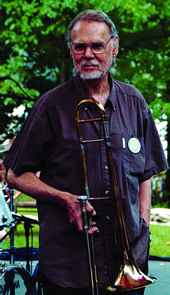 Urbie Green is the trombonist's trombonist. A member of Local 802 since 1954, he is one of the true greats of jazz, among the elite of the world's players. No one plays a smoother, warmer, more mellow trombone. He was born and raised in Mobile, Alabama, and was working with Tommy Reynolds' band by the time he was 16. There followed music and years with Jan Savitt, Frankie Carle and Gene Krupa. In 1950, Urbie became part of Woody Herman's Thundering Herd, and in 1954 won the Downbeat International Critics Award.
Urbie became one of the most sought-after trombonists for recording and club work in New York City. He is a multiple winner of the Most Valuable Player Award from the National Academy of Recording Arts and Sciences, and perhaps the most recorded trombonist of all time. He recorded with Gene Krupa, Woody Herman, Benny Goodman, Louis Armstrong, Count Basie, Leonard Bernstein, Frank Sinatra, Billie Holiday, Tony Bennett, Peggy Lee, Pearl Bailey, Ella Fitzgerald, Miles Davis, Charlie Parker, Coleman Hawkins, Dizzy Gillespie, Barbra Streisand, Perry Como, Aretha Franklin, Quincy Jones, J.J. Johnson, Antonio Carlos Jobim, Burt Bacharach, Buck Clayton and Herbie Mann, to name a few. He was seen and heard in the movie "The Benny Goodman Story," and shortly afterwards fronted the Benny Goodman Orchestra for a three-month tour. He has appeared in major jazz festivals, films, concert halls and nightclubs, on radio and television, and even at the White House. Urbie performed at Lincoln Center with an all-star band led by Benny Carter in a special tribute to Ella Fitzgerald, and he also performed with the Benny Carter All-Stars for the king of Thailand.
Urbie Green was interviewed for Allegro by Bob Pawlo, Bruce Eidem, Steve Danenberg, Sam Burtis and Kathy Green. Introduction above edited from www.UrbieGreen.com.
Allegro: What are your first memories of music?
Urbie Green: Mobile, Alabama. Our family had a maid named Willy Mae. She rocked me to sleep singing "Rock-a-bye Baby" each night.
Allegro: When did you begin the trombone?
Urbie Green: It's a long story. My dad had a successful business and when the Depression hit, the business began to wane. Things got pretty bad for us and my parents decided we should move to California, where things might be better. My dad and my oldest brother Bob stayed in Mobile to run the business, while my mom and the rest of us, my three older brothers and a sister, drove out to California. My 17-year-old brother Al drove us out in a Model A Ford. We rented a house right in the middle of Hollywood next to Hollywood High School. I was seven at the time. Al was a self-taught piano player. He was so good he had his own radio show at 12 years old in Mobile called "The Little Al Green Show." Anyway, at Hollywood High he met and became good friends with a trombonist named Earle Hagen. They formed a jazz band and played at local events. Earle later went on to write some well-known songs such as "Harlem Nocturne," and became one of the most important composers in the history of television. After a year of struggling, we headed back to Mobile. Al brought back with him a trombone Earle had given him and he taught himself how to play really well. My mom, who was not a musician, taught us all to play the piano. I started to play very well and by 12 I had my own little jazz band in school.
Allegro: Were all your brothers involved in music?
Urbie Green: My oldest brother was a good musician, but didn't pursue it as a career. Al and Jack played the trombone and piano too. When the war broke out, Al enlisted in the Air Force and became a pilot. He later joined the United States Air Force NORAD band as a trombonist. He gave his trombone to my brother Jack. Jack also taught himself to play the trombone. In a few years he began playing with local bands and then started going on tours. When he got himself a new trombone, he handed his Earle Hagen trombone down to me. I then concentrated more on learning how to play trombone. The piano became my second instrument as I became more proficient on trombone. By 14, I was playing dates in Mobile.
Allegro: Did your brothers send you as a sub on their jobs?
Urbie Green: Not really. There were only three trombonists in Mobile then.
Allegro: The town wasn't big enough for all of you so you had to move?
Urbie Green: Sort of. I was a freshman in high school and was playing locally. I joined the union when I was 15.
Allegro: What was your first playing job?
Urbie Green: I played with Bill Lagman's band. It was the top band in Mobile. Then I landed a steady job with a bass player from New Orleans at the Airport Restaurant in Mobile. It was a jazz dance band. While I was playing at that club, a member of the Auburn College band came through and heard me perform. He asked me to join their college band, the Auburn Knights. My mom gave me permission to move to Auburn and enroll in the Auburn high school to finish out the year while I played with the Knights. I was 16 and had my union card. During my summer vacation, I played in the Tommy Reynolds band and toured the south. Tommy had a female vocalist named Wee Bonnie Baker who had a hit record at that time called "Oh Johnny, How You Can Love." With the war breaking out, many of the Auburn Knights got drafted and the group disbanded. I went back to Mobile to finish high school. Then the Bob Strong band from Chicago came through town and needed a trombone player. They contacted the union and I was recommended. I did some dates with them around the south. Bob was on his way to New York to play at the Roseland Ballroom and asked me if I wanted to join them. I got my mom's permission to drop out of high school and came to New York. While I was there, I received a telegram from Jan Savitt's band asking me to join them. I did and stayed with his band for about a year. During an extended engagement in Southgate, California, right out of L.A., I was able to to sign up for summer school and I got my diploma there. I was playing at nightclubs at night and attending the Hollywood Professional School for kids. Many of them were actors who worked in the movies and television. I never went to college.
Allegro: What was life like travelling with the band?
Urbie Green: We usually traveled by trains or airplanes.
Allegro: Jan Savitt had a busy band. Lots of radio spots and recordings?
Urbie Green: Yes. Every band had a big traveling trunk and a band boy. He loaded our trunk up every night after a one-nighter, and then took it down to the train.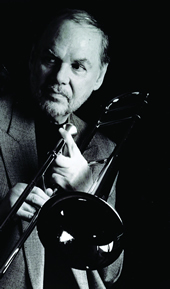 Allegro: Is that how you connected to Woody Herman?
Urbie Green: Before that, I played with Frankie Carle for two years and then got tired of traveling and went home to Mobile for a year. Then Gene Krupa's band came through town and one of his musicians heard me playing at a night club. Gene was looking for a lead trombonist and I was recommended. Gene's band was playing at an Armory in Mobile and he asked me to sit in with them. I remember I played something in the key of C and hit a high D. A couple of weeks later, I received a telegram that Gene wanted me to join the band. So I left Mobile again.
Allegro: What was it like working with Gene?
Urbie Green: He was a really great guy. I started on lead trombone and after the jazz soloist Dick Taylor left the band, Gene asked me to do the jazz solos too, what I had really wanted to do. I stayed with Gene for four years, ending up my last three years playing jazz. A great experience.
Allegro: And then from Gene's band?
Urbie Green: We had an engagement at The Band Box on Broadway. It was a jazz club that featured big jazz bands. This is where Woody Herman heard me and offered me a job. Bill Harris, a great player, was leaving the band. I signed on and finally was with my ideal band, taking Bill Harris's place. When I gave Gene my notice, I think he might have cried.
Allegro: Where was your first job with Woody?
Urbie Green: Someplace in New Jersey at a big party in some factory. So I stayed with Woody for three years.
Allegro: Sounds like you lucked out with bandleaders.
Urbie Green: Yes. He was a very nice guy, too. While I was playing with Woody's band, we had a great trombone player who joined the band, Carl Fontana. So we split up the jazz solos. It was nice. Unfortunately, Carl died a few years ago.
Allegro: And from Woody's band what happened?
Urbie Green: I was about to become a father for the second time and figured it was time to get off the road after 11 years. It was the 1950s. We were playing somewhere in New York and I got a call from Stan Kenton, who offered me a job. I told Stan no because I wanted to settle down for a while. I started working out my union card by playing mostly with Lester Lanin's Society Orchestra. I had made some four recordings that were being played at Charlie's Tavern in New York, a musicians' hangout. I was getting some recognition. Bill Halfacre, Lester's right-hand man, heard them and made me an offer. Bill said if I learned all the tunes I'd be able to get a lot of club dates. I went to see Lester with my trombone. He asked me to play something for him. He requested "Muskrat Ramble." I knew all these songs from when I played with Dixieland bands in Mobile. Lester was beating the rhythm on his desk – he was a drummer of sorts – and I played along with him. He started giving me all of his first call work. That's how I worked out my union card. I played a lot of different things with Lester's band. Lester was a really nice guy too, even though he had a reputation that was otherwise.
Allegro: When you were working with Lanin did you ever visit the union floor at Roseland?
Urbie Green: Yes, when I was working on my card. I didn't go there often as I was so busy. A trumpet player friend of mine from Woody's band came to New York, and I told him about the union floor and Irving Grauer, a club date contractor. I took him down to meet Irving and some other people. When I introduced him, Irving started shooting all these questions in rapid succession at him, and my friend passed out and fell on the floor.
Allegro: Irving was that kind of a guy. He would try to intimidate you.
Urbie Green: I was just trying to help my friend out.
Allegro: Do you recall what your first big studio recording was at that time?
Urbie Green: I was recording all the time. All the popular singers of the day, like Perry Como and Peggy Lee, and there were jazz guys who were making records, too.
Allegro: What was one of your most memorable sessions or performances?
Urbie Green: Billie Holiday's album "Lady in Satin." J.J. Johnson was on that too. We split the solos. J.J. played some and I played some. There was a big string orchestra, also.
Allegro: When I learned that Perry Como was one of your influences, it really made sense. You played like that.
Urbie Green: Good singers. That's how you should play. Play as if you know the lyrics. I didn't always know the lyrics, but I played as if I did.
Allegro: Which musicians do you admire most?
Urbie Green: Among trombonists, my favorites were Jack Teagarden, Trummy Young and Murray McEachern. Murray was a unique person. He could play all the instruments. There was also Bill Harris, Lawrence Brown and Tommy Dorsey. I also admired Billie Holiday, Louis Armstrong, Perry Como and Bing Crosby. They were all wonderful in that they made sense when they performed.
Allegro: How were you able to maintain such a high level of performance year in and year out?
Urbie Green: I didn't practice much. I was playing all the time.
Allegro: On trombone, you approach first position in a way where you can play it a little further out in order to accommodate the vibrato. How was that accomplished? Was it something special you did?
Urbie Green: I cut the tuning slide a half inch. It gave me leeway instead of being so cramped in first position. I don't know where I got that from. It might have been Murray McEachern. As a kid I went to hear him in Glenn Gray's band when they came through Mobile. He had cut a lot off his slide. By putting the position a little farther out, you don't get cramped in first position. There's some freedom there. All your positions become a little bit farther out.
Allegro: What advice would you give to young trombone players today?
Urbie Green: Listen to all kinds of music, for one thing. Practice a lot. Listen to people who have made a success out of it. Listen to everybody you can, especially people who are successful to a degree and practice regularly. If you're a jazz player, put together jam sessions with those who have like minds about it and play as often as you can. Go through all your books, too, scales and such. Be nice.
Allegro: Anything in closing?
Urbie Green: Join the union!