The Art of Music: Dick Griffin revealed
Volume CX, No. 6
June, 2010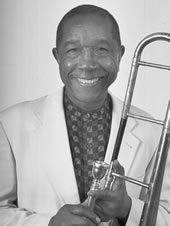 Like many creative musicians, trombonist Dick Griffin is versatile. In jazz, he's a distinguished soloist, a seasoned arranger and an accomplished, if unsung, composer. He's also a celebrated visual artist.
Griffin, who is an honor member of Local 802, was born in Jackson, Mississippi, on Jan. 28, 1940. He is perhaps best known for his innovative use of mulitphonics – achieving two or more tones at the same time – a rare talent for a trombonist.
But he is also known as a painter, whose work is represented in private and corporate collections across the U.S. and in Brazil, Africa, Canada, Japan and Switzerland.
Griffin's musical career began in the Deep South in the 1950's, where he played and sang in blues, R&B and doo wop groups.
But by the earliest 1960's he found himself on Chicago's South Side, playing his trombone alongside avant garde visionaries Muhal Richard Abrams and Sun Ra.
Later, he moved to New York City, where he worked closely with the luminous multi-instrumentalist Rashaan Roland Kirk.
His early involvement with music started almost by accident.
"When I was in elementary school," remembers Griffin, "I used to tag along with a friend of mine, Herbert Delaney. In those days, in the South, to get through a white neighborhood it was best if you went in pairs. Herbert took piano lessons, so I started taking them too. At first it was just because the lessons happened to be on the way home. But then, I fell in love – with the piano! After a year of study, my teacher suddenly passed away. She died, but I never stopped playing."
In junior high school, Griffin moved to the trombone in order to be considered for the marching band, but continued on piano. His mother kept him on the straight and narrow:
"When I was in the 7th grade, I began hanging out with the wrong crowd. I cut school for ten days straight, and when my mother discovered it, instead of whoopin' me, she cried. And from that minute I straightened up. Because that was the biggest whoopin' I ever got, to see her cry like that. She was a single parent, always working hard. 'How could you do that to me?' she said. And I never did that again. I got myself in the band."
In Jackson, circa 1957, Griffin's a capella group, the Sputniks, did so well in a talent contest that they were asked by Sam Cooke, then at the height of his fame, to join the singer's revue. Griffin turned him down – or rather his mother did: "'No, you're in the 11th grade,' she said, 'And you're gonna stay in school.' I'm so glad she said that," he remembers, laughing at the thought, "even though it would have been a ball."
His R&B group, the Blue Notes, was in demand at local dances and at college socials throughout the region: "I grew up on B.B. King, Howlin' Wolf, Muddy Waters, and Elmore James. I remember doing 'Your Precious Love,' and 'What'd I Say' from the piano bench. In fact, there's a record out there and I gotta find it. Around l958, I cut a single, 'Little Liza Jane.' That was in Jackson. It was on a local label, 'cause I remember it played a lot on the radio. I'd love to run that down." The band was O'Neal Hudson and the Twisters.
The heady Chicago days of the 1960's were preceded, first, by a degree in music education at Jackson State, and later by graduate work at the University of Indiana. "That's where really I discovered arranging," says Griffin.
"One of my teachers, Louis Lee, was a trumpet player – I was supposed to be taking trombone lessons. But he never let me take the horn out of the case. He'd say, 'There's no hope for you as a trombonist…but come over here.' He'd be sitting at the piano, voicing stuff. So he taught me how to write. I wrote seven arrangements for the marching band, which had 100 pieces. Later, I had another teacher, Prof. Davis. He had played with Cab Calloway, he knew Dizzy. He really showed me."
Griffin's Chicago excursions had begun back in the 1950's, when he was still a teenager. He traveled there for summer vacations and stayed with his aunt and uncle. There, Griffin met and played with Tom Archia, a saxophonist who had recorded with Wynonie Harris and Hot Lips Page, among others.
Griffin remembers, "In Chicago, if you hung around the Persian Ballroom at 63rd Street, or the C&C Lounge, all those places, people would get gigs and they would call you. I remember playing this date with Archia and we didn't have a bass player. I was kind of accustomed to playing piano without a bass, because I did that for four or five years in Mississippi."
And then, a revelation: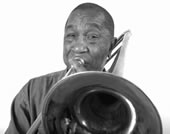 "One day, I was walking down the street, and I heard this music coming out of the Persian Ballroom. I went in. And there was Sun Ra, rehearsing with Marshall Allen, John Gilmore, Ronnie Boykins, and Phil Cohran on trumpet. He had the band there. Sun Ra was real soft spoken, very nice. He was from the South, and he had this certain kind of sign language. He nodded to me, and said, so softly, 'You play trombone? Come by tomorrow and bring your horn.'
So that's what I did. I was in college and I could read, so I started with the band. And Sun Ra would never stop swinging. He was like Fletcher Henderson. You'd always pop your fingers to Sun Ra's music; his stuff was right in the pocket at all times. Even with his 'space coordinate' thing, you'd always feel that underlying 2/4 beat. Sun Ra was quite a guy. He'd be reading comic books; he was always reading stuff and thinking outside the box. He was always out of the box. I don't think he'd never been in the box."
"Around this time, I met this great master teacher Bill Feilger, a trumpeter. There was this place called the C&C Lounge, which was across the street from the Persian Ballroom. And he wrote out chord changes for me. I still have those, simple ii-V-I changes. And that's when I really kinda started leaning and melting and tilting towards jazz; other than that I was just a blues player, and whatever I could learn, I took in. I wanted to play jazz, but then I started getting into the inside of the music and knowing what the changes were."
Griffin added, "Around that time there came this guy named Alvin Washington, they called him Chop Chop; he was from Mississippi. But Chop Chop was always talking about some guy named Ronny Kirk; this was in the 1960's. He was saying this guy Ronny played three instruments at once. You know, I didn't believe that. They called him Rahsaan Ronny at that time. 'Ronny can play three saxophones at one time,' Chop Chop said to me."
Flash forward to 1967. Griffin has moved to New York and has started playing a wide range of music to support himself.
"I used to play the Latin circuit. I played with Willy Colon before he was really big. I played some gigs with Tito Puente. There was a place on 96th Street, right on Broadway, that was a dance spot, upstairs on the second floor. The music would be going all night. I'd have three gigs with the same band, one from 11 to 12, and then we'd go to another location and hit from 2 to 3, and then we go to another and hit like from 5 until breakfast."
By this time Griffin was comfortably ensconced in the Big Apple, and the connection with "Ronniy Kirk" had borne fruit:
"By the early 1970's, I was notating music for Rashaan Roland Kirk on almost all of his Atlantic records. Later we did a television series called 'Rush Towards Freedom:' six episodes, with Julian Bond narrating. I wrote the music out for that. That was when I got my first piece published and I became a member of BMI. I wrote one piece for the program, called 'Overseas.'"
Griffin also found other union work – he performed on Broadway in shows like "Lena," "Dream Girls" and "The Wiz," and in the Paris company of "Black and Blue." He also performed and recorded with Charles Mingus, Thad Jones and Mel Lewis, and dozens of other important jazz artists. He's been a member of the house band at the Apollo Theater, backing legendary acts like James Brown. He's even been on the Ed Sullivan Show!
Composition has become important again. The success of the work "Overseas," from "Rush Towards Freedom," helped land a grant to write a symphonic piece with jazz quintet, which Griffin eventually premiered at Symphony Space in the spring of 1980. Griffin hopes to revive this compelling work, even as he continues writing new material almost daily.
And then there's his painting.
Earlier works were focused on the concept of a red ball, an illuminated orb offset by vibrant colors, spinning in space. Lately he has moved to an even more effervescent and varied palette.
"I usually see something in my head maybe for five months before I start painting," says the artist, "then all of a sudden I can finish it off in a week or two. What I hear when I'm taking a trombone solo – I often think of that as what I'm putting on the canvas."
How does it all happen for Dick Griffin?
"Well, it's all based on a good foundation. And it's about being very natural in your approach. One thing I can say about my mom: she was such an influential person in my life. She could bake a chicken like nobody has baked it since, and it was so simple. I once asked her, 'Mama, what do you put in it?' 'Salt and pepper, and pepper leaf,' she would say.' That's all, no spices or anything. And, you know, that chicken would fall off the bone. And it had a special taste. She taught me well."