The Future of the Music Biz
Volume CX, No. 11
November, 2010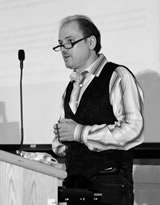 Andy Scwartz at the summit.
Should you give away your music or try to sell it? The Future of Music Coalition tackles the tough questions at its annual summit
The 10th Future of Music Policy Summit held in early October on the Georgetown University Campus in Washington, D.C., brought together musicians, managers, policy makers, and music fans, as well as radio, labor, and other music-related organizations for a series of panel discussions and seminars on a wide array of topics that concern musicians and music industry professionals.
The annual event is organized by the Future of Music Coalition (FutureOfMusic.org), a nonprofit group whose goal is to "ensure a diverse musical culture where artists flourish, are compensated fairly for their work, and where fans can find the music they want." This year's summit was co-sponsored by Local 802 along with the AFM locals from Boston, Minneapolis-St. Paul, Vancouver and San Francisco. Other co-sponsors included Google, SoundExchange, Georgetown University, AC Nielsen, Merge Records and the NEA.
Local 802 was represented by Executive Board member Andy Schwartz and myself. Also representing the AFM at the summit were Hal Ponder and Laura Brigandi from the AFM's legislative office in D.C.
Reflecting the evolving use of interactive technology in the music industry, the majority of panels and discussions at this year's summit focused on the increasing number of ways musicians can interact with fans using the Internet.
FACEBOOK REVOLUTION
In recent years, social media sites like Facebook, Twitter and YouTube have changed the way artists communicate with fans, while more specifically musician-focused sites like ReverbNation, Bandcamp, Topspin and Nimbit allow artists to manage touring schedules and sell their music directly to their fans.
These online tools have become both an asset and a potential danger to both emerging and established musicians, as they change the relationship between fan and artist in the digital age.
Direct fan-to-artist funding models, such as the web-based Kickstarter, were discussed in Sunday's "The New Hustle: Direct-to-Fan Case Studies."
Singer-songwriter Jill Sobule described her successful 2008 effort to fund an album entirely through donations solicited online. Her fans donated over $85,000!
Some musicians, however, were hesitant to embrace these new tools.
As hip-hop artist and panelist Odisee pointed out, while it can be easy to get caught up in new mediums of communication, artists should keep in mind that no matter how good your P.R. and fan interactions are, the first priority should be making the best music you can make.
GIVE MUSIC AWAY
OR TRY TO SELL IT?
Perhaps the single most prominent issue discussed at the summit, and one that has been a major concern to the music industry over the past decade, is the ways in which music fans consume music.
Tuesday's "Is a Download a Sale or a License?" panel dealt with some of the legal issues surrounding downloaded music, and recent court decisions that threaten artists' rights to receive royalties from downloads.
Although recording contracts now often detail royalty schedules for downloaded music, artists whose contracts were signed before music downloading became common still face legal complications in this area.
Aside from downloads, there are a number of online services which let users stream music over the Internet.
This was covered in a panel titled "Music in the Cloud," which discussed the pros and cons of sites like Pandora, Rhapsody, Last.fm and Spotify, which allow you to play songs without downloading them to your computer.
There was also a back and forth discussion throughout the summit over musicians' giving away their music online vs. selling downloads.
On the topic of music downloads, renowned producer and musician T-Bone Burnett brought on some controversy by giving an indictment of MP3-quality audio, saying that files of such an "unprofessional" quality should be given away and not be sold at all.
Burnett regarded the Internet as an amateur "broadcast medium," and said that the Internet gives musicians even less control of their work than major labels.
While his comments conflicted with the general sentiment of the other attendees, he did shake things up and cautioned artists against spending more time on online marketing than on their music.
THE ROLE OF UNIONS
The place of labor unions in the music industry was also addressed in several panels.
Kicking off the first day was the panel, "To-Do's and You: The New Artist Checklist," which featured Erin McKeown, a musician and member of Local 1000.
She listed her union as one of the major resources she relies on as a touring artist.
The AFM itself was represented in two sessions during the three days.
Hal Ponder, from the AFM's legislative office in DC, discussed delays by the National Association of Broadcasters in moving forward the Public Performance Right legislation, a bill that would provide royalties for songs played on terrestrial radio.
On Sunday, Local 802's Andy Schwartz gave a "word from our sponsor" on behalf of the AFM, outlining how our union works and the need for musicians to use their collective power to improve conditions in local clubs and indie record labels.
Andy continued this theme in Tuesday's panel "Cause, Collaboration and Culture: Using Music for Social Change," in which he offered the AFM as a model for how artists can come together on common issues and organize to achieve not only their own immediate needs as workers, but work towards a greater social good as a community.
Other highlights from the summit included a benefit rock concert for New Orleans and various talks by government officials on supporting music education and performance across the country, including a keynote address from Rocco Landesman, chair of the NEA and former head of Broadway's Jujamcyn Theatres.
DO IT YOURSELF – OR DO IT TOGETHER?
Across all the different speakers and topics covered, an overarching theme emerged from the many discussions at the FMC Summit: in the face of all the challenges in the music business today, artists should change the "DIY" (do-it-yourself) ethic to "DIT" – do it together.
As a union committed to that goal, Local 802 was pleased to have participated in such an informative and effective conference that addresses the issues our members face every day.
For 10 years, the Future of Music Coalition has provided a valuable platform for those of us who are trying to protect the livelihood of working musicians, creating a community forum where the free exchange of ideas has helped countless musicians work toward that goal.