THE IMPORTANCE OF A UNITED UNION: Setting the stage for the next decade
Guest commentary
Volume 120, No. 2
February, 2020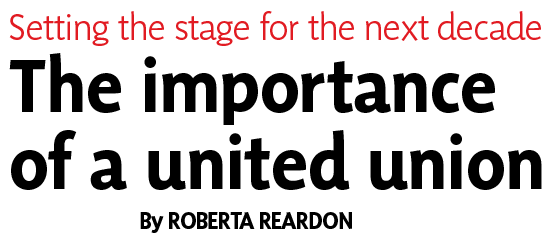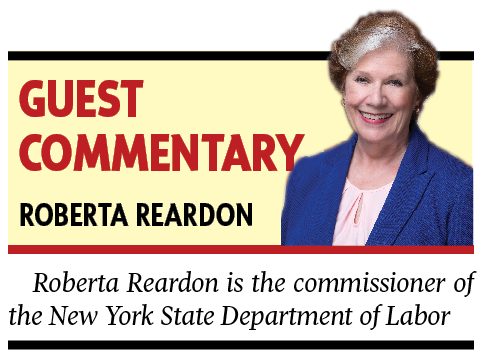 As we begin 2020, it is an exciting time for musicians in New York state. With a new decade in front of you, you have the opportunity to set the stage for the next ten years. And you get the honor of being at the forefront of positive change for your industry.
The last decade presented many changes for your industry. It's a challenging time to be a working professional in the business. Technology continues to change the face of this industry so rapidly. Therefore, more than ever, it is so important for each of you to be part of a proactive and engaging union. Your union has the resources, clout and people power to protect your interests as working musicians. It is the lifeline to sustaining music and the arts in our communities.
When I was an actor, I was active in my union because it afforded me benefits and protections that I would not have enjoyed otherwise. It not only gave me access to a fair wage and benefits, it opened doors that I would not have had the opportunity to walk through, if it weren't for the backing of my union. It helped me to thrive as an actor.
As the former president of AFTRA and the founding co-president of SAG-AFTRA, I offer another perspective. I had the honor of representing more than 165,000 members. And I can tell you, a union is only as strong as its members. You are the power within your union. You are the voice of your union. Only you can effect change within your union and beyond.
If it weren't for my experiences as a member of a union and as a union leader, my path would be very different today. I love my job as the commissioner of the New York State Department of Labor, and now I get to help make a difference for all New Yorkers by working to ensure equal pay, provide safe and healthy workspaces, offer job training and employment assistance, protect against wage theft, and more.
For example, earlier this year, the New York State Department of Labor recovered more than $460,000 in wages for unpaid concert workers. The settlement came in the wake of a Department of Labor investigation which revealed that 654 SoFar Sounds "ambassadors" were never compensated for work performed at SoFar events between 2016 and 2019.
SoFar Sounds, a for-profit business, produced small concerts in cities around the world with the assistance of uncompensated "ambassadors" to operate and manage individual events. When the Department of Labor opened its investigation, SoFar cooperated fully and immediately changed its business model. SoFar now staffs all its events with paid employees. The company also agreed to immediately compensate ambassadors who provided any unpaid work. Positive things can happen when we all work together to do the right thing.
I recognize the importance of musicians and the arts community and I will continue to support the industry and fight for protections and incentives to help it grow.
You also have a leader who has passion and vision. Adam Krauthamer is proactive and forward thinking. Your union stands in solidarity with others, and 2020 will be a pivotal year for all of you.
You have the opportunity to be a part of something exciting and magical. Stevie Wonder said it well: "Music is a world within itself, with a language we all understand." As an artist, you have an obligation to protect that world and that language which reaches so many. You can only do that by actively participating in your union.
We are fortunate to have a governor who values and respects the richness music, film and entertainment bring to our communities and our lives. Governor Andrew Cuomo is extremely supportive of the work that you all do. Under his leadership, New York has become a top destination for film and television, culture and the arts.
New York's $420 million film incentive program is one of the best in the nation. The New York State Governor's Office of Motion Picture & Television Development offers film, television and commercial production and post-production tax credits for qualified expenditures in New York State.
Simply put, this means more economic growth for New York state. These programs bring more people to New York to see you – our working musicians – on Broadway, at the opera or in the great concert halls of New York. It's a win-win for our economy and our cultural arts communities across the state.
Since 2011, 2,274 applications have been accepted to the New York State Film Tax Credit Program, creating 1,628,40 new hires by the film and television industry in New York State and generating $28.2 billion in new spending for New York State.
The governor's support of music and the arts expands beyond New York City. He has championed the Empire State Musical and Theatrical Production Tax Credit Program. The program is designed to encourage musical and theatrical production companies to conduct pre-tour activities, technical rehearsals and to perform shows at locations in upstate New York, home to some of the premier regional venues for musical and theatrical production. This provides more opportunity for our musicians!
Earlier this year, the governor announced the Empire State Entertainment Diversity Job Training Development Fund, the first fund of its kind in the nation. Productions participating in the New York State Film Production and Post-Production Tax Credit Programs will see a small reduction in their tax credits that will be diverted into a fund for job training and workforce development across the entertainment industry. The fund will initially provide $1.05 million per year and will ensure that the jobs related to the growth of New York's entertainment industry are filled by New Yorkers who represent the diverse nature of our state.
While the governor's initiatives and tax incentives play a critical role in keeping the music industry robust, your role as a working artist and professional in the business is even more crucial. As an engaged member, standing together with your union, you have the ability to make your industry stronger than ever. Your union is your best friend, and you need to do your part to sustain that partnership. Whether it's attending a committee meeting, taking part in a roundtable discussion or volunteering at a union event, you are your union's best advocate. I leave you with these profound words from Mahatma Ghandi: "Be the change you want to see in the world!" Make 2020 a year of positive change for Local 802!
Roberta Reardon is the commissioner of the New York State Department of Labor.