The Jazzman, the Boxer and the Pitcher
Black History Month
Volume CIX, No. 2
February, 2009
VISIT ARMSTRONG'S HOUSE!
Louis Armstrong's longtime home in Corona, Queens, is now open to the public, offering guided tours six days a week. Come visit the home of the world's most famous jazz musician! 
The Louis Armstrong House Museum is located at 34-56 107th Street, Corona, Queens, NY 11368. The phone number is (718) 478-8274 and the Web site is LouisArmstrongHouse.org.
The museum is open Tuesday through Friday from 10 to 5, and on Saturday and Sunday from 12 to 5. It is closed Mondays and some holidays.
As we celebrate the inauguration of our first black President, it may be edifying to look back to another time when all Americans were suffering from comparable economic woes, faced like challenges, and held similar hopes.
During the spring and summer of 1937, three remarkable African Americans — possibly the greatest of all time in their respective fields — were in the public eye.
All three sought wider recognition, an equal share of the market, full citizenship, and their rightful place in history.
They achieved more than that.
By 1937, despite an entrenched system of institutionalized racism at all levels of society, the jazz trumpeter and singer Louis Armstrong, the boxer Joe Louis and the pitcher Satchel Paige had all risen to unprecedented success, and were, in essence, fighting for equal rights every day of their lives — simply by showing up for work.
Paige, the incorrigible right-hander from Mobile, Alabama, had established himself as perhaps the greatest hurler of his generation, and possibly of all time.
Paige was also the game's greatest showman, and at the end of his career he claimed to have pitched 2,600 games — including 300 shutouts and 55 no hitters. (More recent research places his total wins around 600.)
At the start of the 1937 season, in response to the bigoted system that kept Paige and some of the country's best ballplayers from competing in the majors, he up and quit the Negro Leagues and headed south.
The bloody Dominican dictator, Rafael Trujillo, had lured the pitcher and other black stars — including James "Cool Papa" Bell and Josh Gibson — down to the Caribbean, and signed them to lucrative contracts.
That spring and summer, Los Dragones, or the "Trujillo All Stars," as they were called, would barnstorm across the island of Hispaniola, taking on all comers.
The team's name was in keeping with the dictator's character — he had rechristened Santo Domingo "Ciudad Trujillo" in 1936.
Paige and his squad found themselves in a veritable paradise.
The only downside was that they were required by Trujillo to win EVERY game they played — or face potentially lethal reprisals from heavily armed guerrillas!
Win they did, and in what appeared to be the most economically deft move of his career, Paige had sent a message that he would not kowtow to the second class citizenship and short money offered by Negro League owners.
Meanwhile, back in New York, Louis Armstrong had also been made an offer he couldn't refuse.
When a vacationing Rudy Vallee named a substitute to host the popular Fleischman's Yeast radio program, he chose Armstrong, who consequently became the first African American to star in a prime time, commercially sponsored national broadcast.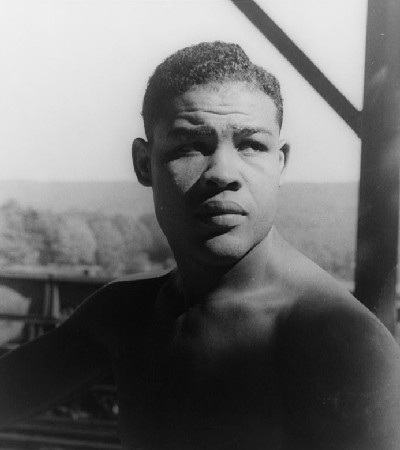 A young Joe Louis, c. 1935. He held the heavyweight title for 12 years, longer than any other fighter. Photo by Bobster 1985 via Flickr.com.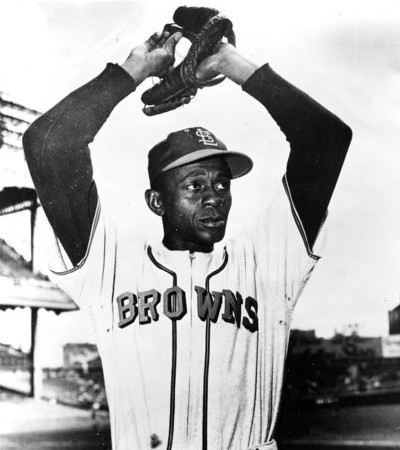 Satchel Paige only appeared with major league ball clubs late in his career. He has been called the game's greatest pitcher and is pictured here with the St. Louis Browns, where he posted 91 strikeouts in 1952 – at the age of 46. Photo by Discover Black Heritage via Flickr.com.
The half-hour weekly spot was called "Harlem," and the previously unimagined appearance of a black person in this kind of spotlight was not to occur again for many years — almost 20, in fact, when Nat King Cole hosted a TV program for just one season, in 1956 to 1957.
On the broadcasts (some of which have been recently issued for the first time) Armstrong sang and played with a kind of ferocity and joy that rivaled his greatest recordings of the era.
But what made the show all the more memorable for the millions who listened in, was that it was Armstrong who was heralded at the top of the broadcast as the star, and it was Armstrong who then went on to announce his own numbers, week after week.
What should be underscored is that Armstrong, by virtue of his showmanship, his inimitable virtuosity and his soaring popularity, was afforded the kind of on-air power that was heretofore associated only with white stars the likes of Bing Crosby and Al Jolson.
Even as Armstrong's voice and horn were being radiated far and wide, another equally powerful paradigm shift was slowly working its way into the national consciousness.
By 1937, Joe Louis had won all but one of his professional fights, and was considered the prime contender for the heavyweight crown, then held by James "Cinderella Man" Braddock.
Louis fought Braddock on June 22, 1937 in front of 45,000 fans at Chicago's Comiskey Park. Millions more listened via radio.
Going into the contest, there was a growing sentiment that Braddock was outmatched.
Whereas, 25 years before, many whites had cried out for a "Great White Hope" to defeat the first and only black heavyweight champion, Jack Johnson, this time there was a burgeoning sense that a Louis win was inevitable, despite the racist machinery that kept black contenders away from the heavyweight crown.
Louis won by knockout in eight rounds — fair and square — and went on to hold the title for 12 years, longer than any heavyweight champ before or since.
There was pandemonium in the streets, and black America lauded Louis as a transformational hero.
Armstrong was on the air the following week, and his appearance must have been especially jubilant coming as it did on the heels of perhaps the greatest moral victory for African Americans in a generation.
When Rudy Vallee returned to the air in July, Armstrong was a guest, but no new sponsors stepped forward to back the trumpeter in a like venture.
Satchmo had made history in 1937, but real, lasting change was still a generation away.
Down in the Caribbean, Satchel Paige found himself heading towards a championship series that would prove to be the fight of HIS life, quite literally.
Paige's ballclub ended their unbeaten season by facing a team who represented a rival faction — and who brought their own militia! The rival armies lined the field's perimeter, and during the seven game series, it was made clear to Paige that if the "Trujillo All Stars" were to lose, "there [was] nothing to do but consider myself and my boys as [having] passed over Jordan."
Paige and company won the final game in a squeaker, 6-4, and according to the pitcher, "the next day we were packed up and out of there." Upon their return to the states, the others may have worried that the same owners who had banned them at their departure would shut them out of professional ball forever, but not Paige.
In a characteristic move, he formed his own "Satchel Paige All Stars," and barnstormed the southern states, raking in more money than the Negro Leagues had ever offered him.
He eventually went on to become the oldest starting pitcher, at 42, to appear for a major league ballclub, the Cleveland Indians, in 1948.
These indomitable men looked on the prescribed color lines of their day, and audaciously shoved them aside.
Now that we have arrived at yet another potentially transformative moment in our history, their contributions may be appreciated not only for their essential power and eloquence, but also as lasting examples of the individual's ability to transcend historical context, to democratize and to humanize.
Todd Bryant Weeks, Local 802's jazz rep, is the author of "Luck's in My Corner: The Life and Music of Hot Lips Page" (Routledge Press, 2008). He can be reached at Tweeks@local802afm.org.