President's Report
The Legacy of Jerry Ashby: Lessons From a Loss
Volume CVIII, No. 2
February, 2008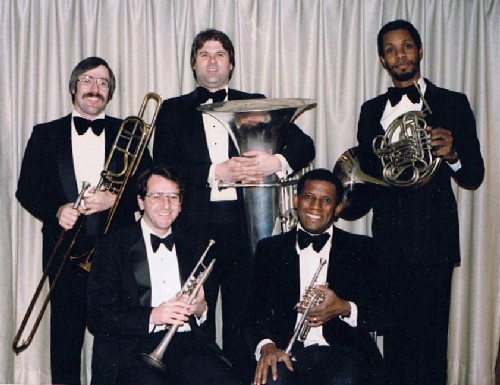 Jerry Ashby passed away on Dec. 26. He's pictured above on French horn, along with David Finlayson (trombone), Warren Deck (tuba), Carl Sakofsky (trumpet, left) and Wilmer Wise (trumpet, right). See Wilmer Wise's letter remembering Jerry Ashby and Jerry Ashby's obituary in this issue. Photo by Carl Sakofsky.
Local 802 lost a gentleman recently; his name was Jerry Ashby. Jerry's life experience illustrates a point about our tendency to put people in a box — to categorize people we don't know well — and how much we lose by doing so.
Jerry was a groundbreaking individual — one of the first African-American musicians in the New York Philharmonic. He entered that august institution in 1979, a point in time when the sight of a non-Caucasian musician in a symphony orchestra was a remarkable event. It bears repeating that Jerry overcame the cultural stereotypes that were used against him when he began his career and remained a respected member of the Philharmonic for the rest of his life. Equally important, he didn't allow the naysayers to turn him into a bitter individual. When I last saw Jerry, he was the same friendly and approachable person I knew when we played together on the Rick Wakeman "Journey to the Center of the Earth" tour in 1974.
It's a good thing that Jerry was appropriately recognized for his great talent and also that our prominent cultural institutions are becoming more racially diversified. I hope that part of his legacy will be to help symphonic music to become and remain relevant beyond the limits of its European origins. Relevance to the population as a whole is the only way that we will be able to maintain an audience for this vital art form in the future. We should therefore appreciate Jerry not only for his abilities as a musician but for his contribution to the future of symphonic music.
There is, however, a larger lesson to be learned from Jerry's experience — that we should all make a greater effort to welcome diversity as we struggle with the competitive nature of our profession. It's a part of human nature to underestimate or dismiss things that we do not understand and people whom we do not know. Comfort with the familiar is deeply rooted and hard to overcome. Sometimes it's innocent enough — we just don't think to inquire beyond our initial impression and thereby miss the chance to know an individual who may share an interest or passion. No great harm done there, although we sometimes come to regret the lost opportunity later.
Unfortunately, however, we do harm when we move beyond the benign. It's the instinct to reject the unfamiliar that leads to prejudice — judging people on the basis of superficial assumptions rather than evidence of their skills, knowledge or character. Discrimination that inevitably flows from unjust prejudice is the impulse that permits us to believe that the person we don't know isn't as capable, hasn't enough experience or doesn't need or deserve a chance. It is as invidious when it is found within the union as it is when found in the workplace. It is fatal to the solidarity that is necessary for our union to flourish. To the extent that Jerry faced unjust discrimination in his life we should all feel regret. We should honor his memory by refusing to allow the forces of prejudice to divide us in the future.