The Musical Vision of Christian McBride
Feature Interview
Volume 118, No. 4
April, 2018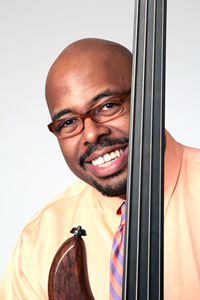 It's not simply his abundant virtuosity that has made Christian McBride the most in-demand bassist of his generation. McBride, a member of Local 802 since 1993, consistently combines his deft musicianship with an innate ability to communicate his enthusiasm to an audience – a warm showmanship that transforms his own passion into infectious joy. It comes across whether he's leading his own bands, directing the Newport Jazz Festival, sharing the stage with jazz legends like Sonny Rollins, Chick Corea, Herbie Hancock or Pat Metheny, accompanying pop giants like Sting or The Roots, or collaborating with classical masters like Kathleen Battle, Edgar Meyer or the Shanghai Quartet. Any time that McBride steps into the studio or onto a stage he plays what could be called "People Music," but it's a particularly apt title for the second release by his hard-swinging acoustic quintet Inside Straight. "People Music is my personal mantra as a musician," McBride says of the title. "Sometimes jazz musicians can get too caught up in their own heads; they get so serious and so caught up in their creativity that they're not bringing the people in. So I figure the best way to communicate is to let the people navigate where you should go."
McBride adds, "When you pull the people in, you can go anywhere as long as they feel like they're a part of the ride. That's why Cannonball Adderley was always my hero – he always exemplified high artistry, but no matter how esoteric or abstract it could get, he still related to people. And I've always felt that this band plays 'people music.'"
Local 802's Bob Pawlo recently caught up with Christian McBride to gain some insights into his musical story.
Bob Pawlo: How did your remarkable journey in music begin?
Christian McBride: I think my journey in music started after watching my father perform one night. My father, Lee Smith, is a bassist in the Philadelphia area, and when I was a kid, he was working with Mongo Santamaria. I saw him play at the Atlantic City Jazz Festival. I had seen my dad play multiple times with Mongo, but this one particular concert really stuck. I don't know why. After that concert, I wanted to play the bass. My parents weren't together at that time, so I asked my mother if I could have an electric bass for Christmas. She and my dad got together and bought me my first bass. I was nine years old.
Bob Pawlo: How did you begin practicing and studying?
Christian McBride: My dad came over one night and gave me my first pointers. He showed me how to hold it. He showed me where the notes were and a very simple bass line, which was "Papa Was a Rolling Stone," and it felt good being able to play that. I got really excited. I asked him to show me something else, and for the next two years, I didn't put my bass down at all. It was a permanent appendage on my body. I would listen to whatever records were around the house and listen to the radio and just try to learn the bass line from the recording. I listened to a lot of James Brown and a lot of Motown. My mother recognized that I was dedicated to music and decided I needed some training. So I went to Pepper Middle School in southwest Philadelphia, where they had a respected music program. I started playing the double bass and taking private lessons. I played in the orchestra. It was the beginning of my formal training.
Bob Pawlo: What were some of the things you learned early on from your teachers?
Christian McBride: My first teacher was actually a cellist. Her name was Margie Keefe and I will always be indebted to her. My first real bass teacher was Annie Peterson, and then I finally started studying with Neil Courtney, the associate principal bassist of the Philadelphia Orchestra. He was one of the number-one gurus in the whole city. He had a soft spot for jazz players, so he was always interested in what I was practicing jazz-wise, which I thought was really sweet. Either ten minutes before we would start my lesson or ten minutes after the lesson was over, he would always say, "Okay, so what jazz are you practicing? Let me hear what you're doing." I loved every minute of studying with all of these great, great musicians.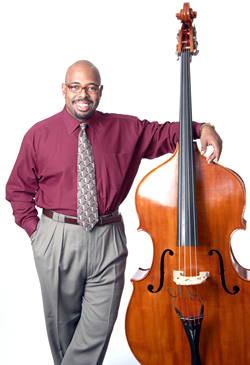 Bob Pawlo: Did you start playing gigs in high school?
Christian McBride: Yes. I got into the Settlement Music School high school jazz ensemble and met this young, genius kid named Joey DeFrancesco. We became tight partners, and he was in eighth grade too. So, they made room for two junior high school kids to come play in that band. They were calling us the Batman and Robin of the generation. My first professional gig was around then. We played at a private party for some of the benefactors of the school, and we all got paid ten dollars. That was good money for a 12-year-old back then! Then I started working with a Philadelphia bandleader named Joe Sudler, who had briefly played with Ellington. He still has one of the most popular big bands in the Philadelphia area, called Joe Sudler's Swing Machine, and they used to invite special guest soloists to come in and play with them, like Freddie Hubbard, Clark Terry, Stanley Turrentine, Phil Woods and Joe Henderson. So I started playing with the Swing Machine when I was 16. It was my first true bona fide professional experience, and my mother had to buy me a tuxedo. And I had to know repertoire. I was playing with musicians who were much older than me and very respected and established. Uri Caine was the pianist. John Swana was in the trumpet section. Zack Zachary was our lead alto player. We would play bar mitzvahs, weddings and parties, and then we would do regular concerts where we would get to play the stuff that we wanted to play. But when we were doing these private parties, sometimes Joe would look around and say, "'Tea for Two' in E flat!" And I didn't know it! Uri Caine would say, "I got you, just follow my left hand." Next Joe would turn around and say something like, "Okay guys, one-two-three, 'Hava Nagila,'" and I was like, "What's that?" A couple of the older guys, particularly Zach Zachary, would be kind of harsh, like, "You know, boy, you better start learning these songs!"
Bob Pawlo: You could have stayed there and become part of the Philadelphia scene, but how did you decide to move to NYC?
Christian McBride: At some point I met Wynton Marsalis, who had come to Philadelphia to give a master class. I got to spend some time with him, and he became a wonderful mentor and a big brother and an immeasurable source of inspiration. At that point, I knew I wanted to move to New York, because all of my jazz heroes lived there. So I applied to Juilliard and, to my surprise, was accepted there!
Bob Pawlo: What were the key experiences there?
Christian McBride: The most key experience was meeting and studying with the great Homer Mensch, one of the great pedagogues of any instrument. He had been the principal bassist for the New York Phil for many years, and just a great man. I miss him dearly. He passed away over ten years ago; he was in his 90s. But just like Mr. Courtney, he had a soft spot for all the jazz musicians, because he was also a very prolific studio musician, you know, playing in orchestras, doing a lot of jingles and movie scores and things like that, so he was very close with people like Bob Cranshaw and Milt Hinton, all the old school guys – and studying with him was something that I'll always be able to keep with me. I still have a lot of his exercises that he gave me when I was at Juilliard, which were very, very difficult to read, because there was just a lot of writing on it. We had the exercise itself, and then he would circle a passage, and he would write which finger and which string to play it on. So, you'd have to read his fingerings and the music at the same time. You're reading which string, which finger, and the note itself, so you needed like three sets of eyes to read his exercises, but it was worth it. In the end, I got about two weeks into Julliard, and Bobby Watson asked if I could make a weekend with him in Birdland, and that kind of started a rolling snowball of some of my early gigs in New York City playing with Bobby and with James Williams and Roy Hargrove and meeting Benny Green, who is still one of my closest brothers in the world. I was having so much fun. I'm going to these jam sessions and hanging out at night, and then going to class during the day. It was obvious by the Christmas break that it wasn't going to be able to sustain itself. I either needed to concentrate on school or get out there and gig. So I decided I would get out there and gig. I had a long talk with Mr. Mensch and my mother. Mr. Mensch said, "You know, I knew this was coming. I see how talented you are. Juilliard will always be here. I'll always be here. We can keep studying together if you want, but you should go out and follow your dream." My mother eventually came to that. She didn't say it as quickly as Mr. Mensch.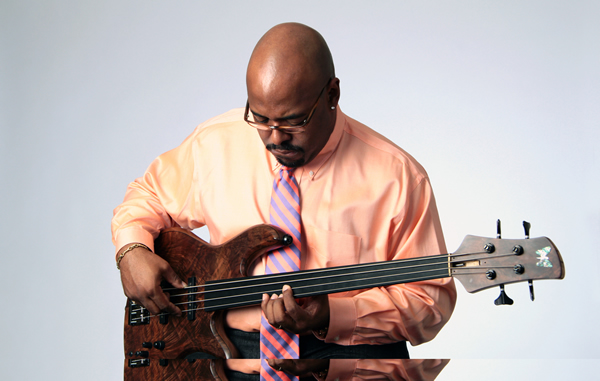 Bob Pawlo: You soon started playing in Freddie Hubbard's band. What was that like?
Christian McBride: Freddie Hubbard was somebody I wanted to play with, because I just worshipped him. I loved his music. I love how he played. And the guys who were in his band at that time were all my close friends: Benny Greene and Carl Allen and Don Braden. They knew that I knew all of Freddie Hubbard's music, or enough of if so that if I ever got in a gig, I would be ready. Getting into Freddie's band showed me that preparation is key. I always tell young musicians that you gotta be prepared, and you gotta be specifically prepared. Knowing a lot of standards or being a great improviser is not enough. If Freddie Hubbard heard me play the blues, he would probably think, yeah that kid can play. But now if Freddie heard the blues AND he heard me play something like "The Intrepid Fox" or "Life Flight" – one of his original songs – that would really make his eyebrow go up, because he's thinking, "Oh, this kid learned my music as well? Wow." The same thing with Joe Henderson and McCoy Tyner and all these great musicians I admired. I learned their music as well as the standards.
Bob Pawlo: What is the role of the bass player, and what makes a great bass line?
Christian McBride: I think the bass is probably the only instrument that always has a dual role: it has to play both harmony and rhythm. So for that reason I always say the bass player has the hardest job of anyone else in the band. If the pianist doesn't know a tune, he or she can fake it by listening to the bass player. But if a bass player doesn't know the tune, it's impossible. The bass player always has to set the tone. So we have a very difficult job.
Bob Pawlo: Who inspires you?
Christian McBride: I try to be in tune with anybody who makes great music. But I would say that my go-to artists who I like to listen to no matter what are James Brown (who I got to play with), Aretha Franklin and Gladys Knight. Those were always some of my favorite singers of all time. Freddie Hubbard is one of my greatest inspirations. When I first started learning how to improvise, not knowing any better, I would try to learn a lot of Freddie Hubbard solos. I would try to learn a lot of Joe Henderson solos, and a lot of McCoy Tyner solos. For bass players, my top five are Ray Brown, Paul Chambers, Ron Carter, Jaco Pastorius and Bootsy Collins.
Bob Pawlo: How did you become the artistic director of the Newport Jazz Festival?
Christian McBride: George Wein called me a few years ago and asked me out to lunch. He told me the whole history of the Newport Jazz Festival and said that at their recent board meeting they realized that there was no successor plan in place. And George was approaching 90 years old! Then he said that he's been following my career, especially how I play across many different kinds of genres. And he said that's what he wants for his festival, and then he invited me to become the new director of Newport. I was in pure and total shock.
Bob Pawlo: It's like Toscanini passing the baton.
Christian McBride: Yes! So first festival as artistic director was last year. After the festival was over, George put his hand on my back. He says, "Well, I got good news and bad news." I thought, "Uh oh. Maybe he didn't like what I programmed." He says that the good news is that I programmed one hell of a festival, we sold a lot of tickets, and  we got glowing reviews. The bad news? "How are you going to top that next year?" He said I put myself in a hole by doing a good job! It's like a baseball player coming up to bat the first time and hitting a grand slam!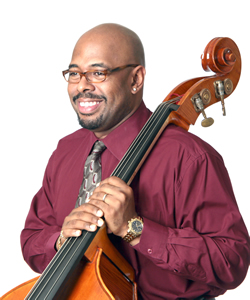 Bob Pawlo: Tell us about your Grammy-winning big band.
Christian McBride: I love playing in my big band. We don't get a chance to work all the time, but when we do work, it is one big party, all the time. I love writing for the band. For my jazz series at the New Jersey Performing Arts Center, we've had a number of wonderful guests who have played and sung with my big band. It's always a thrill to write for the big band and just being able to combine everything I love in one band. I get to play. I get write. I get to arrange. I get to be a comedian. I get to be a showman. You know, so all of that folded up into that one band.
Bob Pawlo: Could you tell us about Jazz House Kids?
Christian McBride: Yes! Jazz House Kids is an organization that my wife, the vocalist Melissa Walker, started 15 years ago. In 2000, she was called to do a kids' workshop for WBGO. At that point, I don't think she had any experience giving master classes or workshops for elementary schoolkids. She said she was scared to death. But she did it. She loved it and was a big hit. She realized that a lot of these public schools were beginning to get rid of their music programs and so she started her organization. It's the only community arts organization in New Jersey exclusively dedicated to educating children through jazz. It gives students an artistic edge through music, mentoring, education and apprenticeship. I just couldn't be any more proud of the work that she's done.
Bob Pawlo: What advice to you have for young bass players and jazz musicians coming up now, beginning their careers in today's world?
Christian McBride: I would urge them to understand that music is a marathon, not a sprint. Get into a mentor/apprentice situation. Play in people's bands. Find a mentor who can bring you up and guide you through the ranks. Study as much as you can study, play as much music as you can, so you can play any style of music with anybody who calls you.
Bob Pawlo: What message do you have for your fellow union members?
Christian McBride: When I first moved to New York, I would spend time with Bob Cranshaw, who was one of my heroes. Bob would ask me, "Man, are you in the union?" And I said no, but I'm interested in joining. He said, "Good, good." So, I joined Local 802 right after I moved to New York. I did a lot of session work, and then one day Vice President Bill Dennison asked me how much pension was in my account. And I said, "Bill, I hate to admit this, but I don't know. I don't really open up my statements." He said, "Come to my office." So, we went to his office and punched up something on the computer, and he says, "Do you know how much money you have in your pension?" I said no, and he turned his computer screen around and showed me, and then my eyes pretty much popped out of my head, right. And I went, "Really?" And he says, "At this rate, if you want to, you could probably retire when you're 50." I started to put two and two together. My grandfather was a letter carrier for the postal service for 40 years, and I remember he was always talking about their union. And he would always talk about pension and benefits and health insurance. As a kid, that stuff meant absolutely nothing to me. I thought he was speaking a foreign language. But at some point, it started to mean more to me, and I've always tried to pick up the ball from where Bob Cranshaw left, trying to get young musicians to understand the importance of unionizing and how the union ultimately protects musicians. Joining the union is one of the greatest things I've ever done, and I'm so absolutely proud to be in Local 802, to be part of an organization that really has the welfare of musicians at heart.