THE RHYTHM OF BROADWAY
In honor of Women's History Month, eight percussionists share their inspiring stories about playing on Broadway
Volume 120, No. 3
March, 2020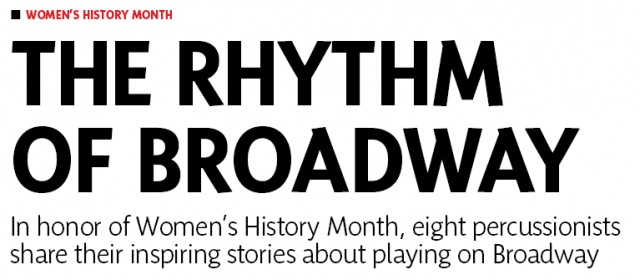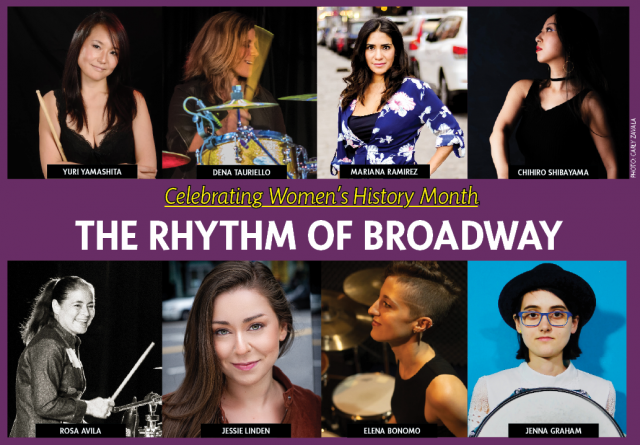 Thanks to Janna Graham and Mariana Ramirez for suggesting this story and reaching out to their colleagues with terrific questions. If you have your own story to share, please e-mail Allegro@Local802afm.org.
Tell us a little bit about your musical history and how it led you to Broadway.
Rosa Avila: I started playing drums at age 16 in Mexico and won entrance to my local conservatory of music. While I was still a student, I earned a chair in the Xalapa Symphony Orchestras in Veracruz, then moved to Mexico City to attend the Escuela Superior de Musica for a year. I next moved to Los Angeles to attend the Musicians Institute, where I studied with amazing teachers like Joe Porcaro, Ralph Humphrey, Casey Scheuerrell and Peter Erskine. Right after my studies there, I won a major gig with legendary singer Andy Williams, which lasted for many years. Because of that gig, I got to play with major artists like Ann-Margret, Petula Clark, Glen Campbell, Debby Boone and the Lennon Sisters. I moved to NYC in 2000, began freelancing while still touring a lot, and started my quest to play on Broadway. It took many years, but I finally got a shot when I played the show "Summer: The Donna Summer Musical." This past year, I was very fortunate to work on four Off Broadway shows. I am enjoying it a lot!
Elena Bonomo: I've been playing the drums since I was a kid, and I've always loved musical theatre. My uncle is a percussionist and introduced me to the world of playing for shows. I used to sit in the pit with him and watch the orchestra play. I started taking drum lessons after my parents surprised me with my first drum set for Christmas, and I've been hooked ever since.
Janna Graham:  I grew up in a musical and artistic family. My dad is a jazz pianist and singer/songwriter, and I started learning piano, percussion and drum set when I was 3. We would have lots of family jam sessions when my brother and I were growing up (and still today whenever I'm back in Atlanta). I studied classical percussion, jazz drum set and vibraphone in college. I had the chance to work with a Broadway music director during my last semester, and she offered me an Off Broadway show. I moved to NYC about three years ago and since then I've played three Off Broadway shows, subbed on one Broadway show, and now I have my first Broadway show. I am so grateful to be here. It definitely feels surreal…like all the time!
Jessie Linden: I grew up in the Cleveland community theatre scene. By high school, I had fallen in love with percussion and decided to pursue a career playing for Broadway shows instead of acting in them. Like most children, I knew very little, if anything, about the reality of doing this, but it was a dream and I chased it.
Mariana Ramirez: I grew up in Mexico City and studied classical percussion at the National Conservatory of Music. I played with the National Symphony of Mexico, Orquesta de Mineria and Orchestra Carlos Chavez, among others. I also enjoyed playing contemporary music with chamber ensembles and traditional Mexican music. As I grew up in Mexico, I didn't know much about Broadway. It wasn't until after a couple years after I moved to the states that I saw a production of "Lion King," and I was mesmerized. Then I started dreaming of playing on Broadway one day. That dream came true in 2018 when Javier Diaz asked me to sub on "Once on this Island." Since then, it's been a dream to play on different Broadway productions and have the opportunity to explore different music styles and combinations of percussion and drumset setups.
Chihiro Shibayama: I was born and raised in Yokohama, Japan. When I was 16, I moved to the U.S. to attend Interlochen (both the camp and the school itself), where I was able to imagine my future as a professional musician for the first time. My career as a professional musician started when I moved to NYC and attended Juilliard. Playing on Broadway was one of my dream jobs, but I didn't know how to get there. My first breakthrough was winning a Radio City Christmas Spectacular audition. That was my first union work out of school, and it's where I met so many great musicians who worked on Broadway. When I asked them how to enter the Broadway world, they suggested I reach out to Broadway percussionists and ask to sit in to watch them play. It took a bit of courage, but I cold-called almost all the percussionists for major Broadway shows. Everyone kindly responded and let me watch their show. I had no expectations it would lead to work, but then one of the percussionists contacted me. His show was closing and he asked if I would be interested in learning the show, even though I would only get the chance to play for a few shows before it closed. Of course, I jumped at the opportunity! I got such valuable experience in how to be a good sub on Broadway, how nerve-racking the first show feels, and how satisfying it feels after playing a great show.
Dena Tauriello: I spent nearly 20 years as a member of the rock band Antigone Rising and our opportunities ran the gamut. We toured relentlessly, including opening slots for the Rolling Stones, Aerosmith and the Allman Brothers. We signed a label deal with Lava/Atlantic and played numerous TV performances (Tonight Show, Today Show, VH1). We served as cultural ambassadors to Israel, Palestine and Vietnam through the U.S. Embassy. Through these experiences, I was able to make connections and build a reputation as a seasoned pop/rock player, the exact skill set needed for my first show "Head Over Heels."
Yuri Yamashita: I majored in classical percussion at Juilliard and Mannes. I continue to study Latin and Brazilian percussion and sing bossa nova as a hobby. I have performed and worked in many genres, including classical, contemporary/new music, experimental, theatrical, Latin, Brazilian and pop. I've played with everyone from Duran Duran to the Metropolitan Opera, including the Munich Philharmonic, Santa Fe Opera, American Composers Orchestra, New Jersey Symphony, Alarm Will Sound, Bang On A Can's Asphalt Orchestra, Wordless Music Orchestra, Tan Dun, and Tyondai Braxton's Hive, to name a few, and I also performed a concerto as a percussion soloist with the Milwaukee Symphony Orchestra. But the way I got to Broadway was this: I was the principal timpanist of a small freelance orchestra here in NYC. One of the guest musicians who heard me play recommended me to his friend who had a percussion chair on a Broadway show. The book had a lot of timpani playing and he happened to have a spot for an extra sub. I'm very thankful for him giving me the opportunity to break into this business. From there, my network expanded. I subbed on over a dozen shows, and I'm currently playing percussion in "Tina: The Tina Turner Musical."
What is your favorite thing about playing on Broadway?
Rosa Avila: I love working in NYC and not having to tour much anymore — except when I want to! I've been touring since I was in my 20s and it feels like I paid my dues on the road so that now I can stay home and do this amazing work in town. Playing on Broadway is the best gig I could ever want. It requires a skill set that I have, it pays the bills, and I get to play amazing work with high-caliber musicians, the best of the best! And I get to live at home while doing it.
Elena Bonomo: I love playing for musical theatre because I've always loved playing all styles of music, and theatre is a great way to incorporate many different styles into one show. I love the process of creating parts with composers and choreographers and coming up with grooves that complement what's happening on stage. I also love the rush of being on stage and performing for new audiences every night.
Janna Graham: I love playing with a phenomenal 25-piece orchestra eight times a week. The music from "West Side Story" is some of my favorite music ever, so it's extra special. I also love being part of a gigantic show and hearing how the audience reacts a little differently each night. It's a super fun job! Sometimes it doesn't feel like a job at all. I love all of the people in the orchestra too.
Jessie Linden: I like how in live theatre, each show has thousands of designed details meant to be replicated day after day, but in each performance there are nuances within those details that — in combination with that show's audience — makes each one unique.
Mariana Ramirez: I love the diversity of styles and rhythms on Broadway. I also enjoy very much when the choreography is carefully coordinated with the percussion and drum parts, like Timoune's dance in "Once on This Island."
Chihiro Shibayama: I love knowing that I'm a part of a show that so many people will experience and remember. I also love getting to know fellow musicians. Playing the same music many times gives me the opportunity to strive for perfection. I enjoy that challenge.
Dena Tauriello: I love how it truly takes a village and how there are so many people working hard to make shows happen eight times a week. Being a part of that team is such a pleasure. There is a constant undercurrent of pressure to play within the context of so many moving parts and variables. I love that challenge.
Yuri Yamashita: I love being able to tweak my playing and try different sticks, mallets, drum heads and toys to make it better in every performance. I also enjoy building musical connections with other musicians in the band and learning from them. Because we play the same music every day, we can listen to details from various sections and instruments. I always notice something new. It's fun to hear how different musicians play the same book as well.
Do you have any suggestions or tips for women who want to play on Broadway?
Rosa Avila: Be consistent; a lot of theatre is about being consistent. Of course, always work on reading. Also, it's very important to know how to play with a conductor and a click track since most modern stuff is done that way. Be professional, bring good positive energy, be on time, do the job — and go home!
Elena Bonomo: Find mentors in the industry who are doing what you want to do and learn from them. Be the kindest and hardest working person out there.
Jessie Linden: Fortunately, more and more people are looking for you, so focus on yourself and don't let others' successes discourage you.
Janna Graham: Be as prepared as possible. Play musically. Keep your eyes on the music director as much as possible so you can lock in together. Be positive and friendly! Try not to complain — but also stand up for yourself if you're being treated unfairly. When you first move to NYC, take pretty much any gig, even if it doesn't pay well. It will be worth it because you'll meet lots of other musicians who might hire you or recommend you for gigs later on.
Mariana Ramirez: Be consistent, don't give up, be nice with everybody around you, work hard and be grateful.
Chihiro Shibayama: The bottom line for anyone who wants to play on Broadway is to meet people who are already working in that scene. It's O.K. to reach out to people you don't know to build your network. Musicians on Broadway are hired by recommendation, not by audition. I also recommend that you strive to build a strong reputation as a great player who is easy to work with.
Dena Tauriello: I think it's no different than anyone trying to break into any field: work hard at your craft and be really good at what you do. Being humble and easy to be around will also go a really long way. Be punctual (which means be early), and be prepared. Set yourself up to be successful when hired to do a gig. Network with people in the industry while being respectful of their time.
Yuri Yamashita: It's important to be able to play different styles and genres — and it's also important not to be a difficult person to work with. As a sub, I learned the books based on minute details of how each music director conducted. It's also important to reply promptly, and communicate clearly with the person you are subbing for.
Tell us about the support you receive from the network of female musicians in NYC.
Rosa Avila: NYC is very special because it is home to the best musicians in the world. I get to work with a lot of amazing female musicians in several all-women bands. These bands are not about gimmick: these are very high-level musicians, female or not. I think we all support each other; we're all going though the same stuff trying to make a living.
Elena Bonomo: The support I've received from other female musicians in the industry has been incredible. There are so few of us that the community is super strong. I always get excited when I meet other female musicians (especially drummers) on a gig because it means I can add more people to my network! We are all here to empower each other and lift each other up, and it's super rewarding.
Janna Graham: I got my start here because of a few incredible women. I have to give a shout out to Mary-Mitchell Campbell, Georgia Stitt and Meg Zervoulis. There are so many others too. There is an amazing community of female musicians here. We lift each other up and help each other in our careers and lives. Everyone must check out www.MaestraMusic.org. Their mission is to "provide support, visibility, and community for the women who make the music in the musical theatre industry." Their Web site has a database of female musicians, plus resources and statistics on gender equality in the industry. Many female musicians have gotten work and made new connections through Maestra.
Jessie Linden: It's been wonderful to meet so many fantastic musicians in this community, as well as other folks working alongside us. One fond memory I have is from the first show I played at "Come From Away." It marked the first time four women performed in the onstage band of eight! The whole cast and crew were very excited, and it certainly made for a very memorable first day. While I hope that one day soon, gender equity in Broadway pits isn't so rare, I appreciate how supportive they were that day, and still are!
Mariana Ramirez: I'm very grateful for the musicians' network in New York City — not only the female musicians. I got very good opportunities thanks to some of my male colleagues in addition to my female colleagues. I am very proud to see that female musicians are coming together to support each other, looking for a stronger voice and representation in the music world.
Chihiro Shibayama: I feel supported by seeing fellow female musicians' successes in NYC, including Broadway, TV shows, award shows and more. It means more young girls can see that women can be great professional musicians. This is especially powerful on traditionally male-dominated instruments such as drums, percussion and brass.
Dena Tauriello: As musicians, it's important to encourage and support each other, regardless of gender. That being said, I'm happy to see more female drummers and percussionists having opportunities in the Broadway community. I appreciate receiving calls to sub and try to reciprocate whenever possible. Sometimes schedules do not align; however, it's still nice to be considered.
Yuri Yamashita: I am grateful for every musician who trusted me and gave me the opportunities to play or sub. I see in very recent years that the network of female musicians is forming and getting stronger. But over a decade ago, when I started subbing on Broadway, there was no such network and I didn't think much about my gender or the various genders around me. My focus has been to become a good musician. But when I did have the opportunities to work with great musicians who happen to be women, they were very inspiring.
How can male musicians be allies to female musicians, in your opinion?
Rosa Avila: In my opinion, it shouldn't be about gender. I think removing the "female" in front of drummer would be a nice start. I get a little tired of being referred to as "female drummer" in town. Call me a drummer. It just so happens that I play drums for a living, and this has nothing to do with my gender. I think the younger generations are starting to not care about these labels, which is a good start. Every time I get approached by younger musicians, they call me a drummer, not a "female drummer." That's what I want to see more of. Playing music is not about gender and it never has been. In Mexico as a teenager, I dealt with the problem of being told, "Hey, you can't play drums — that's for boys." And my answer would always be, "Says who? How did this start? I don't think so!" This always made me want to play drums even more. It fueled me. I am happy that the next generation of musicians doesn't have to deal with that. It should be a thing of the past.
Elena Bonomo: We are all musicians. The goal is to not have a divide between male and female musicians, but to have everyone play together in the community and not have to think about gender. Because there are fewer women who are visible in the industry, men can help with the process of creating an equal playing field by taking the initiative to hire more women. There are so many women who are capable of doing these jobs and are ready to go — they just need to be given the chance.
Janna Graham: Hire diverse groups of musicians! Be sure to listen. Help when you witness injustice.
Jessie Linden: I think we can all be allies to any underrepresented group by continuing to work towards more diversification in our community. Even though not everyone is always in a position to hire, we often have power in how we provide recommendations!
Mariana Ramirez: I think some male musicians are already allies to female musicians. Music is one of the few things that does not look for gender, race or any difference. Music brings people together and talent can open doors. I think the most important thing is to be able to have a community of musicians, regardless of gender, who support and respect each other and give opportunities to each other.
Chihiro Shibayama: In a professional environment, I want to feel like I'm a musician, not a "female" musician. I've been fortunate to have wonderful male colleagues who recommend me for work. When you are in a position to hire or recommend musicians, please remember your talented female colleagues. One time I was subbing on a Broadway show where the drummer and bassist were also female subs. We were all so excited because we know how rare that is. I hope that in the near future, we'll see this happening more. But for that to happen, we as female percussionists need to support one another.
Dena Tauriello: Allies are allies…that means being kind, supporting each other and offering a helping hand when possible. In the event I receive e-mails or calls from people to come watch the book or get coffee, I do my best to make the connection happen. My experience has been that the drumming community is inclusive and supportive.
Yuri Yamashita: In addition to being a good musician, I find the most important thing in this industry — or any industry — is being a good human being and supporting your colleagues.