'The World's Most Perfect Drummer'
The musical life of Charli Persip
Volume CX, No. 9
September, 2010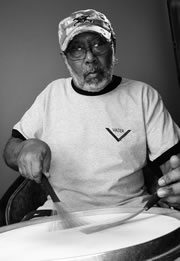 Charli Persip is doing one of the things he does best. He is telling a story.
"Red Foxx came to town," Persip remembers, "and he was M.C. of a club in Newark called the Piccadilly, which was a very big, cabaret style club. And he had a jazz night. And so every Tuesday he would bring in a star – a major name in jazz. And he hired Hank Mobley and Walter Davis, Jr., and myself, and a bass player named Jimmy Skank. And we were the house quartet for that night. And one night, Benny Green, the trombonist, was the featured performer. And we had a really good night, and the band was groovin'. And after the gig, Green told me he liked my playing and would I like to have a gig? And I said, 'Yeah,' and he said, 'Well, call this number…'"
That phone number ultimately connected him to one of the most famous innovators in jazz and one of Persip's own idols. But let's not rush the story. One thing Charli Persip doesn't do is rush.
Persip has played professionally for over 65 years. At a robust 81, he looks and acts 20 years younger, but his memory belies a world of experience that most jazz musicians have only read about. A New Jerseyite, he joined AFM Local 16 (Newark) in 1945.
Persip's technical mastery of the instrument (he has been called "the world's most perfect drummer") has allowed him the luxury of appearing in a multiplicity of settings with some of the greatest names in jazz: Dizzy Gillespie, Harry "Sweets" Edison, Harry James, Billy Eckstine, Archie Shepp, Benny Golson and Art Farmer, Sarah Vaughan, Dinah Washington, Eric Dolphy, Duke Ellington. It's a long list.
Since 1979, Persip has led his own big band, Supersound, and toured and recorded extensively with that group.
He first appeared on the mainstream jazz scene during the summer of 1953. As in the old show business adage, which stipulates time and place, Persip had fortune smile upon him in the form of another's rather unfortunate lapse:
"Tadd Dameron was playing a show at the Paradise Club in Atlantic City," recalls Persip, "and he had a lot of stars in the band. Clifford Brown on trumpet, Philly Joe Jones was the drummer. Betty Carter was the singer. And Philly Joe Jones was killing at that time, man.'
Suddenly, the word went out that a new drummer was needed at the Paradise.
"I thought they were talking about the lounge," laughs Persip. "So I went over there and sure enough, Philly Joe had gotten himself arrested, and he had run out of town to keep from going to jail. So there was no drummer. So, they had a called a rehearsal to break in a new drummer. They tried the guy that was in the lounge, and sad to say, his playing was so bad that Tadd went up on the stage and put his hands all over the drums – to stop him from playing!
"And there I was sitting there, doin' nothing. So the union man saw me and said, 'Oh! You! Come on!' Philly Joe's drums and everything were still there. And the club owner said, 'All right. Let's run the first number.' I had seen the show, but I didn't know it at all. But the book was there, and I was a good reader. So I played the opening number, which was very lavish. And the owner came over, and Clarence Robinson was the producer, and they all got together to listen with Dameron. And one of them said, 'This boy played the opening number better than Philly Joe Jones.' And so I got the gig."
Persip, who is half Portugese, was born Charles Lawrence Persip in Morristown in 1929, but by the age of 6 he had moved with his parents to Springfield, Massachusetts, where his father strove to establish himself in business.
"My father wanted to set himself up in his own catering business," remembers Persip, "which he eventually did. He was an excellent cook. My mother worked as a matron in a hospital. But she also worked during the war hand sewing officer' uniforms. She was an extremely talented seamstress. My parents' dreams were relatively pragmatic compared to today's ideas of success. They looked for a job where they could have a pension and security. This was their whole idea, man, of coping at that particular time – we're talking 1920's, 1930's. Back then, Negroes – and I still prefer to use that term – hadn't gotten 'beautiful.'"
Persip got the first hints of what were to be his later achievements when, at age 8, he won a local talent contest, singing and playing a parade drum. That landed him a spot on a radio program.
"That's when I got bit by the show business bug," he remembers. "Just the fact of getting picked up every Saturday morning by a limo on the way to the radio studio, and all the neighbors looking out their windows and talking. That really made an impression."
An automobile accident left him bedridden for several months at age 9, and his sister's big band record collection beckoned. His first taste of live jazz came when his father took him to see Cab Calloway at Springfield's Paramount Theater:
"I remember," says Persip, "The show was just getting started, and I was getting some popcorn with my dad, and I heard the announcement, 'Now, ladies and gentlemen, the Paramount Theater is proud to present…' And all this was new to me, you know? And I rushed up to the balcony to my seat so I could see what was happening. And I looked down on that stage – and I had never seen anything like this before, man. And I'm standing there, totally mesmerized. This band, this beautiful orchestra onstage, with this gorgeous set of drums. Cozy Cole's drums."
Persip's family moved back to Jersey when he was 12, and by virtue of "three double promotions," as he puts it, he soon found himself in the freshman class at Newark's West Side High. Despite his small stature, he went out for football, and only the attentions of a pretty girl pulled him away from his intense focus on sports: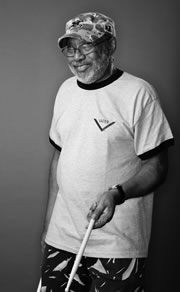 "The music department formed a stage band, and I tried out for it, you know. There was a girl that I really had a crush on, and she said, 'Why don't you try out for the stage band? I would love to see you in that band.' And I said, 'O.K. I'll do it right away.' I would have done whatever she asked. I would have jumped off the roof if that's what she wanted."
By the age of 14, Persip was playing with local show bands during war bond drives, where he accompanied celebrities like Bing Crosby, Bob Hope and Dorothy LaMour. Within a few years, he found himself supporting the then burgeoning doo wop fad and backing up groups such as the Ravens and the Five Keys. But after a time, "the novelty wore off." The touring, especially in the Deep South, was often excruciating:
"Half the time we had to sleep in the car, 'cause you couldn't get hotels," Persip said. "Negroes couldn't stay at the hotels. It was my first time down there. And the chitlin' circuit was really a drag. Because, you know, where I'm from, if somebody called me the 'n' word, that was just a fight. But back down there, you know, you'd better, you'd dare not, you know. It got so…what can I say? Sometimes, I would almost throw up. To be degraded like that. I'd never been used to that."
Characteristically, upon reflection, Persip is also able to see a bright side:
"Most of the places we stayed down South were rooming houses," he remembers. "Because there weren't that many Negro hotels. And those that they had were really . . . 'el floppo.' Most of those rooming houses were run by church ladies, you know, 'Sister Fourbosom'…and so on. And I was always the baby in the band. When we'd go to the boarding houses, the church ladies would look at me and say, 'Child, what are you doing out here with all these old men?' They'd say, 'Does your momma know? You come here with me, sugar.' And they would feed and feed and feed me."
There are enough stories to fill multiple volumes – and Persip did, in fact, write a book that was published in 2003: "How Not to Play Drums: Not for Drummers Only," with playing tips, advice and anecdotes.
He's been teaching at the New School (under an 802 contract) for decades, and Supersound, which still plays multiple gigs every year, keeps him busy during the summers. His sense of himself, of his many gifts, is also tempered by his admiration for the many people he encountered along the way who helped shape his perspective. Duke Ellington, with whom Persip toured in 1973, made a huge impression:
"Mr. Ellington was always very elegant on stage," remembers Persip. "His manner. His dress. Sartorial splendor, you know. And he said to the audience, 'We will now play Passion Flower, and we will feature our great saxophonist, Johnny Hodges. And Hodges sat there scowling and said, under his breath, 'Didn't I tell you I don't want to play that tune! I told you I didn't want to play that tune!' And so Duke said, 'Oh!' And he turned to the audience, and without missing a beat, he said, 'Our saxophonist is indisposed at present, so we will now play a tune featuring the piano player.' And he sat down and played as if nothing had occurred. And of course, he played magnificently. The man was really incredible."
And what of that phone number that Benny Green handed to him back in 1953?
"Well," remembers Persip, his eyes twinkling, "Green gave me the number on a slip of paper, but never told me whose number it was. I called…and a male voice answered the phone. And the voice said, 'Hello?' and I said, 'Uh, hello, who is this?' And the voice said, 'Well, who are you?' And I said, 'Well, I'm Charli Persip, and Benny Green gave me this number.' And the voice said, 'Oh, Benny Green,' he said. 'Benny told you to call me?' I said, 'Yeah.' And the voice said, 'Well, I'm Dizzy.' And I said, 'Dizzy who?' He said, 'Dizzy Gillespie!' And I almost dropped the phone. Because by that time, Dizzy Gillespie, he was like my idol. And the rest, as they say, is history."