Ticket Scalping Bill Passes
Music and Politics
Volume CVII, No. 7/8
July, 2007
NEW YORK IS OUR HOME!
Musicians joined housing advocates in a rally on May 23 at Stuyvesant Town. The coalition "New York is Our Home" – of which Local 802 is a member – organized the event and called for better rent protections and more housing. Most Local 802 members – and most New Yorkers – live in rented apartments.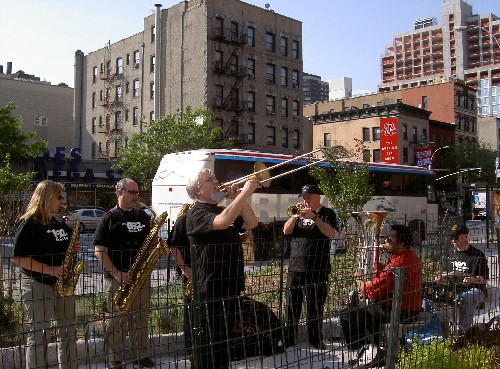 Pictured above, from left to right, are 802 musicians Lily White, Norbert Statchel, Art Barron, Barry Bryson, Howard Johnson (seated, playing tuba) and Larry Eagle (seated, playing percussion). Steve Elson also played; he is standing behind Barron. Photo by Marisa Friedman.
Legislation that alters how the state deals with the scalping of tickets to sports and entertainment events has passed the state legislature and been signed into law by Governor Spitzer.
The bill abolishes the limits on scalpers – otherwise known as ticket brokers or re-sellers.
Ticket brokers and others that re-sell tickets for Broadway, Madison Square Garden, Yankee Stadium and any other venues in New York, are no longer limited in the prices they can charge for tickets.
The prior limits had never been enforced and given the development of Internet auction sites, such limits had become even more unenforceable.
Local 802 along with other COBUG unions expressed concerns to legislators in Albany that any ticket revenues that do not end up at the theatre box office injure our industry and take away from Turkus Award monies and artists royalties.
We had and continue to have reservations about the impact such a ticket resale market reorganization might have on tax relief funds, the long term health of the industry, and the consumer.
Most in Albany are confidently optimistic that this reorganization will result in greater box office revenues and consequently, greater Turkus Award payments.
We hope that these predictions are proven right.
Fortunately, the law sunsets in two years – June 1, 2009 – at which point we will have an opportunity to advocate for changes in the law if we choose to.
Along with the other COBUG unions, we will vigilantly monitor the impact of this law and take action if necessary.
AFFORDABLE HOUSING RALLY
Local 802 sponsored a seven-piece band for the affordable housing rally on May 23 (see photo above). The band was a hit and brought much enjoyment to all the participants nearby. The rally was also a great success, drawing an estimated 7,000 people from over 90 community and tenant organizations to the area surrounding Stuyvesant Town and Peter Cooper Village. Behind the rally was a coalition of housing groups: the Central Labor Council and the Working Families Party have joined together for a larger campaign to preserve and expand affordable housing. It's called the New York is Our Home campaign. The rally was a kick-off action to an ambitious lobbying effort aimed at forcing housing law reform at the city and state level. As a member of the Central Labor Council and this affordable housing coalition, we will continue to stay active in this campaign. If you're interested in learning more about the campaign or getting involved, check out their Web site – NewYorkIsOurHome.blogspot.com – and contact me at (212) 245-4802, ext. 176.
POLITICAL SURVEY
Local 802 wants to develop a political program guided by the priorities of the current and future membership and strengthened by active member participation. To that end, we have created a short online survey for members, with questions concerning political issues and the work of the union. We sent out an e-mail blast with a link to the survey and have posted a link on the Local 802 Web site. Thank you to the 275 members that have responded so far! If you haven't responded yet, click here. All surveys must be completed by July 15. Feel free to contact me if you would like to join our new Political Action Committee or if you have any questions about the survey.