Together, we can make a difference
President's Report
Volume 112, No. 7/8
July, 2012
As I write these words, union-busting Wisconsin governor Scott Walker has just won his recall election. How much does this matter to Local 802 members? I would say "plenty!" – but there is a narrow piece I'd like to focus on here. According to the New York Times, of those who voted in the recall election, only 33 percent were union members (or from union households). So my question is: why didn't more union members get out and vote?
This speaks to our biggest challenge, both in the overall labor movement and here at Local 802: we've got to get our members more involved.
We're in the middle of our own movement here in New York City – the Occupy movement – that is striving to bring more economic justice to the city and the country. I would love it if more members took part. We are also in the streets for our Justice for Jazz Artists campaign and Save Live Music on Broadway campaign.
I want members to know that each time Local 802 goes to a demonstration or holds an event these days, it's been more and more fun. There is much more live music. It's a great way to bring your instrument, connect with fellow musicians, and feel like you're making a difference.
But it's more than that. Reading the headlines every day, it's easy to fall into a depression. The union movement is always under attack. When we mention to friends, relatives or even strangers that we're members of a union, we're often put on the defensive and feel as if we have to justify the very existence of unions. There is so much bad economic news in the world, and it's easy to feel like nothing will ever change and the human race is finished.
That's fear. But the union movement has always been about hope vs. fear. The union movement shows us that when we stick together, we can get things done as a group that we can't do as individuals.
Also, activism keeps us sane. There is a great story about Local 802 member and folk music legend Pete Seeger. During the worst part of the Vietnam War, Seeger was walking late on Christmas Eve in Times Square. The icy square was deserted except for a young man carrying a sign that said, "Stop the War." Seeger asked "Do you really think, by carrying that sign on this deserted square that you're going to change the world?" "I don't know," the man said, "But at least I won't let the world change me."
If you're feeling depressed about the state of unions, or if you're angry about the economy, please come out to one of our next demonstrations or events. Don't let the world make you bitter. Together, we can make a difference.
INSIDE THIS ISSUE
As you can see from our cover story, we're going to give an update on our jazz campaign. John O'Connor reveals the top five myths about our campaign, and where we go from here.
Also in this issue, we celebrate the 100th anniversary of the birth of legendary labor activist and songwriter Woody Guthrie. Look for an exclusive Allegro interview with Pete Seeger, which includes his reminiscences of Woody.
UNION DISCIPLINE
Now it's time to talk a little bit about union discipline. It's no surprise that there are employers and bandleaders in town who treat musicians unfairly. To let our members know about these unfair employers, we are going to start printing a Local 802 Unfair List in Allegro. Musicians may not play for these employers or bandleaders without risking penalties and even risking their membership in Local 802.
The criteria for getting on the Unfair List are very specific and you can read them in the box below.
This is fair warning to bandleaders and employers out there. If you treat your musicians unfairly, you may find yourself on our list. This may hurt your business in a big way.
Ultimately, we hope that this list will help maintain our standards in New York City. If you have any questions, please call my office at (212) 245-4802.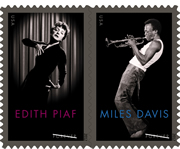 The new Miles Davis/Edith Piaf stamp
HONORING MILES DAVIS
The United States Post Office recently issued the first-ever stamp honoring jazz trumpet legend Miles Davis, who was a member of Local 802. The stamp also honors French singer Edith Piaf. Although this may be a curious match-up, the U.S. Postal Service says it is "celebrating a lively two-way conversation between nations." Miles Davis is beloved in France, where he performed frequently, and Edith Piaf was one of only a few French popular singers to become a household name in the U.S.
The post office's press release continued, "Miles Davis was in the forefront of jazz musicians for decades, setting trends and exploring musical styles from bebop through cool jazz, fusion, and funk. His restless musical exploration made him a hero to many, while sometimes confounding critics and fans. He was also a great bandleader, and many important musicians rose to prominence in his bands, including John Coltrane, Wayne Shorter, Tony Williams, Jack DeJohnette, Bill Evans, Chick Corea and Herbie Hancock."
On June 12, the Jazz Foundation hosted a celebration of the new Miles Davis stamp. The event featured the music of the Gabriel Johnson Quartet and the Micah Gaugh Sextet, and was attended by a veritable who's who of the New York jazz scene, including Stanley Clarke, Bob Cranshaw, Kenny Davis, Lou Donaldson, Graham Haynes, Bertha Hope, Jimmy Owens, Larry Ridley, Wallace Roney, Bill Saxton, Lew Soloff and Randy Weston. Speakers included Jazz Foundation President Jarrett Lilien as well as Vince Wilburn, Jr., nephew of Miles Davis. The M.C. for the evening was Rob Crocker of WBGO.
You can buy the new Miles Davis stamp at www.usps.com/shop.
As a fellow trumpeter, Miles Davis was a personal inspiration to me. Davis joined Local 802 in 1945. He died in 1991.
CONGRATS TO ANNE WALKER WINNERS
This year, we made a greater effort to get the word out about our Anne Walker Scholarship and, as result, we had a flood of applicants.
The Anne Walker prize honors a fiery advocate for musicians whose more than 30 years of work at 802 were cut short by a tragic automobile accident in 1996. At the time Anne Walker was administrative assistant to the president, supervisor of the Music Prep Department and administrator of the Local 802 Sick Pay Fund. A membership meeting subsequently adopted a bylaw establishing the scholarship fund.
To be eligible, you must be a Local 802 member or the child of a member, and you must be pursuing a course of study in music. Awards this year ranged from $500 to $1,500.
Congratulations to this year's winners: Josh Arbo, Emma Borrie, Glenn Chiarello, Gary M. Garzetta, Mark Humburg, Antonia Kistopoulos, Anna Miceli, Lana Migliore, Alex Caldwell Nelson, Sasha Ono, Wesley Ostrander, Raphael Saphra, Luke Schaffel, Eric Ratner and Michael Winnicki.
The scholarship is an annual competition. The next application deadline is March 31, 2013. We'll send out information well before then.
THE AFM'S FINANCES
I recently attended a meeting of the Finance Committee of the AFM's International Executive Board and I am happy to report that the AFM has met its budgetary goal for 2011, ending in the black. There is still a lot of work to do however.
When President Ray Hair and the current administration took office in August 2010, AFM finances were quite literally in shambles and the organization was teetering a little too close to the edge.
Thanks to severe budget reductions and the appointment of a finance committee led by Secretary Treasurer Sam Folio, we now have much more effective oversight and a system of accountability that includes a limitation on non-recurring expenses over $2,500 without IEB approval.
Budget reductions alone will not do the trick. The AFM has to remain diligent in negotiating agreements with economic gains. We need to continue to work to maintain the AFM's relevance as industry trends and technologies find more ways to distribute our product in electronic media.
The AFM has already begun to address such things as non-traditional new media in the Sound Recording Labor Agreement and we need to continue to address how best to protect and serve the members of our union by negotiating strong agreements.
LIVE TV NEGOTIATIONS
I recently met with the Saturday Night Live band along with AFM President Ray Hair. The meeting was meant as a precursor to a larger meeting with all the live TV show bands in New York. The meeting was called to introduce the members of the SNL band to Ray, who will be the lead negotiator for the upcoming talks with the networks for a successor agreement to the AFM Live TV agreement.
The larger meeting, to which all members eligible to ratify the agreement were invited, was held in the club room. President Hair chaired the meeting and led the discussion on strategy for the upcoming negotiations.
Also in attendance, were Local 802 Recording Vice President John O'Connor, EMSD supervisor Steve Danenberg, President of the RMA-NY Roger Blanc, EMSD staff from the AFM and Local 802 as well as members of the Local 802 Executive Board and myself.
A committee was elected from the group to act as the liaison to the musicians working under the agreement. From that committee, two members were chosen to participate at the bargaining table.
It was a very positive meeting that covered several aspects of the agreement that need improving.
Included in the discussions were topics of union solidarity and our extremely important relationships with the other entertainment guilds, whose members also work for the networks.
These relationships will prove to be powerful in helping the AFM reach the goal of a new agreement with better protections and economics.
LOCAL 802 ELECTIONS
It's hard to believe that three years have gone by. Local 802's election of officers and delegates will be held on Tuesday, Dec. 4, for a three-year term of office beginning Jan. 1, 2013. See the official election notice on page 34.
OFF TO CHINA
As I complete this report, I am getting set to travel to Bejing as part of an official AFM delegation to the conference of the United Nations World Intellectual Property Organization. I wrote about the purpose of this trip in my May column. Suffice it to say that we will represent musicians to the best of our ability and that our ultimate goal is to make sure musicians are paid when their music is heard in foreign markets on film and TV.
Have a great summer, and I'll see you when I return.