Top of His Game
Contractor Michael Keller offers hard-won tips and advice to the next generation
Volume 116, No. 5
May, 2016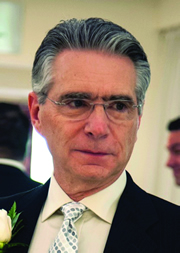 Born in Queens, drummer Michael Keller has enjoyed a long and varied career in music. A member of Local 802 since 1966, Keller has played numerous Broadway shows and also toured with Dionne Warwick and the Fifth Dimension. For 15 years he was both drummer and conductor for Marvin Hamlisch in countless concerts around the globe. Beginning in 1993 with "The Goodbye Girl," Keller has pursued a career as a music coordinator and contractor, mostly on Broadway but also notably for Barbra Streisand. Among the 100 or more shows Keller has coordinated are "The Lion King," "Mamma Mia," "Wicked," "The Book of Mormon" and, more recently, "Hamilton." Local 802's Bob Pawlo recently sat down with Michael Keller to hear about his life as a drummer, contractor and mentor.
Bob Pawlo: Let's jump right into your work with the great Marvin Hamlisch, who, by the way, was one of only two people in the world ever to win all the big honors: an Emmy, Grammy, Oscar, Tony – and a Pulitzer!
Michael Keller: Marvin and I had an incredibly deep friendship. I met him on a production of "They're Playing Our Song," but I'll never forget the first time I actually conducted for him. I stood up in front of the Minnesota Symphony. It is daunting to stand in front of a really excellent large orchestra and drop the downbeat and get them to follow you. And it was exhilarating. Over the years, I gained more and more experience and confidence in what I was doing and got to know Marvin's music intimately. It really became one of the most fun things I've ever done in my life, and I was really kind of sad to see it end. I was completely devastated when he died. But Marvin also threw open the doors for me to become a contractor. In 1994, Marvin just gave me the absolute biggest break anyone could ever hope for. He had enough trust and confidence that he wanted me to contract a 63-piece orchestra for Barbra Streisand. Marvin was the conductor, and it was phenomenal to see Marvin work in that situation because Barbra would start a question, and her words weren't even done resonating when Marvin knew exactly what to do. Marvin's brain worked so fast and he was so far ahead of everybody that he would say, "We gotta do this, this and that." And then he'd say, "Let's go." And I used to have to tell him all the time, "Marvin, take a breath. Let them write it down. Let them notate what you just gave them. Let them notate it so they'll be able to do it again and again." When I watched Marvin work with Barbra Streisand, you could see the fire in his eyes. He was so connected, he was so in that moment, and he was brilliant. He was brilliant at using the orchestra to accompany someone.
Bob Pawlo: The first big Broadway show you contracted was "The Lion King." What ingredients go into a great pit band?
Michael Keller: Something that took me a couple of tries to finally understand was this: being a great musician doesn't necessarily translate to being a great pit player. Look, we're in New York, right? We have the best players anywhere. Everyone is a stellar musician. But you can have a really great player whose personality doesn't mesh with other people. You do want great players, of course. And you always want players who are suited to the particular type of music that you're contracting for. But you also have to pay just as much attention to who those people are. Are they fun to be around? Are they communicative? Do they enjoy their colleagues? You have to balance between great playing and great personality. I've had some really fantastic Broadway orchestras that were like family. They were so good that we've really been sad to see the show close because it was such a great group of people. An example for me was the show "If/Then." It was just filled with people who liked each other, enjoyed being together and loved making music together.
Bob Pawlo: How was it putting together the band for the incredibly successful show "Hamilton"?
Michael Keller: The show is really unique to me because you've got this very modern hip-hoppy R&B rhythm section juxtaposed with a legit four-piece string quartet. And that's really kind of a remarkable combination. The result is that it's just a phenomenal score. And you know, that whole concept between Lin-Manuel Miranda, the composer and Alex Lacamoire, who's the conductor, keyboard one player, and the orchestrator, is just brilliant. It's an innovative use of a modern rhythm section with a uniquely written string quartet. Every player in that pit is phenomenal in their own right and the combination is perfect support for the way Lin-Manuel chose to tell that story.
Bob Pawlo: A lot of people know you as a great Broadway contractor, but a lot of them don't know what it takes to put together a successful tour for a show. How does that work?
Michael Keller: The thing with tours is that you're usually looking for younger players who want to establish themselves, make a name for themselves, and eventually wind up back in New York in a Broadway pit. Occasionally, a seasoned Broadway musician might need a job and they're willing to go on the road. But for the most part, I'm looking for younger people who are looking to get resume experience, especially as a conductor or assistant conductor. Now there are really terrific musicians out on the road. There is even a hardcore group whom I call road dogs, who actually enjoy being on the road. They like the possibility of steady work on a tour that may run for a long time. The touring production of "Lion King" has been on the road for 14 years now. And I've got two people who've been there from the beginning who are still out there! So if a tour is successful and if it's a fun show, people might stay on the road a long time. It's a steady paycheck and a decent amount of money for a touring show – if it's under the AFM contract and if it's a longer tour, not a shorter one.
Bob Pawlo: What advice would you give to a young drummer/percussionist starting in the business today?
Michael Keller: I would definitely recommend that they have some understanding of technology, including electronic drum pads and kits. Also, you have to cut across the full spectrum of all the legit percussion – timpani, mallets, all that – but you also really need to have some sense of hand drumming like djembe and some of the other African instruments. They require a certain level of expertise and a certain level of commitment to learn the techniques. These days, more and more drummers can really cut across the full percussion spectrum. In the past, this wasn't the case.
Bob Pawlo: How important is it to pass the torch to the next generation?
Michael Keller: As this issue of Allegro comes out, I'll be turning 67. In the last year or so, I've established a relationship with a young guitar player who's played about a half-dozen shows for me now. His name is Michael Aarons, and he's become pretty much my full-time associate in contracting. The job eats up most of your existence, and as I get older, I want to have a little more time for myself, for my wife, for my golf game. Michael is terrific and a great guitar player. If I could clone myself, I don't think it would be as good a match as I have with him. Our sensibilities are the same, our thoughts about players and situations are very much in sync. He's in his early 40s, and I'm bringing him along, and it's really a great thing to see someone else getting it and getting it right.
Bob Pawlo: Is there anything in closing that you'd like to say to Local 802 members and to musicians around the world?
Michael Keller: I remember when I would visit my kids' school for "career day," and I used to talk about doing music as a job. I always used to tell them the same thing, which is if you want to make a living as a musician, it's what you have to do. You have to be a musician because you have a burning desire to do nothing else. I know so many people in the business who have degrees in journalism, sociology, math, whatever, but they all wound up being pulled back to being a musician. My advice to anybody who wants to be a musician is you must pay the price. You have to put in the time. You must listen to music. You have to practice. You have to be prepared. Sooner or later, the door will open. You're going to get an opportunity, and you had better be prepared. The worst thing that could happen is to get the opportunity and not be ready. You have to learn all the related instruments. If you're a reed player, and you want to make it in the Broadway pit, you'd better be a good doubler. You'd best strive to play the flute just as well as a legit flute player – and clarinet the same way. You have to put in the time and effort. This is New York. This is it. Broadway is the flagship of musical theatre. So, if you want to do it, and you want to do it here, you have to pay the price.