Trio of Memories
A musical portrait of three jazzwomen of note
Volume CVIII, No. 3
March, 2008
MASTER MENTORS: The author (Sue Terry) pictured with some of the musicians who profoundly influenced her.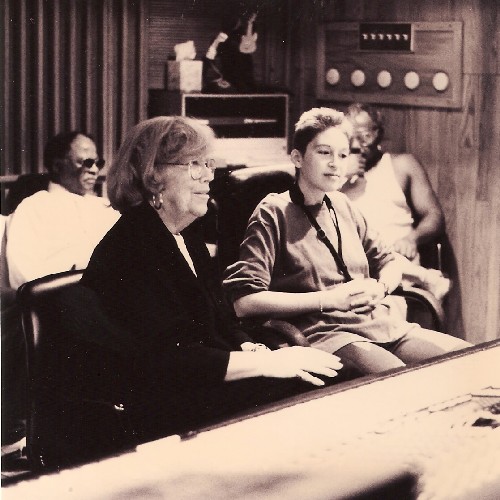 Helen Keane at the mixing board with Sue in 1993. Charli Persip and Clark Terry are in the background. Photo by Jill Waterman.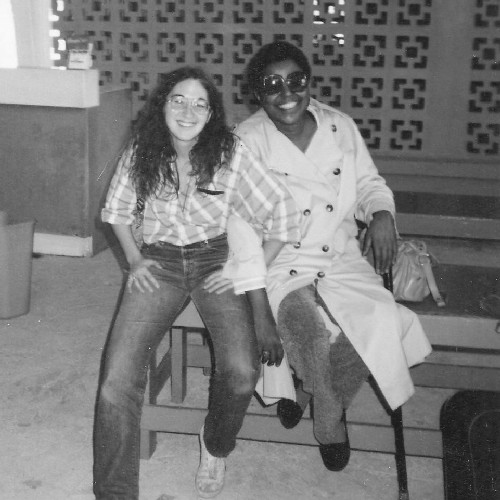 Melba Liston with Sue Terry at the Eleuthera airport in the Bahamas in 1981. Photo by Paul Brown.
While Women's History Month is a laudable notion and addition to the calendar, it is not without its downside.
It's a great idea to foster awareness of women's contributions to history. Women have often been written out of historical documents and narratives, and unfortunately that practice still exists today.
But I have observed, from my vantage point of being a woman, that there are male promoters who use Women's History Month and the "Women in Jazz" concept to herd us together in an easily controllable setting.
The spotlight of "Women in Jazz" may shine on women, but it also reinforces the same separation of the sexes that was the problem to begin with.
I'd like to take this opportunity to mention to all the promoters-at-large that putting on a "Women in Jazz" festival does not eliminate the need to hire women during the remainder of your season programming.
May I suggest that it is indeed permissible — in fact, encouraged — to book women musicians throughout the year as part of your regular jazz series. Yes, I think we're now ready to be integrated with the general population!
As part of my teaching, I have created a slide lecture called "Jazzwomen of Note." (But take note: wherever I go, I do not restrict my tales of these women to the month of March. Rather, I am known to discuss them at completely random times of the year!)
In my lecture, I focus on those who are no longer with us. Through either friendship or admiration from afar, they have influenced my music and my life.
I was asked to convert my lecture into an article for Allegro. Because the wealth of talent and ability among today's jazzwomen would require a symphony of prose whose length would exceed that of this space, I will speak largely of those jazzwomen who are no longer with us. Through either friendship or admiration from afar, they have influenced my music and my life.
Let's begin our tour.
GAY MEHEGAN
I was lucky that I had parents who supported my musical aspirations, and who considered me to be equal to my brother. I grew up not knowing that, yes Virginia, discrimination does exist.
When at age 12 I chose the saxophone as my next instrument after the clarinet, my parents did not discourage me even though I was the only girl saxophonist in school.
We also had an upright piano at home that I would fool around on, but as I got older I realized that I would need lessons if I were going to get any further on it. When I was fifteen, my parents decided that I could have the piano lessons I had been asking for.
My first piano teacher was Gay Mehegan. I don't know whether she is still living. She guided me in how to play the piano stylistically, in the jazz idiom. But more importantly, she was my first role model in terms of a working female musician.
I was studying with Gay at the time of my first musical crisis. I came to my lesson one day, upset because my so-called "friends" at school picked Timmy to be the sax player in their band, instead of me. I thought I played better than Timmy, and this was my first clue that there are other factors besides how well you play. Not to mention the fact that the other kids were all boys.
Gay said something to me that day that I will never forget. She said, "Listen — in ten years, Timmy won't even be playing the saxophone. And you will."
She was right. I heard from Timmy not long ago. He's a rocket scientist or something.
After I had been studying with Gay for awhile, she thought that I should begin studying with her ex-husband, John Mehegan, who also lived nearby. John was the author of several books on jazz piano playing, and taught at Julliard decades before jazz was being taught in other music conservatories. I studied with John for a couple of years before I went to college. It was typical of Gay that she would turn a student over to John when she felt the student was ready for the more advanced studies of harmonic analysis and ear training that were his specialties.
With Gay, we discussed composition a lot, because that was her main interest. Gay was a disciple of the spiritual teacher Sri Chinmoy, as were other musicians like Carlos Santana and John McLaughlin, whom she worked with and would mention from time to time.
Gay was never a person who wanted to be in the limelight, but I feel certain that those who were lucky enough to study with her consider her a major influence in their lives.
ELLA FITZGERALD
When I was a youngster, my parents took me to see the Count Basie Orchestra at Carnegie Hall. Ella was the vocalist. This was the first big time jazz concert I ever saw. I thought Danny Turner, the lead altoist, was the coolest. (For my birthday I asked for, and received, a gig bag just like the one Danny had.) And Ella–she was absolutely magnetic. I have remained a fan to this day.
Ella Fitzgerald was the first vocal recipient of the National Endowment's Jazz Masters Fellowship, in 1985. She was born in Newport News, Virginia in 1917 and raised in Yonkers. She started out as a dancer, but sang with her high school Glee Club. At 17, she entered the amateur show competition at the Apollo Theatre, leading to her being hired by Chick Webb. Her first recording was "Love & Kisses" with Webb in 1935. Three years later she recorded her mega-hit "A Tisket A Tasket."
When Webb died in 1939, Ella assumed leadership of band, beginning her solo career. In 1946 she met producer Norman Granz and became part of the jazz at the Philharmonic concert tours. She was married to bassist Ray Brown between 1947 and 1953. She recorded with most of the greats of her day, among them Louis Armstrong, Duke Ellington, Count Basie and Oscar Peterson. She made definitive recordings of the music of Ellington, Porter, Kern, Berlin, Rodgers & Hart, Arlen, Mercer and the Gershwins.
My first recording of her was "Ella & Duke at the Cote D'Azur", a live two-record set on Verve. Her classic version of Mack The Knife is so swinging, it was years before I realized the lyrics were about some guy going around stabbing people.
Ella may be best known for her scat singing technique. As Barry Harris has been known to tell his students–"if you MUST scat, please be relevant." (In fact, he may not have said 'please.') When Ella scats, it's like she's a great instrumental soloist. Her scatting is the zenith of relevance.
I recently saw a program about Ella on public television. The program noted that she had supported a large extended family, including scores of children. When interviewed, she attributed her success to the songs that she sang, not to her own abilities.
MARY LOU WILLIAMS
Mary Lou always had a special place in my heart because she was a woman player, not a singer, who was universally recognized within the jazz canon.
Mary Lou Williams was born in 1910 in Atlanta, Georgia. Her family moved from Atlanta to Pittsburgh when she was a little girl. By age 6, she was already a professional pianist, playing at parties for a dollar an hour. By age 12, she was playing jobs with Pittsburgh's union bands, and touring the various vaudeville and show circuits. During this period, she also sat in with Duke Ellington's first band, the Washingtonians.
Around Pittsburgh, she played for a lot of wealthy families like the Mellons. They would send a chauffer to pick her up to play for their private parties. One time she was paid $100–quite a large sum at the time– and went she got home, her mother called the family to see if they had made a mistake.
As great as her talent was, when she joined Andy Kirk's band in 1929, she had to do a lot of odd jobs, like driving the bus and sewing clothes, before she became the band's official pianist and chief arranger in 1931. She stayed with the band for ten years, also arranging for most of the Swing era bands: Benny Goodman, Duke Ellington, Bob Crosby, Cab Calloway, the Dorsey brothers, Louis Armstrong, Earl Hines.
In the forties and fifties, she headlined at major clubs internationally. She lived in Europe for a time in the fifties, and returned to the States in '55, only to drop out of the jazz scene and become immersed in Catholicism. One of her most famous pieces is a Mass, parts of which I was privileged to perform at the Kennedy Center in 2005.
Mary Lou was the only major jazz artist who lived through all the eras in the history of jazz, and played the music of each era. She successfully made the change from Swing to Bebop. In fact, she taught, inspired and encouraged many of the Bebop era's leading musicians — Monk, Bud, Miles, Tadd, Bird.
Marian McPartland wrote, "Mary Lou is one person who has entirely transcended the label of 'woman musician'. . . Mary Lou is respected by everybody because she knows her craft so well and everyone knows she knows. And it is the reason why she achieved such a high place in the jazz hierarchy so early in life and has continued as an innovator."
The first well known bandleader that I worked with for an extended period was Charli Persip, whom I first saw at a tribute to Mary Lou. (He had on a pink jumpsuit. I asked someone, "Who's that?")
Mary Lou was also the teacher of my late friend Hilton Ruiz. He used to speak about her all the time. One time he was playing me some early recordings of hers, over the phone. They sounded like soundtracks to suspense films. You could hear how the later Hollywood composers had been influenced by her.
She had her own music publishing company and record label, and created two foundations to benefit needy musicians, and gifted children. Mary Lou died in 1981 in Durham, NC, where she had been Artist in Residence at Duke University since 1977.
There is an annual jazz festival at the Kennedy Center each May, dedicated to Mary Lou Williams' legacy.
SARAH VAUGHAN
Sarah has always been one of my favorite musicians. Skilled as a pianist as well as a singer, her interpretations were at the opposite end of the rainbow from Ella's. Equally beautiful, but oh, the different colors!
Sarah was born in 1924 in Newark, New Jersey. She received the National Endowment's Jazz Masters Fellowship in 1989. Her nicknames were "Sassy" and "The Divine One". She was one with the chops to sing Classical music of any style, but lucky for us, jazz was her genre of choice. Sarah's voice is universally recognized as one of the most beautiful and versatile in jazz music, with a vocal range that extended from some baritone notes all the way up to the soprano range.
Along with Billie Holiday & Ella, she popularized the art of jazz singing, influencing every succeeding generation of vocalists.
She began singing at the Mt. Zion Baptist Church in her native Newark, and started piano lessons at age 7. She won the Amateur Contest at the Apollo Theatre, and on Billy Eckstine's recommendation in 1943, was hired by Earl Hines to be not only the singer in his band, but the second pianist as well, since Hines would often step away from the piano to conduct the band. (Another musician who had that role in Hines' band was the wonderful Cliff Smalls–trombonist, pianist and arranger–who is pushing 90 and still going strong.)
Sarah joined Eckstine's band in 1944, which was also the year she made her first recording under her own name. She worked with bandleader John Kirby, and with Charlie Parker and Dizzy Gillespie as well. In 1949 she began to record for Columbia Records. This period of early Sarah is one of my personal favorites.
In the 60's, she made records with Count Basie, Benny Carter, Frank Foster, Quincy Jones and other bandleaders on the Mercury and Roulette labels.
During this time, her international reputation grew as she toured extensively, usually accompanied by a trio, but also doing dates with large orchestras like the Boston Pops and the Cleveland Orchestra. An oft-overlooked recording in this vein is a live performance with an orchestra and chorus titled "Sarah Vaughan Sings The Poetry of Pope John Paul II." The music was composed by Lalo Schifrin. It is an utterly sublime recording and I highly recommend it.
I was lucky to have the chance to see and hear Sarah in 1981 in Hartford, Connecticut. It was an outdoor concert, and she was performing with a symphony orchestra, which may have been the Hartford Symphony, I don't remember. While I doubt if she would have been able to walk a straight line that night, her singing, her phrasing, her tone, her feeling, was– and will always be– Divine.
MELBA LISTON
During the eighties and early nineties, I lived in the lovely neighborhood of Washington Heights, which was unfortunately plagued by crime to a rather high degree. But it was rich in musicians. The house where Ira Gershwin used to live was across the street from my own building, where some of my neighbors were drummers Smitty Smith and Jeff "Tain" Watts, saxophonist Arthur Blythe, vibes player Gust Tsilis, bassist Ratzo Harris, harpist Barbara Allen, and New York Phil percussionist Dan Druckman. Other friends and neighbors were Makanda Ken McIntyre, Ahnee Sharon Freeman, and a bit further south were Dennis Irwin, "fellow" altoists Gary Bartz and Marion Brown, and the legendary trombonist Melba Liston. Let's talk about Melba!
Born in 1926 in Kansas City, Missouri, Melba was an NEA Jazz Masters Fellowship recipient in 1987. While she was an excellent trombonist, she was primarily known for her arrangements. She grew up in Los Angeles. Some of her first work came in the 1940's with bandleaders Gerald Wilson and Dexter Gordon. Even though she was a talented soloist, she became even more in demand as a section player, working with Count Basie, and in the 1950's, Dizzy Gillispie. She did two State Department tours with Dizzy.
She started her own all-woman quintet in 1958, later joining Quincy Jones' touring band for a few years. She was the arranger on many albums by Randy Weston. She co-led a band with Clark Terry, and wrote for the Ellington band, Tony Bennett, Eddie Fisher, and the Buffalo Symphony Orchestra, among many others. During the 1970's, she composed and arranged for youth orchestras in LA, while continuing to write for Basie, Ellington, and Abbey Lincoln. She also arranged albums for Marvin Gaye, Billy Eckstine and The Supremes. She became a staff arranger for the Motown label.
Melba had a stroke in 1985 which ended her playing career, but she was able to resume work as a composer/arranger in the 90's with the aid of computer technology. She was active until her death in 1999.
I met Melba through Clifford Jordan. We had an engagement at Club Med in the Bahamas in 1982, for which we both wrote arrangements for a sextet, with a rhythm section comprised of bassist Paul Brown, drummer Wilbur Campbell, and pianist Hugh Lawson.
Upon returning to New York, Melba invited me to visit her anytime at her place in Harlem, which was not far from where I was living in Washington Heights. I took her up on the offer many times. She used to tell me stories about playing with Dizzy. She told me that on tour, all the guys in the band would give her "certain things" to carry, because she was the only one who wouldn't be searched at Customs. I remember another story about the band having to walk up a steep catwalk to get to the stage — and she's wearing a gown!
From Melba I learned how to answer the phone. We'd be sitting around yakking, and the phone would ring. She'd answer "HELLO" in a manner suggesting she was right in the middle of something, so the person on the other end would inevitably say "I can tell you're busy–I'll let you go!"
She'd always have a pot of something tasty cooking on the stove, so no wonder she had a lot of visitors who would stop in. She'd complain to me about those that came over, ate, and didn't bring anything. "Not even a newspaper!" she'd say. So from her I also learned that when you go over someone's house, you should bring something. Even if it's only a newspaper! (And if you visit me, keep in mind that my chihuahuas are particularly fond of the New York Times.)
BILLIE HOLIDAY
When I was in my first year of college, I remember putting on a Billie Holiday album (remember "albums"? Now they're called "vinyl"! CDs weren't invented yet!) and my roommate saying, "Who's that?" "Billie Holiday," I said. "Isn't she great?"
My roommate said, "I don't think she's great. Her voice isn't very good."
I was dumbstruck. I thought Billie Holiday was amazing. But I didn't really know why. When I tried to listen from my roommate's perspective, I had to agree that Billie's voice was not a typical, smooth singing voice. But she was compelling, somehow. It was almost like, when I put on a Billie Holiday record, I FELT her, rather than heard her. But I didn't know how to explain this to my roommate. I think I'm of the mind now that if someone needs it explained, then they're never going to get it.
Some years later, when I was living in New York and playing with Charli Persip's big band, I read the book "Lady Sings the Blues", authored by Billie along with William Dufty. I found the story of her life to be the ultimate in tragedy and heartache, but also the ultimate in joy as far as her musical associations went.
Her life story has probably been more publicized than just about any other jazz musician. Billie was born in 1915 in Philadelphia. She was raped as a child, and even though the neighbor who did it served jail time, Billie was sent to a detention home for two years. At one point, she was punished for a minor transgression by being locked in a room all night with the body of a dead inmate.
Legend has it that she began her singing career in 1933 while auditioning for a dancer's spot at a Harlem speakeasy. Her dancing was so terrible that the pianist felt sorry for her, and asked her if she could sing. In her world, singing was as natural as breathing, so she launched into a version of Travelin' all Alone that brought tears to the audience. She was hired on the spot.
She was discovered by the legendary impressario John Hammond when she was 18. Her career included collaborations with the best musicians of the day, but she usually did not have access to the best songs of the day. Many of the songs she recorded were second rate, but her artistry made them into the timeless classics they are today.
When I read "Lady Sings the Blues", I was so moved by Billie's story that I decided to write a suite in honor of her. Since I was playing with Persip's Superband at the time, I decided to arrange it for the band.
I had never written a suite. I had never written any charts that were more than 2 pages! But a simple arrangement would not be enough to honor this heroic figure. I planned the whole arrangement out in my head before I wrote a note. It was the biggest thing I had ever done. The tunes that I chose to make up the suite were all songs that she made famous: Good Morning Heartache, Crazy He Calls Me, and Strange Fruit. I also threw in some quotes from some other tunes that she did, like Lover Man and God Bless The Child.
When I was writing the Good Morning Heartache section, I was a little confused over one bar in the bridge — she bends a note in the melody, and I couldn't tell exactly what chord it was either.
Well, Persip had worked for seven years with Billy Eckstine, and Bobby Tucker was the pianist and musical director. Since Bobby had also been Billie Holiday's accompanist for a time, I called him up and told him about the arrangement I was writing. He gave me the real, authentic, no foolin' chords and melody for Good Morning Heartache!
Charli Persip recorded the suite, titled "Strange Crazy Heartache", in 1989 on the Soul Note label. We also got an NEA grant to write arrangements for some joint performances with the Brooklyn Philharmonic, so the suite got a second life complete with strings!
HELEN KEANE
I got to know Helen Keane when she was producing Clifford Jordan's album Down Through The Years. We recorded the album live at Condon's in Greenwich Village in 1991, where we played every Monday night.
Helen was one of a handful of women record producers. Seven of Keane's albums produced for pianist Bill Evans have won the Grammy, and many others received Grammy nominations.
One of her first jobs was as a secretary at MCA, the largest talent agency at the time. Her boss recognized that she had a real sense for spotting talent, and began to train her, secretly, to become an agent, because at that time MCA had a strict rule against hiring women agents. She became the first female agent there, at the age of 19. During her time at MCA, she discovered a young singer named Harry Belafonte, whose act she helped change from pop tunes to folk songs.
Helen left MCA to join CBS Television as Director of Variety Casting. As a result of her bookings, Jonathan Winters, Carole Burnett, Dom deLuise and Geoffrey Holder, among others, were able to establish television careers. She stayed at CBS for 7 years, then opened an artist management office. Alvin Ailey was one of her first clients.
Helen was Bill Evans' manager for 18 years, until his death in 1980. She worked with many great artists, including Art Farmer, Kenny Burrell, Joao Gilberto, Mark Murphy, Paquito D'Rivera, Joanne Brackeen, and Clark Terry.
Two years after recording the Clifford Jordan album, I was finally able to get Helen to produce my first record date as a leader, with a band featuring Clark Terry and Charli Persip. After we recorded, Helen became very ill with cancer, and was unable to shop the record to a label. But I'm happy to say that "Bandleader 101," one of Helen's final projects, is now available as a digital release.
DORIS PARKER
In closing, there's one other beautiful lady I would like to mention. She was not a musician (although she was married to Charlie Parker!) nor a producer, but she was one of our most important figures in the jazz community.
Doris Parker was born in 1922 in Rock Island, Illinois. Her day gig was as the librarian at the Columbia Psychoanalytic Center, but her real passion was jazz and the people who create it.
Her New York Times obit noted that "she came to New York at 22. At six feet tall, she became a striking figure as a hat-check girl at the Three Deuces, a West 52nd Street nightclub, where she met Charlie (Bird) Parker in 1945."
Well acquainted with the ravages of heroin addiction, Doris was a founding member of the Veritas Therapeutic Community, a program that helps young people conquer addictions. When Doris was alive I performed just about every year at the Annual Evening with Friends of Charlie Parker, a huge fundraiser attended by lots of political, financial and musical VIPs.
The practice at this event was for the producers to group the attending musicians so that everyone got to play a couple of tunes. One year, as I walked into Roseland Ballroom, saxophonist Laura Dreyer rushed up to me saying "Sue–they're putting all the women together into all-woman groups!"
I went straight to Doris. I explained to her that many of the woman players are insulted by being put into all-women groups, because the implication is that they are not good enough to play with the men! At least, that's how we saw it.
Doris got on the case immediately. The only all-woman groups from then on were the ones that wanted to be that way.
I remember great conversations with Doris, in which she would tell me–in so much detail that I imagined myself there–what it was like to be on 52nd Street in the heyday of Bebop.
When Doris died in 2000, jazz lost a good friend, and so did I.
CONCLUSION
I hope you've enjoyed taking this little journey with me. I consider it a great privilege to pay tribute to these women who were mentors and influences not only to me, but also to legions of musicians of every race and gender.
Were it for artistry alone, these women would stand tall in their contribution to the world. It is their profound humanity, however, that ultimately made them the giants they became. Indeed, it may be their innate humanity that traveled full circle to combine with their talent and make them great artists as well.
"Sweet" Sue Terry is a jazz saxophonist, composer and educator who serves on Local 802's Jazz Advisory Committee. Her Web site is www.sueterry.net.