When the Union Gets Political, Let's Stay Focused
Views from the Board
Volume CX, No. 12
December, 2010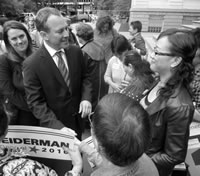 Local 802 endorsed Eric Schneiderman for New York attorney general, a post he won on Nov. 2. The union has a new subcommittee to research and recommend political endorsements.
For those of my Local 802 colleagues who don't know me, I am Tom Olcott, elected to the Local 802 Executive Board in the last election. I perform with the Radio City Music Hall Orchestra and the American Ballet Theatre Orchestra, and appear regularly with many of the local freelance orchestras. I am also a licensed attorney, admitted to the bar in both New York and New Jersey.
One of the tasks of the Executive Board is to do our best to position Local 802 in the larger political world, in a way that maximizes governmental policy benefits to our membership and to Local 802 as a labor organization.
The Executive Board recently formed a Political Endorsement Subcommittee in order to make that political positioning more focused and effective. Its members are Pat Dougherty, Martha Hyde and myself.
Here are our thoughts on Local 802 endorsements in general.
In a large AFL-CIO union, like the Teamsters, the UAW, the Communication Workers, SEIU or AFSCME, a political endorsement might carry some weight with the general electorate, or, under Citizens United, could conceivably result in substantial contributions to a political campaign.
Citizens United, decided in the U.S. Supreme Court's 2009-10 term, overturned prior election law limitations on corporate and union political donations, primarily by deeming a corporation or union to have equivalent First Amendment rights to natural humans.
The irony, of course, is that contributions from corporations or unions are deemed to be equivalent.
The sad truth is that corporate donations will always dwarf any union donations. And the other truth is that we, Local 802, are not even a big union player. So we face the problem of where we, as a small union, fit into this mix.
Even though our union may be relatively small in numbers, we have a clear indication that our industry provides jobs to local businesses, and thereby creates a more viable tax base for a given locality.
We also know that enhanced government support of live music and musicians allows ancillary small businesses – such as restaurants, coffee shops, parking lots, theaters and cabs – to employ more people and thus generate income to employers as well as employees.
Those taxable incomes show up as increases to the tax base that supports basic local services.
In other words, government support of live music has a wide effect.
Government support can also inspire private support for arts organizations. It can be a small but vibrant economic engine, one that enhances quality of life, while also enhancing local economic prospects.
Government support of the arts doesn't have to be flashy. Obviously, the budgets of state art councils must be supported, not cut. Production and postproduction tax breaks are also critical.
But local measures are also important, such as:
Provide or augment music education in any school system strapped by economic exigencies
Provide stimulating experiences to senior citizens or other under served populations.
Provide free public entertainment to audiences. We in the Local 802 leadership have concluded that we can best serve our members by endorsing those politicians who either support the above economic models explicitly, or can be reasonably construed to have expressed such support through sponsored or authored legislation.
Local 802 should lend its endorsements, and perhaps nominal financial contributions, only to those who meet those standards.
Our issues should be clear and obvious to our members. We have a strong interest in:
Policies that promote arts funding
Arts education
Tax incentives for commercial ventures that utilize live or recorded musicians
Fair compensation to artists whose work is broadcast, downloaded or otherwise disseminated.
Additionally, because we are a relatively small player, our Local's political scope needs to be confined to our geographic place. We should first focus on the New York City Council and the New York State Legislature. Anything else should receive secondary importance.
Finally, the latest political cycle seems to have generated a largely unchallenged notion that unions and minimum wage earners are the scourge of this economy.
That is said at the same time that the income differentials in the U.S. widen daily, and the financial industry flourishes after nearly creating a second Great Depression.
Well, we're a union! Unions and their political allies need to resist most strenuously the notion that the lowest paid wage-earners are the problem. We, the union workers, those who fix the wires, play the shows, talk to the irate motor vehicle owners, minister to the ER patients, teach the children, and build the buildings, ad infinitum, are the people that make this economy run.
We should never tolerate marginalization of those hard-working pillars of every community, and should lend our support to those politicians who share that view.
So, when Local 802 endorses a candidate, we do so with the idea that we express the best interests of our members and their work, a respect for our members' personal art and the place in which they practice that art, but also for all those who work for a living.