Who's in the band?
Local 802 musicians perform for record-breaking Easter Bonnet Competition
Volume 119, No. 6
June, 2019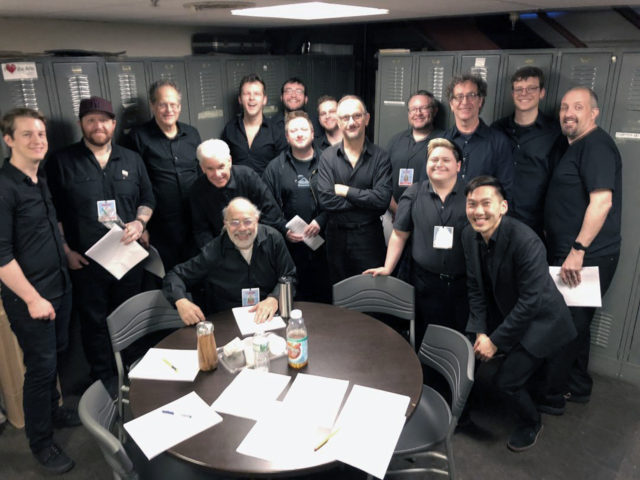 Twice per year, Local 802 members donate their time and talents to enhance the bi-annual Broadway Cares/Equity Fights AIDS fundraisers Gypsy of the Year (December) and Easter Bonnet Competition (April).
These bi-annual performances are the culmination of six-week-long fundraising drives, held at many Broadway, Off Broadway and National Touring productions. Cast members, crew and volunteers hold Broadway Cares "Red Buckets" at theatre exits to accept donations at each performance throughout the six weeks. The culminating performances consist of musical numbers and skits presented by the participating show companies, which are then rated by an esteemed panel of judges. All participating shows are encouraged to use live music to accompany their performances whenever possible.
The live music is provided by Local 802 members, who feel deeply committed to supporting the Broadway Cares cause. Many hours are invested in composing, arranging, and orchestrating musical numbers for the shows which enter the competition. The Gypsy and Bonnet band members also look forward to performing for these events every year.
Contracted by Charles Gordon, the Easter Bonnet Competition and Gypsy of the Year bands are comprised of top notch New York musicians. The 33rd annual Easter Bonnet Competition took place on April 22 and 23 at the Minskoff Theatre, current home of "The Lion King." The band members included Ted Arthur (music director); Alex Harrington, Shane Parus and Nick Wilders (keyboards); Scott Kuney (guitar); Leo Huppert (bass); Dan Berkery (drums); Ed Shea (percussion); Mike Livingston, Ken Robinson and Jeff Schiller (woodwinds); Matt Owens and John Repogle (trumpets); Charles Gordon and Brandon Moodie (trombones).
This year, 69 Broadway, Off Broadway and national touring productions participated in the fund drive, which raised a record-breaking amount of $6,594,778, the highest ever for a Broadway Cares/Equity Fights AIDS event.
For 30 years, Broadway Cares/Equity Fights AIDS has proclaimed "What we do together makes a difference!" This proves it.
To learn more about Broadway Cares/Equity Fights AIDS and the Easter Bonnet Competition, please visit www.broadwaycares.org/easter-bonnet-competition-sets-all-time-fundraising-record.