Your music on the radio
Volume 112, No. 4
April, 2012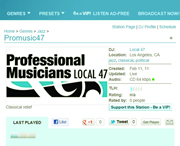 Local 802 is forming its own internet radio station and is inviting music submissions at this time. Above, a screen shot of the radio station of AFM Local 47 (Los Angeles). Local 802 will be using the same Web site, which is called Live365.com. You can preview the Local 47 station at http://bit.ly/Local47.
Local 802 is launching its own Internet radio station. As Executive Board members, we are spearheading this initiative, along with K.C. Boyle, the union's political and public relations director and assistant to the president.
In addition to creating a new media outlet to create greater public outreach for our local, the station will also be a site where Local 802 members can have their recorded music aired.
Getting air time for recorded music on public radio stations has long been a problem for Local 802 artists. The Local 802 radio station will address that problem by providing air time for our members' music, 24 hours a day, seven days a week.
In order to air your recordings, the following requirements must be met:
At least one Local 802 member must be present on the recording you submit.

The recording must be filed under a valid union contract. (But don't panic about this requirement! See below.)

Local 802 members are limited to submitting a total of five CD's at this time.
If your recording wasn't recorded under a union contract, you will have the option to retroactively file one. If your recording was a solo act, or if everyone in the band is a co-partner, you can file a simple contract called the AFM Joint Venture Agreement. No union work dues are required under this agreement. (For a sample of this contract, see http://bit.ly/MakeItUnion)
So what's the next step?
If you have a CD that you would like to feature on the station's playlist, you simply need to get it to Local 802. Included should be your contact info, the genre/sub-genre of the recording, and the recording date.
Submissions can be mailed or hand-delivered to:
Local 802 Radio
322 West 48th St, 5th Floor
New York, NY 10036
We understand that many members would prefer to upload MP3 files to us. At this moment, we are only accepting CD's. However, our goal is to accept MP3 uploads at a later date.
Having our own radio station will give our local limitless possibilities, which could include local and national union news and special presentations that are of interest to our members.
At this point in time, we are mostly concerned with just getting the station up and running. This is where you come in, because our greatest need is your music content.
Stay tuned for more news on this exciting project.
If you have any questions, please feel free to contact Local802radio@Local802afm.org. We look forward to your submissions!