Union contracts protect musicians (here's proof!)
Financial Vice President's report
Volume 123, No. 5
May, 2023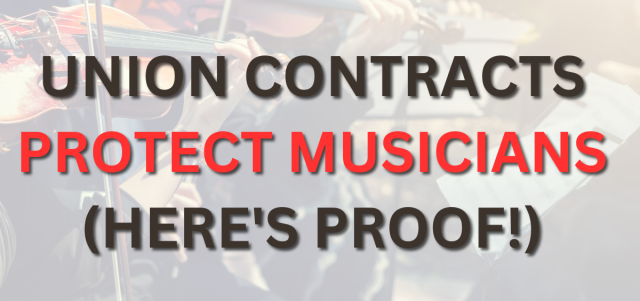 Musicians can take pride in how union contracts offer solid protections against unfair treatment. Here are three recent examples.
Last year, I reported on nine musicians from the New York Pops who were let go from a job for which they had been hired months earlier. The explanation from the employer was, "When we received the parts, we saw that the orchestration changed." Since these musicians had had the dates in their books for a long time, the resultant loss of work — which included rehearsals and benefits — would have been substantial. There is language in our contracts and bylaws protecting musicians from losing work in this manner: "No musician, once engaged, shall be discharged except for just cause." After my office was alerted to the situation but unable to resolve the dispute with management, we filed a grievance on behalf of the nine musicians. Citing that important language, we eventually were able to get the musicians paid. Then a similar situation happened again this year. Rather than going through the process again, management agreed to pay the musicians full wages and benefits.
Separately, Local 802 recently resolved a dispute regarding pay for the eighth week of an employment guarantee for musicians who play at ABT. We were able to settle the matter before moving to the final step of arbitration. No musician will lose any contractual wages or benefits.
Additionally, two musicians from two different orchestras got back on the job after unjust dismissals, thanks to our intervention on their behalf.
These relatively small victories add up and demonstrate the power of working under a union contract. You may not always be aware of what's happening here at Local 802, but be reassured that jobs are quietly saved, disputes settled, and contract language is written, negotiated over, and defended every day. Even the musicians who are forced to work nonunion jobs benefit from the work we do at Local 802. How? Employers see that wages must remain competitive, or musicians will look elsewhere for employment. We are continually striving to do even better with outreach, education, and organizing, and always welcome your comments and questions.
Victories are always wonderful; however, the struggle is never over. We remain embroiled in several contentious negotiations and our orchestras are facing potentially damaging proposals on many fronts. Because of this, negotiations have been moving slowly. I am pleased, however, to announce that we have a tentative agreement with the School of American Ballet orchestra. Highlights of the new agreement include a cumulative increase of 18.5 percent over the five years of the contract in concert and rehearsal wages, a 2 percentage point bump in pension in year two, and a 50 percent increase in health benefit payments.
Doing this work, we often see extraordinary courage in everyday situations. I'd like to add a note of thanks to the musicians who have been brave enough to stand up and show up in the face of hostile management and blatant contract violations. Our power as a union is only as strong as our members, and we cannot win without you. Contact my office at (212) 245-4802, ext. 105, e-mail me at Kfisher@Local802afm.org, or contact the Local 802 Hotline anonymously to report nonunion work that you'd like us to take a look at.
GOODBYE, PHANTOM!
I would be remiss if I didn't mention the closing of "Phantom of the Opera" after 35 years and 13,981 performances. The closing of "Phantom" hit hard — and was made worse by Sir Andrew's Lloyd Webber's disparaging and disappointing remarks about unions. (You can get a link to Sir Andrew's remarks and read Local 802 President Tino Gagliardi's reply here in Tino's president's report.) It's the end of an era on Broadway, and it reminds me how "Phantom" has been a constant thread in my musical life since I first heard the original London cast recording years before I even imagined that I would someday be able to play the show.
I had the pleasure of subbing on the clarinet chair from the time I moved to NYC in 1997 through 2006. Much has already been written about the impact of the loss of this show to both performers and audiences, many of whom returned multiple times over the years. "Phantom" was one of the last shows I played before coming to work at Local 802 in January of 2007. I'd like to personally thank Matt Goodman, one of the original members of the orchestra, for bringing me in as a sub, as well as to the other members of the pit, who always made me feel welcome.
Phantom employed an orchestra of 27 musicians, considered huge by today's standards. Much has been written about its appeal (as well as its lack of appeal to many), but to me it was a joy to play precisely because it was an orchestral score. That meant lush strings, silvery brass, and actual dynamics. Yes, the sound in the house was mixed on a soundboard as is everything on Broadway, but for me as a sub, the show always felt both fresh and like coming home at the same time.
Out of curiosity, we ran some statistics. On Broadway alone, "Phantom" employed 1,315 musicians who together earned over $86 million in wages over the run of the show. Chairholders and regular subs were able to maintain health benefits on the Local 802 health plan and will now enjoy a comfortable and well-earned retirement.
Sir Andrew Lloyd Weber, we appreciate your work. But we also hope that you appreciate this undeniable fact: without the labor of the thousands of union members — onstage, backstage, in the house and in the pit — not even one day of this phenomenal run could have possibly happened.
Next month, we'll report on Local 802's finances and our annual audit.