French Horn & Flamenco: Eva Conti's Unique Journey
Feature Interview
Volume 116, No. 6
June, 2016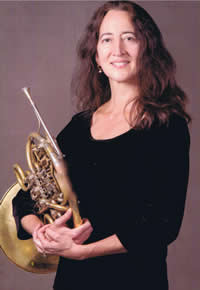 UPDATE: This article was re-posted in May 2020 as part of our #BestOfAllegro series. See the end of the article for Eva's update during the coronavirus quarantine of 2020.
French hornist Eva Conti is in her 18th season as principal horn with the New Haven Symphony Orchestra. Also an accomplished flamenco dancer, she has been a soloist, company dancer and musical arranger with the Alborada Spanish Dance Theatre for eight seasons and is in the ensemble "SEGUE" (with violinist Sarah Geller and guitarist Jared Newman), which performs the music and dance of Spain and Latin America. She has danced with the Stamford and New Haven symphonies and with the Windscape Woodwind Quintet and Englewinds.
For the past ten years, Conti has been a guest lecturer on flamenco and the music of Spain at Fairleigh Dickinson University as well as a performer and speaker at numerous school concerts throughout the area. She teaches horn, classical guitar and weekly dance classes near her home in River Vale, New Jersey, where she lives with her husband Roger Wendt.
Conti is a member of the Stamford Symphony and Boca Sinfonia and has held the position of principal horn with the Israel Opera, Israel Camerata and the Haifa Symphony. She has performed with the Philadelphia Orchestra, New York Philharmonic, Metropolitan Opera, ABT, Israel Philharmonic, Seattle Symphony, and the Radio City Orchestra. She has held positions in several Broadway shows and continues to be active as a sub. She toured several times as a member of the Barbra Streisand 0rchestra between 2006 and 2012.
Conti has been a member of Local 802 since 1985. Bob Pawlo recently caught up with Conti to ask her about her life in music – and dance.
Bob Pawlo: Tell us how you first got into music.
Eva Conti: My mother played classical piano; my father played jazz piano and saxophone, and there was always a lot of music in the household all the time. We would play whatever instruments were available. I came to the French horn after going through several other instruments. In my family, everybody played piano. Then when I was in grade school, I played flute in the band, and when I got to high school, my band director, Charlie Yassky (who's still a current member of Local 802), asked a few of us flute players if we wanted to try the French horn. So I gave it a try, and I took to it right away. Then at the University of Rhode Island, I double-majored in biology and classical guitar! But they always needed horn players in the college ensembles, so I got a scholarship to play horn. I got even more interested in the horn after seeing David Jolley play live at the Chamber Music Festival in Newport, so I started to come down to New York and take lessons with him privately for a couple of years. Ultimately, I went to Manhattan School of Music and earned my master's degree in horn. I started to freelance in New York and then won a job playing principal horn for the Israel Opera in Tel Aviv, so I moved there.
Bob Pawlo: What was that like?
Eva Conti: Oh, Israel is very interesting but also a bit difficult to live as an American because you're used to lots of creature comforts. I enjoyed my time there. It was very intense. Musically it was very rewarding because there are many orchestras that play full-time schedules, and they really don't play a lot of pops – their idea of pops is really what we would call light classics. I got a lot of experience playing opera and orchestral repertoire. It would be hard to duplicate a job like that just coming out of school. So it was a good musical experience for sure. But after four years in Israel, I came back and won the principal horn chair in the New Haven Symphony, which is a job that I still have today.
Bob Pawlo: What got you interested in flamenco dancing?
Eva Conti: My mother's family is from Spain, and I grew up knowing what flamenco dances were. My sister and I would pretend to do it; we liked the drama of it. When I was a classical guitar major in college, I studied flamenco for several years and really became exposed to the forms and the rhythms of that music. When I moved to Israel, there were five flamenco dance studios in Tel Aviv, so I started to study and got into castanets then. Back in New York, I continued my dance studies at a studio called Fazils. It was the place where everybody who studied flamenco would go. Visiting artists from Spain would go there and teach classes.
Bob Pawlo: I imagine that flamenco dancing is quite a workout.
Eva Conti: Yes, it can be hard on your feet. I mean, there are special shoes to protect you. The technique requires that you always have your knees bent to protect your knees and protect your legs. Dancers are always talking about their feet hurting, because you're stomping around a little bit, but if you're doing it right, you don't have to hurt yourself!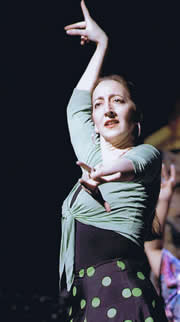 Bob Pawlo: What's it like to do a performance as both a French hornist and a flamenco dancer?
Eva Conti: I recently had a nice opportunity to do a concert just like that with the Stamford Symphony. It was a concert of Spanish music and I danced in the suite from "Carmen." I actually started on the stage in the horn section, dressed in sort of a black cloak. After several movements had gone by, I got out of my seat and walked to the front of the stage. People in the audience were wondering what was going to happen. Then, at a dramatic moment, I dropped my cloak and I was wearing a brightly-colored red dress. I came to the center of the stage playing castanets and danced the "Aragonaise" movement. I pulled out all the stops and danced with lots of props – castanets and fans and long-train dresses and did all the traditional Spanish dance stuff.
Bob Pawlo: How do you think your flamenco dancing has helped your musicality on French horn?
Eva Conti: The rhythmic challenges of flamenco are interesting and difficult, and that was really what drew me to it. In playing the classic repertoire on horn, you're sometimes not as challenged rhythmically as maybe some other instruments are. I think that learning interesting rhythmic patterns in flamenco has helped me become a better musician all around. I think it has definitely improved my time. Of course, there are differences to how I approach French horn and flamenco dance. On French horn, it's all about the music. In dance, you're dealing with visuals – your costumes and your hair, your makeup, your props, and making sure that it looks good, because you're out there by yourself. For the concert in Stamford, I had two suitcases full of costumes and props and spread out all over the place. Everybody in the orchestra was like, "Wow, that's a lot of stuff." I had different shoes for each outfit!
Bob Pawlo: Where do you actually get your flamenco costumes?
Eva Conti: I buy some, but I end up making most of my things, because I'm pretty tall, especially for flamenco dancers. I think that the Spanish aren't quite as tall as I am. I'm almost six feet tall, so I found that most of my costumes I couldn't really buy off the rack. I know how to sew, and so I ventured down that path a few years ago and started making most of my stuff.
Bob Pawlo: You also teach flamenco classes, right?
Eva Conti: Yes, I teach twice a week, close to my home in Harrington Park, New Jersey. I've got a nice following now. People who get interested in flamenco usually get obsessed with it, because it's the kind of thing that grabs you and gives you that "I wanna do that" kind of feeling. It really speaks to them.
Bob Pawlo: What projects are you working on now?
Eva Conti: I've been trying to make arrangements of traditional flamenco music for nontraditional ensembles. So last year, I did a concert with Windscape, which is a woodwind quintet that's in residence at the Manhattan School of Music. My former French horn teacher David Jolley is a member of that quintet. I arranged a piece for them that has the traditional form of a flamenco song. At one point I have all the musicians put their instruments down, stand up, each pick up a cane, and create a rhythmic ostinato while I also dance with a cane and tap out a rhythm pattern on it. There's definitely improvisation in the flamenco tradition and there are rhythmic cues that signal the transitions.
Bob Pawlo: What advice would you give to musicians starting their careers in the music world now?
Eva Conti: What worked for me was saying yes to every playing opportunity that was offered to me. Every performance is an opportunity to meet other players. Occasionally this leads to other work. Treat every job at the same high level, even if it doesn't seem like it's a big deal or that it's ever going to lead to anything. Give it the same professional attitude that you would give anything. I was always more interested in the process of becoming a good player than I was in the outcome, and hopefully the outcome works out. Lastly, I think that flamenco and any world music can be a very interesting and rewarding thing to study. It can expand your music because you learn it in a completely different way than you learned your instrument. In flamenco, you learn a lot of it just by watching and listening . It's not written, and that can be challenging and help you become a better musician.
---
UPDATE: CORONAVIRUS QUARANTINE OF 2020
During the coronavirus quarantine of 2020, we re-posted several of our most popular interviews, including our 2016 interview with Eva Conti. We asked Eva how the quarantine was affecting her life both personally and professionally, and here's what she told us in May 2020:
I have settled into a routine of practicing and teaching online — both my private students and my flamenco dance class. It's been a challenge to navigate the technology and try and make it satisfying for everyone. I was part of the Stamford Symphony project to create a collaborative "Amazing Grace" video that we posted as a thank-you to healthcare workers. It was great to be accountable on my instrument if only for a few minutes of recording — and the result was well worth the effort.
I am trying to find the silver lining with what has become accessible online and have been taking dance and castanet classes with some famous teachers in Spain who I normally would not have access to.
My sewing machine has been very active. First, I was making flamenco dance dresses and then making masks for one of the nearby hospitals that was in dire straights. I enlisted a few of my dance students for this project as well. The healthcare workers at the Holy Name Hospital in Teaneck ended up with "flamenco fabric" masks — lots of bright colors and polka dots to help keep them safer and maybe uplifted.
I am keeping a very low profile with exposure as I am my mother's only lifeline to the outside world. We have a project of listening to one vinyl record a day, which has been a fun reminiscence of our household.
See photos below: