As we celebrate Women's History Month, we fight for equality of opportunity
MEMBER TO MEMBER
Volume 123, No. 3
March, 2023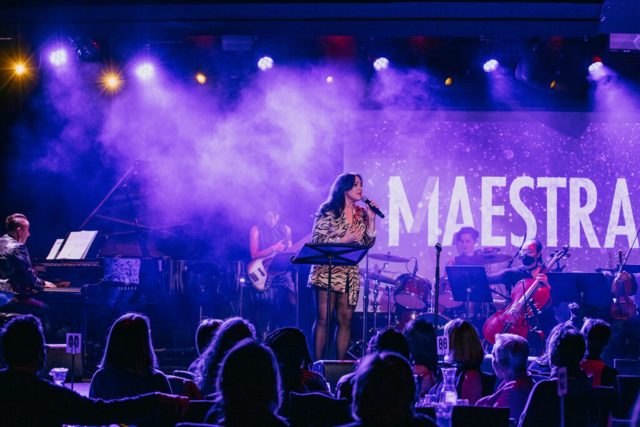 ---
I'm happy to celebrate Women's History Month in this space by writing about Maestra Music, an organization I founded in 2017 after Music Directing the Off Broadway production of SWEET CHARITY that required me to hire an all-female band. You can read more about my personal experiences and the history of Maestra in the Allegro articles I wrote in 2019 and 2022, but today I want to talk a bit more about how the environment is changing and how you can help.
A short bit of backstory for those to whom this is new: Maestra Music is a nonprofit organization that provides support, visibility, and community to the women and nonbinary people who make the music in the musical theatre industry. Our membership is made up of composers, music directors, orchestrators, arrangers, copyists, rehearsal pianists, and other musicians who are an underrepresented minority in musical theatre. The organization's initiatives include monthly educational seminars, mentorship programs, technical skills workshops, networking events, and online resources and partnerships that aim to promote equality of opportunity and to address the many historical disadvantages and practices that have limited women and nonbinary composers and musicians in the musical theatre.
It's that phrase equality of opportunity that I really want to consider here today.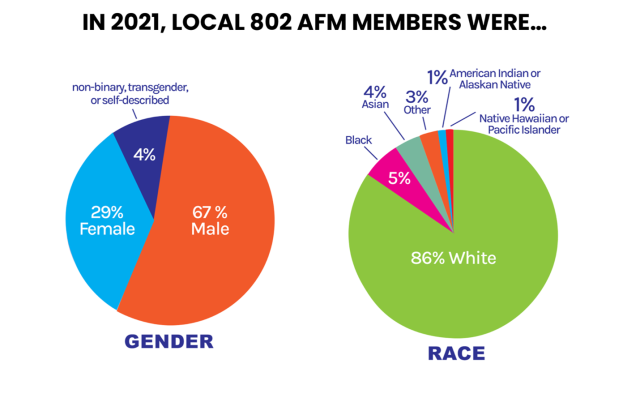 In the eight years between 2011 and 2019 there were 113 shows on Broadway. Among those shows, there were 1489 chairs for musicians, and of those chairholders, 318 were women. That's 22 percent. Eighteen of those orchestra pits were entirely male. In 2021, Local 802 surveyed the membership and learned that 67 percent of the membership is male and 86 percent is white. Those numbers are both shocking and… not. We know there are girls and people of color majoring in music at the college level. What's keeping them from joining the union?
It's so much harder for a woman or a person of color or a gender non-conforming person to get a job, even if that person is an excellent musician.
I have a friend who is a voice teacher here in New York City, and one of her female students continued to study with her on Zoom once she got into a very prestigious music conservatory in another city. At the end of the student's sophomore year when it was time to declare her major, the student said she wanted to major in music composition, but she thought she would probably major in voice. The voice teacher asked why, and the student said that in the composition department, all the teachers were men and all the other student majors were guys. She didn't know if she had it in her to let that be her experience for her last two years of college. She majored in voice.
Believe me, I love singers — but as a female composer, this feels like a loss to me.
What does it feel like to be the only woman in your section, in your ensemble, in your whole music department? I don't think that student felt unsafe like she was going to be attacked in a physical way, but what she was expressing was this feeling of needing to put on emotional armor when you go to work. It doesn't exactly set you up for success. The same must be true, though I have not experienced it personally, when you're the only person of color or gender nonconforming person in a room where everyone else is, well, something you're not.
We talk a lot about how the bottom line is that as employers, we just want the best musician in the chair, and nothing else should matter. But the other things DO matter. They matter to the welfare of the musicians in those chairs, and they matter to the future of Local 802 in terms of who shows up in New York City believing they've got a shot at working here at the highest level.
I know it's not the union's job to train musicians and ready them for the workplace, but that's where Maestra comes in. We've got an online Directory that contains profile pages for over 1700 female and nonbinary musicians around the world, with filters you can use to search for someone who knows a specific software or is interested in touring or plays a particularly unusual set of doubles. And we don't just present these musicians, we train them. Maestra offers a season of Virtual Technical Workshops on Zoom and we have a Maestra Replay library of over 75 past workshops on topics as diverse as "Crash Course in Effective Subbing on Broadway" (taught by Kristy Norter), "Guitar: The Wild Card of Pit Instruments" (taught by Ann Klein), "Getting Your Gospel Groove On" (taught by Dionne McClain-Freeney), "Writing a Pop/Rock Theatre Song" (taught by Ada Westfall), "Multi-Style Strings: Playing Outside the Box" (taught by Martha Mooke), "The Nashville Scene: Hot Chicken and Number Charts" (taught by Lori Casteel), and "Orchestrating for Flutes of the World" (taught by Janet Axelrod), as well as a three-part series on "Ableton: Click Tracks, Backing Tracks" (taught by Cynthia Meng) and five classes on using Finale (taught by Emily Grishman).
All of our classes are initially offered for free (join the Maestra mailing list to find out more) and then the Replay videos are rentable for a small fee. Classes can be viewed by anyone, but they are always taught by a Maestra member. Showing women and nonbinary people being experts in their musical fields is part of how we serve our mission.
Maestra also offers a robust mentorship program that currently has 65 mentor-mentee pairings. (My mentee this year is a music director who is trying to cross over into composing.) And we have Regional Groups (LA, Nashville, Australia, UK, and more) and Affinity Groups (Student Maestras, Maestra Moms, Maestra Pride) that are linking Maestras together by location and identity.
Maestra is endeavoring to educate the industry about equality of opportunity and to provide tools for people who are in positions to make change. Because we must change. As Jeanine Tesori said in 2015 when she won her Tony Award for FUN HOME, "For girls, you have to see it to be it." Maestra is here to illuminate pathways, to tell the young girls and nonbinary musicians that they should keep practicing, and to welcome them when they show up at the theatre.
AMPLIFY 2023, Maestra's annual concert and community event, will be produced on March 27th in New York City. Musicians will be covered under a union contract.