Jack Rosenberg and the founding of Local 802
Volume 123, No. 3
March, 2023
NOTE: To best view photos in this article, please rotate your device to horizontal or "landscape" view
It may come as no surprise that New York's Local 802, among all other AFM locals, was birthed in a strain of defiance and radicalism. It was in the throes of the first World War that AFM President Joseph Weber declared a nation-wide musicians strike ban, one he kept active for years following the armistice, ignoring the impact on membership. New York's theatre musicians of then-Local 310 had been bitterly struggling through a poor contract and, resultantly, took on not only the Broadway producers but the Federation itself! Weber attempted to break the strike and then expelled the entire New York local; thereby, on August 27, 1921, Local 802 was chartered directly to the American Federation of Labor. Weber had no choice but recognize the new local yet responded by placing it under strict AFM trusteeship lasting through 1936. That year Local 802 was finally able to run an election for officers and our first president–Jacob (Jack) Rosenberg, drummer/percussionist, and an agent of progress and change–was duly elected. Rosenberg's astounding presidency lasted over 11 years, through the Great Depression, his own runs for political office, the tumultuous Petrillo-led AFM recording ban, and the Second World War. Seemingly tireless, Rosenberg's term of office only ended with his unexpected passing in 1946, weeks shy of the fifteenth anniversary of the union he'd built from embers of the past.
Of humble beginnings, Jacob Rosenberg was born in 1896, Austria, the youngest of 11. The family relocated to New York during Jacob's early childhood, where his musician father encouraged him to become a drummer. Showing considerable skill, it was at the tender age of seven that Jack played his first professional engagement. Through years of club date and theatre work, and following service in World War 1, Rosenberg completed formal musical training and began work in the radio and recording studios of NBC, and then onto the staff of the prestigious NBC Symphony Orchestra. Simultaneously, he was part of a successful songwriting team with pianist/lyricist Ira Shuster, composing popular songs recorded by Rudy Vallee, Gene Krupa, the Ink Spots, Charlie Spivak Paul Whiteman, and Vaughn Monroe, among others. Rosenberg also held a seat on the board of City Center among other vital cultural institutions, and wrote a regular column for "Swing" magazine, "The Labor Side of It".
His political activism, fighting for the cause of organized labor and against the confines and greed of monopoly, led to a term on the Local 310 Executive Committee and then as union secretary, and onto ever bolder, wider progressivism including a prominent role in the early movement for civil rights. Rosenberg attended the founding meeting of the National Negro Congress (1936) in Chicago where his inter-racial delegation called for desegregated unionism in a time when the American Federation of Labor was still strangled by segregation, chauvinism, and xenophobia. From the dawn of his leadership, Rosenberg pledged that Local 802 would not only be racially unified but remain loudly oppositional to discrimination. He appointed numerous African Americans to positions on 802 staff including Assistant Treasurer, Tax Recorder and Controller, as well as Business Reps. In this period, the first African American Executive Board member was also elected.
Rosenberg was aligned with both the Roosevelt Administration (including the Music Program of the Works Progress Administration), and, closer to home, the City Hall of Mayor Fiorello LaGuardia. He was a trustee of the NYC Central Trades and Labor Council and on the board of the national Fight for Freedom Committee, and hand-selected by LaGuardia for a seat on the board of WNYC radio. As the station announced at the time: "the board is charged with increasing the cultural and educational importance of WNYC." It is notable that Rosenberg was the only union officer in its ranks.
In 1938, Rosenberg ran as a candidate for Congress for which a Musicians Bureau of Street Speakers was part of his team. Two years later, he ran for New York City Council. Both of his campaigns were run on the American Labor Party line, that which had endorsed FDR, LaGuardia, and a host of other progressives. Rosenberg's candidacies were notably endorsed by the mayor, the governor, a wide variety of unions, the Negro Labor Committee, the NYS AFL, "The Amsterdam News", the Yiddish press, the left-wing press, the George Gershwin Lodge of the Knights of Pythias, and a litany of others. While neither campaign ended in a standard victory, Rosenberg saw that the voice of workers within electoral politics became increasingly relevant—and lasting.
Ever prescient, Rosenberg wrote in 1941:
"The enemies of labor have set themselves the task of poisoning the minds of the general public. Through their newspapers they have been carrying on an insidious campaign of slander and misrepresentation. They are preparing the public mind for an acceptance of legislation which, if it is voted by Congress, will throw labor back to the dark days before the New Deal and the Wagner Labor Relations Act."
RECENTLY, THE LOCAL 802 OFFICE RECEIVED A COMMUNIQUE FROM ANOTHER JACK ROSENBERG: the grandson of our first president. He explained that his late father Lewis had a cache of Local 802 documents and memorabilia which Jack had now inherited. "I'm searching for a good home for these historic documents, someplace they'll be appreciated. I want my grandfather's legacy remembered", he explained. As the voluntary keeper of our union history, I was nothing short of thrilled. "I'm not a musician", Jack said when we met at his home in Poughkeepsie. "And neither was my father, but I see how important this history is." The owner of Rojack Builders, he's been a respected contractor and community member in the Hudson Valley for decades.
The Local 802 materials were boxed up, but we briefly went through what I referred to as a treasure-trove, and the outcome was even better than expected. The documents, photos, cards, pamphlets, and letters told the story of not only a person, but the union as it stood and grew throughout the 1930s and '40s. These included numerous notes from Mayor LaGuardia on City Hall stationary, including information on the 1938 season of the orchestra of the New Friends of Music initiative of the city (its concerts were later a feature of Town Hall, often with conductor Fritz Stiedry at the helm). And then there was a curious note from December 12, 1939, which first thanks Rosenberg for his birthday greeting and "also for the friendly warning. Which couple of decades shall I lose? And where?"
Also, among the documents was a 1938 communique from Governor Herbert Lehman, and several historic campaign pieces which verify the importance placed on his candidacy by working people, liberals, and progressives.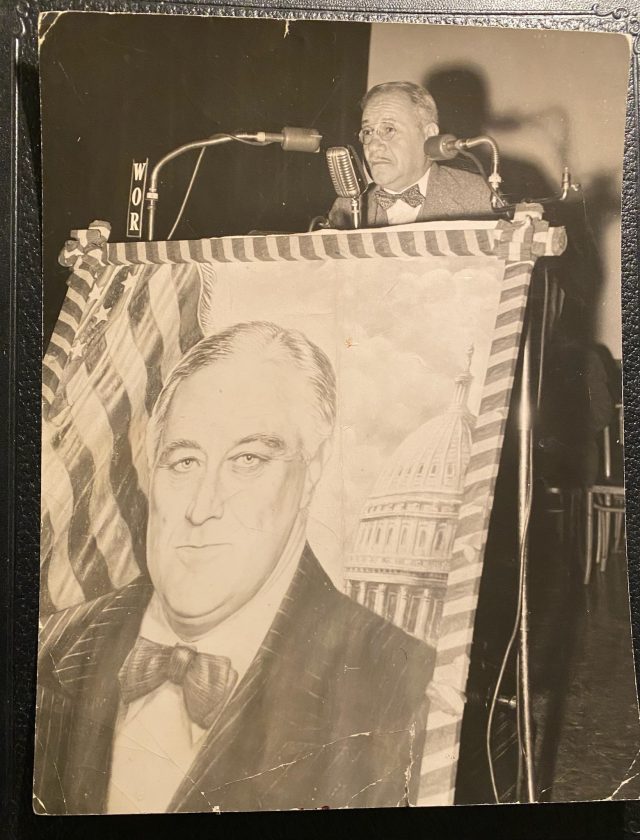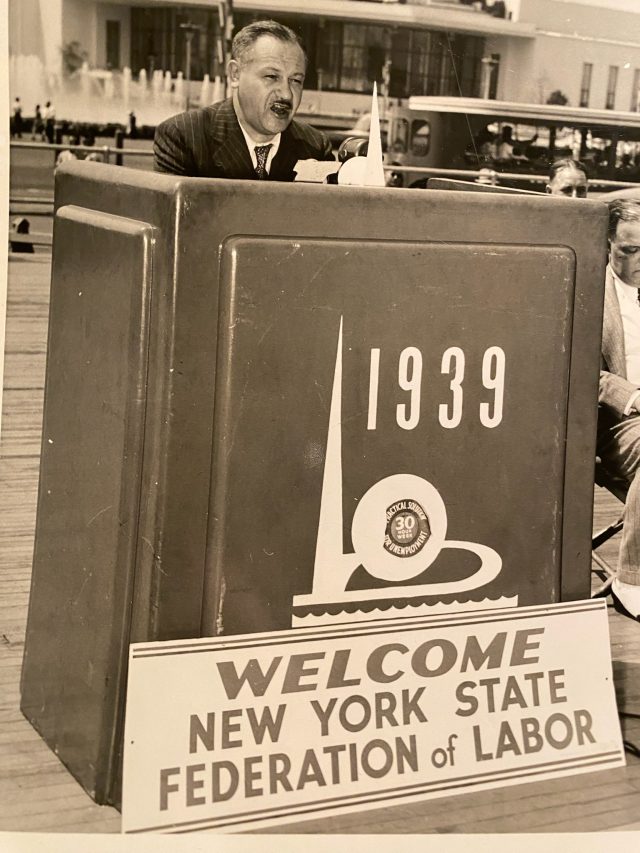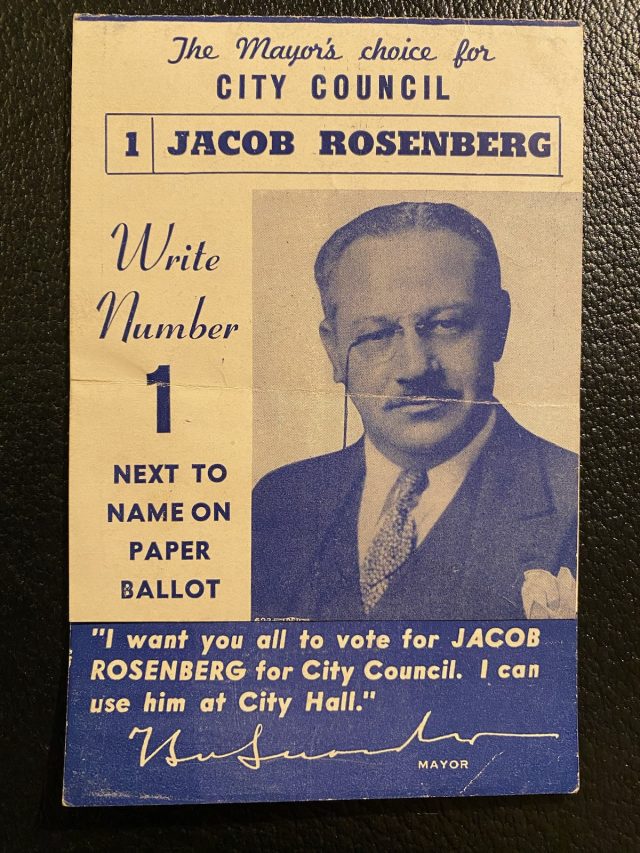 Other rare finds include greetings from Leopold Godowsky, the board of the 1939 New York World's Fair, and from Sig Romburg of the Song Writers' Protective Association as well as a fascinating 1940 note from singer and actor Rudy Vallee trying to quell rumors that he was seeking to challenge Rosenberg for the presidency!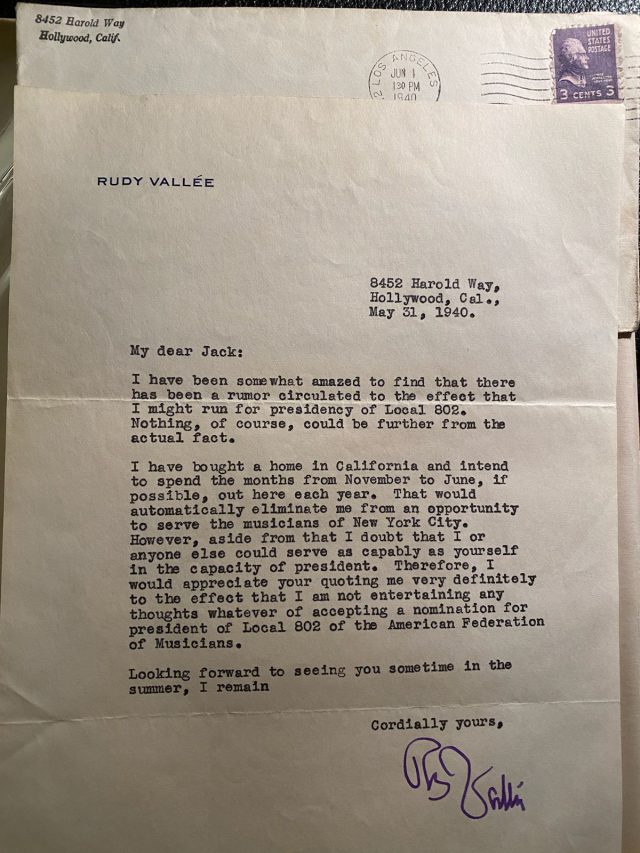 Also included were honors from the Police Athletic League, the Selective Service Commission, the Mayor's Naval Committee, and the Czechoslovak National Council of America. We also inherited Rosenberg's ASCAP documents, his invitation to the Waldorf Astoria anniversary celebration of NBC, even his 1917 discharge papers from military service.
But overwhelmingly were the many greetings and farewells following Jack Rosenberg's passing in July of 1946. His eulogy, delivered by Vice President Richard McCann at the August 2 service at Town Hall befittingly cited Rosenberg as "comrade-in-arms" and explained that among his many contributions to the cause, that which was outstanding was "the victorious struggle for local autonomy."
The editorial of "Billboard" that month stated: "During most of his 51 years, Jacob Rosenberg was a rebel. He was talented enough to become the highest paid drummer in the business, a mainstay of the New York Philharmonic and NBC Symphony orchestras. He was smart and scrappy and rebellious enough 11 years ago to wrest the leadership of Local 802 from an administration which was going nowhere…Jacob Rosenberg was used to being a winner…They buried Rosenberg Friday after a ceremony at Town Hall here. Had all the man's friends been able to attend, Madison Square Garden would have been too small."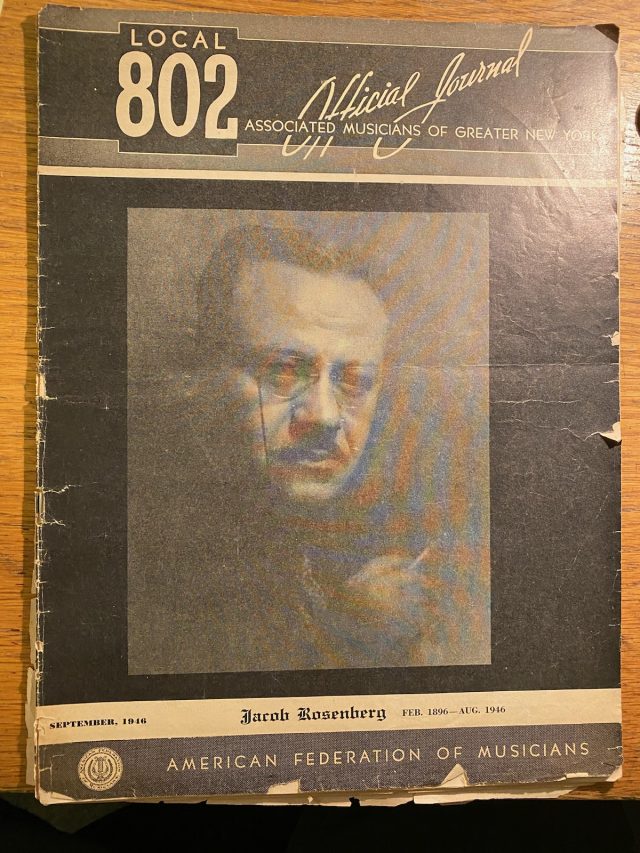 BY FAR THE MOST IMPORTANT TRIBUTE was found in the pages of "Allegro". Our union's magazine of September 1946 was dedicated to the memory of our first president, offering a vivid capture of Jack as an officer and as a husband and father. The magazine offers not only historical data and focus on Rosenberg's family, but condolences from NYC Mayor O'Dwyer, AFM President Petrillo, ILGWU David President Dubinsky, Chairman Frank Crosswaith of the Negro Labor Commission, Executive Secretary William Wolpert of the United Hebrew Trades, IATSE General Secretary William Raoul, among a wide array of other union officers, as well as from the Friars Club, ASCAP, the American Society of Music Arrangers, the Philharmonic Symphony Society, and many other allies, ABC, CBS, NBC, and assorted others including Bing Crosby, and William Morris who noted, "It is a serious loss these days when men of his high ideals are needed."
A testimonial by the 802 Executive and Trial Board declared, "Devotion to the interests of membership was a guiding force that dictated his every action, and his sincerest gratification lay in the constant growth and ever-increasing strength of our Local.
"Through the war years Brother Jack Rosenberg gave of himself without stint in every phase of relief and home activity, and proud indeed was he of the outstanding contribution that our Local made in the building and maintenance of military and civilian morale…"
It is with great pride that we can look back on the roots of Local 802 and the tireless dedication of President Rosenberg standing with our members as one.
Many thanks to his grandson, Jack, for gifting us with these invaluable memories. Jack Rosenberg is also featured prominently in this history of Local 802 by Jacob Goldberg.
---
John Pietaro is the organizing director of Local 802 as well as a published writer and poet. His research into Local 802's archives can be found in recent articles in Allegro.