Local 802 Heritage: Trekking Through a Century of Files (part 4)
African American History Month Edition: Free Jazz!
Volume 123, No. 2
February, 2023
Welcome to the fourth installment of my ongoing Allegro feature on Local 802's storied past. (Read previous articles in this series here, here and here.) This fascinating research has drawn me ever deeper into our storage closet of aging, priceless documents. This month, as African American history is celebrated nationally, it seemed appropriate to focus on the genre variously known as free jazz, the avant-garde, fire music, and the new thing. Free jazz liberated melody, harmony, rhythm, and form (and the player!), and was equally rooted in jazz's artistic advancements and the Black American struggle for social justice. This music came to fruition within the late 1950s, experienced vast reach in the movement for Black Power and the Loft Jazz era, and extends in various forms today, revolutionary on every level.
Largely based in New York City and Newark within poet Amiri Baraka's Black Arts Movement, there were powerful and substantial alternate headquarters in Chicago (the Association for the Advancement of Creative Music), East St. Louis (Black Artists Group) and Los Angeles (Horace Tapscott's Union of God's Musicians and Artists Ascension), among other locales. Of course, many artists independent of any organization also made seismic shifts in the music and culture. With so many experimentalists lured to New York's arts avant-garde, particularly on the Lower East Side, a great many of the musicians were notably 802. Below are some of the highlights of this latest archeological dig.
ORNETTE COLEMAN (March 9, 1930 — June 11, 2015) With roots and branches in Fort Worth, Texas, Coleman developed an innate sense of both rural and urban blues as well as R&B and modern jazz. It's said that his early alto saxophone sound was akin to that of Charlie Parker, but Coleman quickly grew into a most original musician, conceptualizing a visionary re-construction of music's very properties he later dubbed the Harmolodic Method. Relocating to Los Angeles, he was alienated by most musicians due to his approach and found himself blacklisted by most club owners, yet facilitated a powerful relationship with cornetist Don Cherry, bassist Charlie Haden and drummers Ed Blackwell and Billy Higgins. The Ornette Coleman Quartet made the move to New York together, securing a historic and sensational residency at the 5 Spot. He joined Local 802 in 1961, listing his address at the time as 75 Gold Street. Coleman has long been acknowledged as the father of avant-garde jazz, a grand music philosopher and theorist who also employed electric instruments and funk rhythms as well as full orchestral works within his canon, expanding the sonic pallet further. Coleman's mythic status only grew with the ensuing decades. For further information, please see the obit I wrote on Ornette in 2015 for CounterPunch magazine: https://www.counterpunch.org/2015/06/15/ornette-colemans-revolution/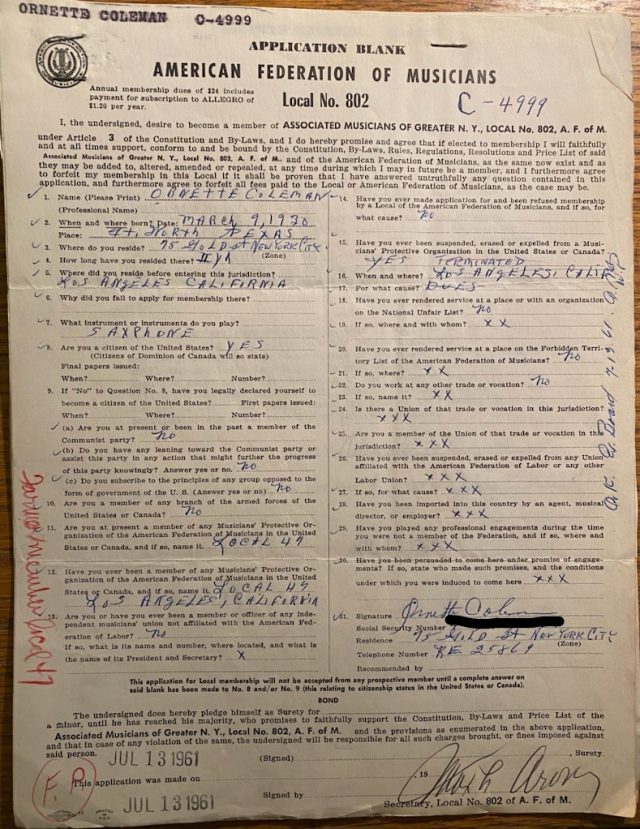 CECIL TAYLOR (March 25, 1929 — April 5, 2018) The legendary pianist, composer, poet and native New Yorker began piano study at the tender age of five at the urging of his mother, a dancer and musician. Taylor maintained formal tutelage through his years at New England Conservatory, mastering classical piano (with a focus on the modernists), yet was also drawn to progressive strains of jazz. He became an 802 member in 1951, stating on his application that he'd played only "school dances" in the past. By 1955, leading a quartet featuring soprano saxophonist Steve Lacy, he commanded the stage at the '57 Newport Jazz Festival, achieving both acclaim and derision due to his pioneering "outside" musical oeuvre. Throughout his lengthy career, Taylor founded the Jazz Composers Guild and collaborated with the widest array of creatives, expansive musicians, dramatists, poets, dancers, filmmakers and sound artists, and also performed noted, lengthy solo works. As an artist of classical training within the jazz avant-garde during years of protest, and as a gay man in a circle often exposed to overt machismo, Taylor was frequently seen as an outsider yet remained renowned as a prolific luminary, guiding numerous generations into new realms of the music.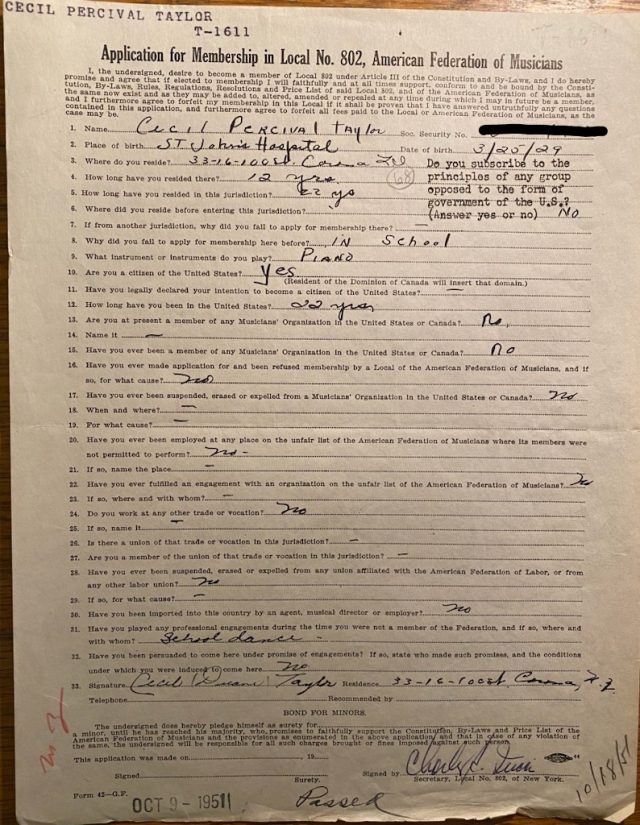 ALICE COLTRANE (August 27, 1937 — January 12, 2007) Bearing the name of one of jazz's messiahs, this pianist, harpist, vibraphonist, and composer overcame the virulent sexism of her time, becoming lauded as a leading artist in her own right. Alice McLeod was born into a musical family in Detroit. Formerly studying piano, she delved deeply into the jazz scene at home before moving to Paris where she took invaluable lessons from Bud Powell while performing at that city's Blue Note and on French television with noted expats. Relocating back to the US, her reputation grew as part of Terry Gibbs' quartet which, in 1963–the year she joined Local 802–played a double bill with John Coltrane at Birdland. She and the saxophonist became inseparable, marrying in 1965 (when her union membership was modified with a "change of name" to Alice Coltrane). By the mid-60s John Coltrane, already the progressive eminence in jazz, began vastly expanding his own palette and that of his band, which she joined as pianist a year later, replacing the exiting McCoy Tyner. In '66 she was also signed to Impulse Records as a solo artist. Through this period and into her husband's tragically young death, Alice Coltrane incorporated the harp into the band and her own work as a major instrumentalist. She released legendary albums (several featuring her own electric organ) with bands comprising the most expansive musicians of the day. Coltrane's studies into eastern philosophy led to her status as a spiritual leader, a distinction that only grew through her lifetime.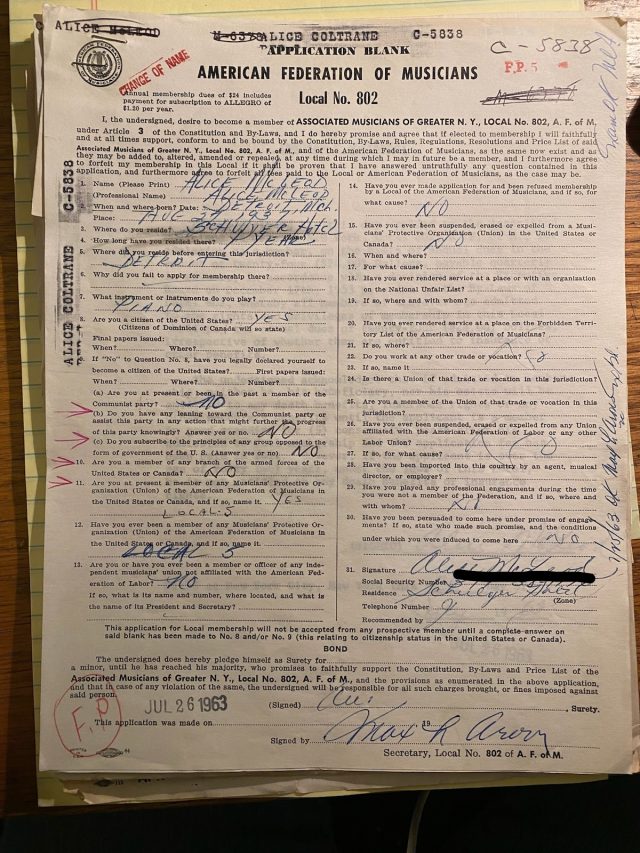 ARCHIE SHEPP (born May 24, 1937) Though this series of articles has featured celebrated, deceased members of our Local, this month's focus on jazz radicals engaged through the Black Liberation movement happily includes Archie Shepp, alive, well and active at 85. The tenor saxophonist originally hailed from Florida, but spent formative years in Philadelphia, absorbing that city's rich tradition of African American music. Concurrently, he was an actor and playwright, spending the latter half of the '50s in theatre studies at Goddard College. His use of poetry and prose within music was fortified by this, with dramatic readings of utter importance juxtaposed into compositions. Shepp became a New Yorker in 1960, the same year he joined Local 802. Though recognition within NYC's early avant circle came rather quickly, he earned a living in early childhood education and social work for some years (a testament to the struggle of free jazz musicians in particular). His co-leadership of a quartet with cornetist/social activist Bill Dixon in 1962 led to a first record, quickly followed by membership in the New York Contemporary Five, and then a series of recordings under his own name. However, it was the 1965 album New Thing at Newport, split with mentor John Coltrane, which brought Shepp to national prominence as not only a leader of "the new thing", but one creating music and drama of political import. From 1971-2001, he was a professor at the University of Massachusetts at Amherst, but his collaborations with the music's giants, both radical and mainstream, have been ongoing.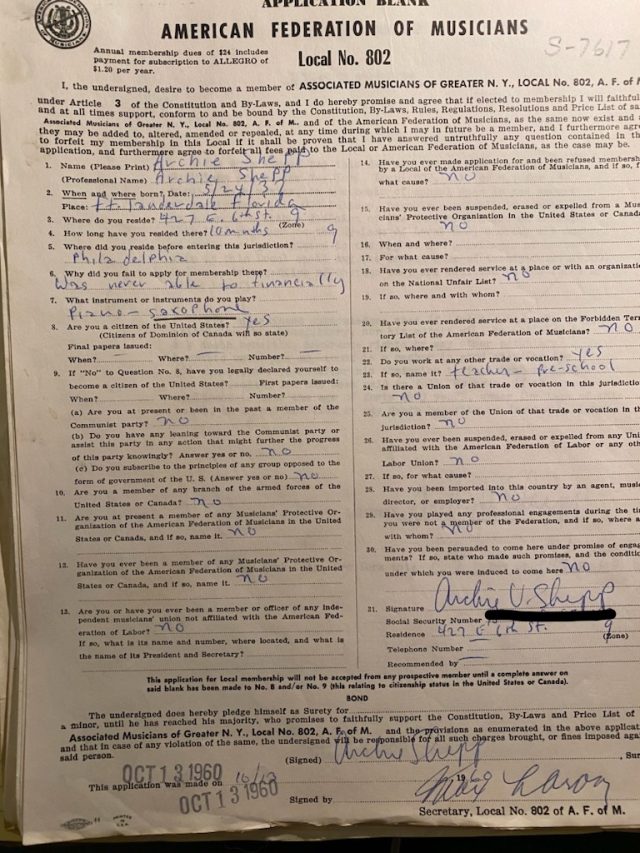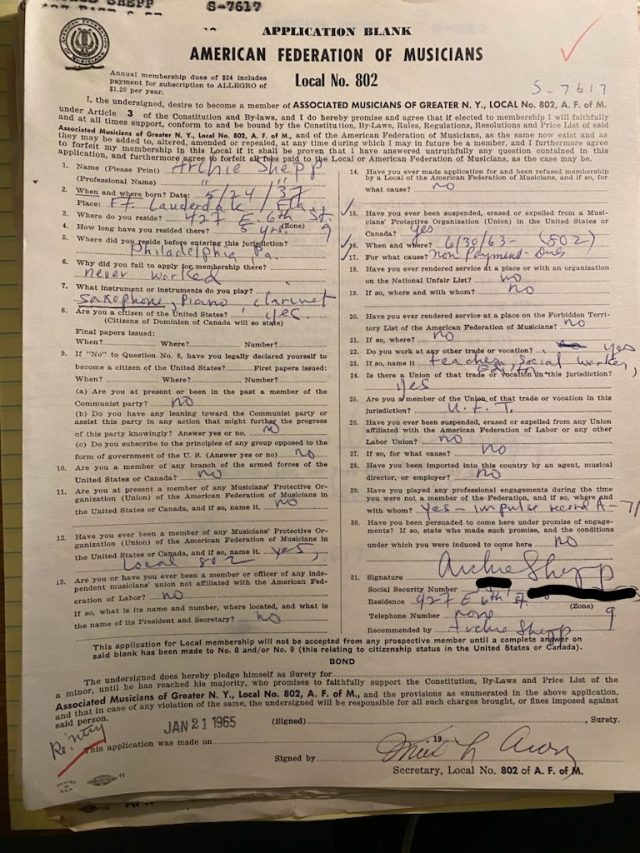 WILL CONNELL (November 22, 1938-November 19, 2014) Concluding this month's edition of the 802 Heritage series is a feature on a beloved figure of NYC's East Village circle, the reeds player, composer, and music copyist Will Connell Jr. On a personal note, this writer came to know Will during the last period of his life, performing music with him (I played vibes and percussion on several concerts), more so, interviewing him at length over cherished hours to learn his story. Will asked me to serve as publicist for his highly anticipated residency at the Stone, Christmas week 2014, and we worked closely for several months on this project. Sadly, Will didn't live to see the residency happen, but trombonist Steve Swell (another long-term 802 member) acted as MD to keep Will's vision and music alive through the sadness: https://arstash.com/will-connell-memorial-week/  It was a very moving event, as was the memorial at St. Peter's Church of which I was proud to be a guest speaker. I also wrote Will's obit for AllAboutJazz which was widely quoted on the internet: https://www.allaboutjazz.com/news/loss-of-a-quiet-giant-will-connell-1938-2014/
Following is a bit of Will's bio as I heard it directly:
Born in Los Angeles, Will Connell Jr was introduced to music in his youth, with elements of which offered a visceral, life-changing response: "I heard Billie Holiday at 17. Tears ran down my face like Niagara Falls". That same year, 1956, he was inducted into the Air Force, where he remained for some nine years. Between tours of duty, Connell purchased an alto saxophone, and it accompanied him to Okinawa, however, growing outrage about the military's treatment of Black servicemen, and people of color around the world, led to his decision to resume civilian life. Connell engaged in formal music education by day at Los Angeles City College (Eric Dolphy's alma mater) while working evenings at the Post Office; during breaks cramming for harmony exams. Around this time Connell became acquainted with Horace Tapscott, then in the process of building a powerful community-based organization inspired by both the early Black Arts Movement and the Watts riots: The Union of God's Musicians and Artists Ascension (UGMAA) and the Pan African People's Arkestra (PAPA). Almost immediately, Connell took a central role in the organization and ensemble, serving as the Arkestra's librarian and copyist. Tapscott urged Connell to learn music copying and he took tutelage with copyists at the Motown label, then recently transplanted to LA. In this field, he was employed by Stevie Wonder, Roberta Flack and Michael Jackson, as well as pop artists including Simon and Garfunkel.
Connell credits Tapscott, too, with his political education: a young Angela Davis was a frequent guest at the organization's gatherings, and they had close association with the Black Panther Party (its theme song, "Seize the Time" was regular repertoire). The Tapscott band also played regular gigs at college Black Student Unions and for community events. Almost immediately after Angela Davis' arrest, the Tapscott ensemble served as the pit band of a new theatre work by Jack Wilson, 'Free Angela!'. Connell recalled that while the actors were hesitantly preparing for the premiere, Tapscott took charge and led the band in a lengthy set of explosive music which saw the crowded house quaking with jubilance.
By 1975, Connell left Los Angeles and Tapscott for New York City, which remained his home, joining 802 in '76. Residing on the Lower East Side, Connell encountered the Beat Generation poets' waning days, the latter loft scene, and the first rumbles of no wave. The music was immediate and vital and Will happily submerged himself into its center, collaborating with William Parker's Little Huey Creative Music Orchestra, Cecil Taylor, Arthur Blythe, Butch Morris, Pharaoh Sanders, Roy Campbell, Chico Hamilton, Anthony Braxton, Sam Rivers, Steve Swell, Billy Bang, Henry Threadgill, Oliver Lake, Daniel Carter, Frank Lowe, James Chance, and punk bands Minor Threat and Black Flag. Over the decades, he also engaged in extensive projects as music copyist, the most renown of which was Ornette Coleman's Skies of America. But his music soared over downtown, and Will felt he was having something of a renaissance into the 2010s. During his career, Will was a deeply relevant part of this rather unclassifiable music of free improvisation, post-mod composition and the most revolutionary of politics.