Music and Money
Book Review
Volume CIX, No. 5
May, 2009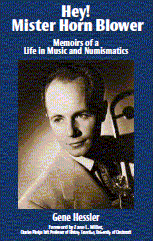 "Hey! Mister Horn Blower" is the autobiography of Local 802 trombonist Gene Hessler, who is an interesting mix: he's both a musician and an expert on the history of money.
Hessler's musical resume would impress anyone:
Performed in the Army with Cannonball and Nat Adderley, Junior Mance and Maceo Hampton, Slide's brother.
Traveled with Woody Herman, Billy May and Elliot Lawrence.
Played with Richard Maltby, the Sauter-Finegan band, Nina Simone, Sammy Davis, Jr., Diana Ross and many others.
Performed under Leonard Bernstein, Leopold Stokowski and William Steinberg.
Subbed with Stan Kenton during a 1954 concert tour that included featured soloists Stan Getz, Dizzy Gillespie and June Christy.
Was a member of the Bill Russo band when Billie Holiday sang at her last performance.
Along the way Hessler became interested in the history of money: coins at first, then paper money. He was the curator of the Chase Manhattan Bank Money Museum from 1967 to 1977, wrote five award-winning books on the history of money, and authored over 350 magazine and journal articles. He appeared on national TV, including the "Today Show."
There's too much more to tell about Hessler's life in a simple review. To order the book or for more information, send an e-mail to EngraversLine@aol.com.
If you are a Local 802 member who has written a new book, e-mail Allegro editor Mikael Elsila at Allegro@Local802afm.org.