Hopeful about our future
President's report
Volume 121, No. 10
November, 2021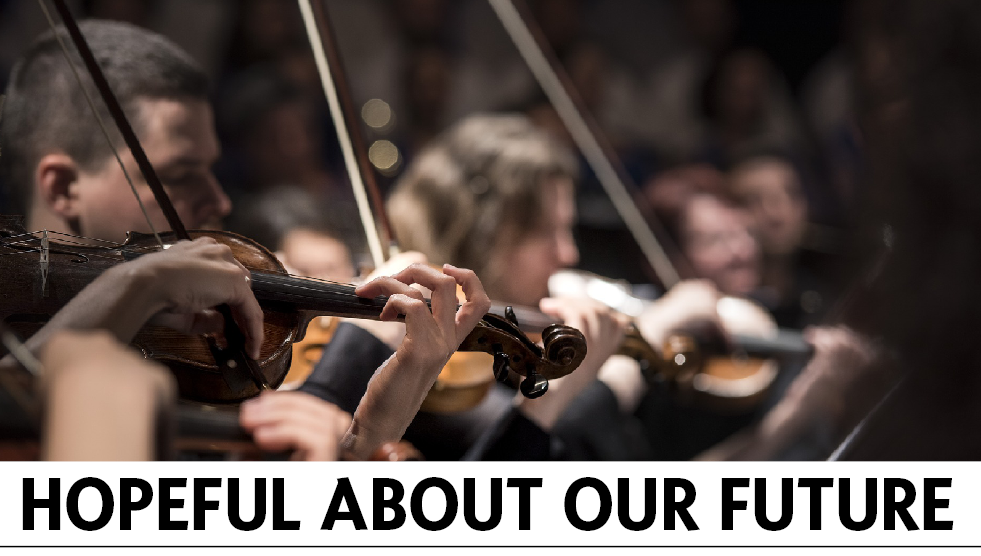 As I finish the end of my three-year term as president, I'm feeling optimistic and hopeful about the direction our union is heading as the pandemic continues to recede. We are seeing that hundreds of musicians are re-joining Local 802, which is incredibly gratifying. We're about to reboot our new member orientation series (new members can register here). And, as I reported last month, since many of our members are working again, our union is able to scale back up to better serve you. We recently hired five membership, data and paycheck specialists, which means that you should receive faster answers to your inquiries.
For those who are interested in tech, we have a new internal communication system called Jira that's been in place for about a year. When you send an e-mail to membership@local802afm.org, your inquiry gets put in a central location that any staff member at Local 802 can access. This means that everyone at Local 802 is empowered to help every member. This is the opposite of how Local 802 used to be "siloed" or compartmentalized. If you need to reach Local 802, just start at the central e-mail address of membership@local802afm.org and we'll get you the answers or help that you need.
LOCAL 802 CENTENNIAL
The 100th birthday party of Local 802 was a major success, featuring our own 802 musicians and visits from Senator Chuck Schumer, Lt. Gov. Brian Benjamin, and many other allies, plus official proclamations from the City of New York and others. The weather was perfect and it was great seeing friends in person again. Thanks to all who showed up. Here's to another 100 years of live music! Check out some photos of the event here. And if you didn't get a chance to read some of the words of support of our allies, check out our press release with quotes.
ELECTIONS
There are two important elections to keep on your radar:
NEGOTIATIONS ROUNDUP
After 18 months of hard negotiations, the Met orchestra, music staff and associates have all ratified new agreements, and after seven months of negotiations, the American Ballet Theatre Orchestra has ratified a new agreement as well. We have only a few major contracts left on the table for the moment. The big one is the New York City Ballet, where the committee is actively working hard to achieve a fair deal.
KEEPING YOUR HEALTH CARE
If you lose your health care (including dropping off the Local 802 plan), you have the chance to keep it for a time, thanks to the program called COBRA — which operates both at the federal and state levels. COBRA subsidies are something that we fought for both in the federal rescue plan and in the New York State budget. If you lost your health care and want more info, start by sending an e-mail to our Health Benefits Plan at hbp@local802afm.org
PAID STREAMING GIGS ARE STILL AVAILABLE
Do you want to make a difference in the lives of hospital staff and their patients? Local 802 members are performing live streaming gigs from their homes, thanks to a unique partnership with NYC Health + Hospitals. To apply for one of these paid union gigs, start here.
#802STRONG UPDATE
As we emerge from the pandemic, we still pledge to make Local 802 stronger than before with our #802Strong campaign. Here's an update on each initiative:
#802Strong: NO MUSICIAN LEFT BEHIND. Apply now for our powerful new financial aid program designed for our members who are still recovering from the pandemic. Update: there is still funding available! Apply now!
#802Strong: RAISING OUR VOICE. Take your organizing skills to a new level by taking part in our free training and education program. Learn how to make Local 802 stronger! Update: a strong group of great Local 802 musicians signed up for this program and it's in progress now. They'll soon let you know what they learned and how they can add new energy to the union.
#802Strong: UPGRADING THE UNION. Log into our brand-new membership portal and take it for a test drive. Update: the portal is continuously being refined and improved. Check it out!
COMING SOON! #802Strong: THE NEXT GENERATION, a mentorship pilot program for young musicians, especially musicians of color. Update: this initiative will be a mentorship pilot program with the goal of sharing the unique skills required in musical theatre with historically excluded and underrepresented members of our community, including up-and-coming musicians who are Black, Indigenous and People of Color.
#802Strong: OUR MEMBERS SPEAK. Take a deep dive into our first-ever membership survey, which confirmed that Local 802 members are committed to a diverse union. Read the executive summary.
Next month will be my final president's report to you. As the pandemic recedes, I hope that many of you are working again and that more and more, life is returning to normal. I am well aware that not everyone will return to work now and encourage anyone in need to apply for help from our No Musician Left Behind financial aid program. I wish you all good health and a continuing recovery.