Local 802 is scaling back up
President's report
Volume 121, No. 9
October, 2021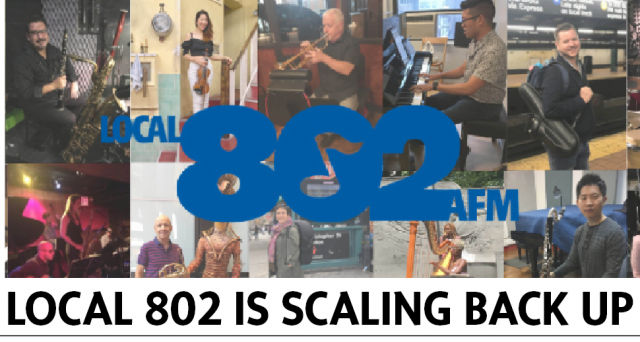 As more and more of our members are finally working again and as the pandemic continues to recede, we're pleased to announce that Local 802 is scaling back up. We are restoring more services, more capacity and more staffing after we were forced to cut back at the start of the pandemic in 2020.
During the crisis, our industry was shut down. The union had very little revenue coming in, and we were facing massive financial losses every month. Therefore, we made the incredibly hard choice to furlough certain staff in order to conserve our union's resources and survive the pandemic. If we hadn't made that hard decision quickly in the spring of 2020, we faced a monthly deficit of $318,000 and our union would have run out of cash on hand within five months. Instead, we instituted a rigorous financial austerity plan and were able to reduce expenses by $256,000 a month, which was a 47 percent reduction in expenses across the board. This saved our union over $4.3 million during the period from April 2020 to August 2021 and ensured that we would have enough cash on hand to weather the pandemic.
Despite that change, we continued to operate Local 802 with a highly motivated and hardworking core group of staff who worked literally seven days a week and around the clock not only to sustain the union but also improve it during the worst crisis our union has ever known. We re-negotiated a number of flagship contracts that I've already written about here and we completely reorganized the way we do business at the union thanks to a new technology system that allows any 802 staff worker to immediately answer any member question as well as pitch in on any issue or project where needed. This is the opposite of how our staff used to be "siloed" or compartmentalized. As a result, we streamlined all of our operations and shielded our members' resources.
Now that we are scaling up staff positions to bolster the great work our core staff is already doing on a regular basis. You should notice faster response times to your inquiries. The most efficient way to reach Local 802 is by sending an e-mail to membership@local802afm.org. You can also call (212) 245-4802, but the response time is faster with e-mil. You can view our current staff list here.
BEYOND THE RECOVERY
At the height of the pandemic, I wrote an op-ed that was published in the New York Daily News and which quickly went viral: "We Must Prevent a Great Cultural Depression." This became our flagship piece as we tried to convince our elected leaders that they must invest in artists to keep culture alive. I want to point out that this is exactly what happened. First, President Joe Biden signed the American Rescue Plan, thanks to allies like our wonderful Senator Chuck Schumer. That law created enhanced unemployment benefits, health care (COBRA) subsidies, pension rescue and other lifelines to musicians, artists and other workers. At the same time, our strong relationship with New York City arts officials paid off with a series of union gigs called #MusicForTheSoul that is still going strong (sign up here). All of this shows what can happen when we demand investment in the arts. Our goal is to keep this funding alive even as the pandemic continues to retreat and more musicians start to work. Fighting for the arts is a lifelong mission.
MEMBERS RESUME THEIR COMMITMENT TO THE UNION
As Local 802 rebuilds the strength and capacity of the union and restores more staff and services, we also need our members to resume their commitment to the union. During the pandemic, for more than a year, we offered a grace period to members who couldn't pay their dues due to financial uncertainty. This grace period came to an end on Sept. 30, 2021. Therefore, in order to maintain your status as an active member of Local 802, you must start paying membership dues again and pay the amount you already owe. If not, you will lose your active membership status. This is especially critical if you are working under a union contract that requires active membership in Local 802.
To pay your membership dues now, please log into our new member portal at https://portal.local802afm.org. (If this is your first time visiting our new portal, you'll be prompted to create a new account.)
After logging into the portal, click on the "MemDues" link from the menu to view and pay your dues.
If you recently mailed us a paper check to pay your membership dues, please know that we have received your payment and are experiencing a minor backlog in entering it into our system.
For further details and support, please see:
HAPPY BIRTHDAY, LOCAL 802
Happy 100th birthday, Local 802! On Oct. 12 in Central Park, Local 802 is going to celebrate its centennial with live music and words from some of our allies. It's going to be a great party and we hope you can join us. Also, we'd love to hear from you about your special memories of Local 802 from over the years. Send your reminiscences to Allegro@Local802afm.org and Click here to RSVP now! (For a history of Local 802, see this great story written by Bill Rohdin.)
#802STRONG
As many of you know, Local 802 has launched a campaign called #802Strong as the union emerges from the pandemic stronger than before. Here are some of the programs (click each link for more):
#802Strong: OUR MEMBERS SPEAK. Take a deep dive into our first-ever membership survey, which confirmed that Local 802 members are committed to a diverse union.
#802Strong: NO MUSICIAN LEFT BEHIND. Apply now for our powerful new financial aid program designed for our members who are still recovering from the pandemic.
#802Strong: RAISING OUR VOICE. Take your organizing skills to a new level by taking part in our free training and education program. Learn how to make Local 802 stronger!
#802Strong: UPGRADING THE UNION. Log into our brand-new membership portal and take it for a test drive.
COMING SOON! #802Strong: THE NEXT GENERATION is a Broadway mentoring program with the goal of sharing the unique skills required in musical theater with historically excluded and underrepresented members of our community, including up-and-coming musicians who are Black, Indigenous and People of Color. (As a side note, the Local 802 Executive Board recently voted to invest in equity, diversity and inclusion training for all Local 802 staff.)
LOCAL 802 ELECTION
As most of you know, this is an election year at the union. On Friday, December 3, 2021, we will hold the Local 802 election of officers, officials, Executive and Trial Board members, delegates and alternate delegates. I told all of you in an e-mail blast on Aug. 31 that I will not be running for president again for a few reasons, but mainly to regain my work-life balance as a new parent. If you're interested in running for office, you have until Oct. 15 to submit a nominating petition, and Oct. 15 is also the deadline to request an absentee ballot. The official list of candidates will be posted by Oct. 22. All of these deadlines (and all the official details) are spelled out in our election rules (download the PDF here). As I've already said, I'd like to sincerely thank our membership, staff and board for your trust, hard work and relentless pursuit to build power for all musicians. I also thank you for the opportunity I've been given to lead our union through these perilous times. I look forward to working with the incoming president to ensure that the progress we've made continues and that all of our members' priorities and needs are met. I want to leave you with a document of the major accomplishments we achieved together as a union over the past three years. Click here to download a PDF of this document.