BIG GAINS IN CLUB DATE CONTRACT
President's report
Volume 123, No. 4
April, 2023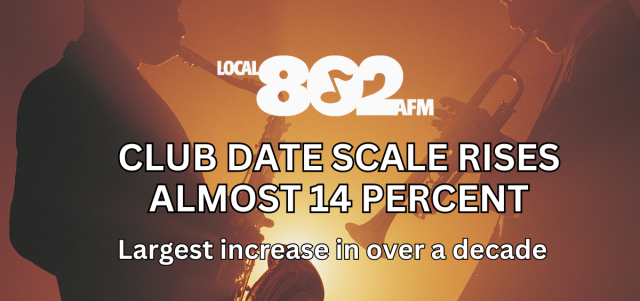 As Allegro goes to press, club date musicians were set to vote on the new club date scale. We're very pleased to tell you that Local 802 has secured substantial gains in this new agreement. The wage increase of 13.5 percent over the three-year contract is by far the highest we've achieved in the club date field going back over the last 15 years. We also won sizeable increases in mileage and transportation, and a regional air travel provision far better than we've had before. Also, all out of town gigs over 150 miles will now be paid at the four-hour Saturday night scale. For more, see Harvey Mars' column in this issue.
EXECUTIVE BOARD ALLOWS HYBRID MEMBERSHIP MEETINGS
The Local 802 Executive Board has passed a bylaw resolution allowing hybrid membership meetings. The next Local 802 membership meeting will take place on Wednesday, June 7 at 5 p.m. in person at Local 802 and simultaneously on Zoom. You may choose how you wish to attend. To pre-register for the Zoom option, click here. If you have questions, send an e-mail to Robin Donach at rdonach@local802afm.org.
TENANTS' RIGHTS
A vast majority of our members are renters, and tenants are always at a huge disadvantage when they go up against their landlords in court. I'm pleased to announce that Local 802 has officially signed on as a supporter of the "Right to Counsel" bill that has already been introduced in the New York legislature (A7570/S6678). If passed, the law would guarantee every tenant across New York State the right to a lawyer if facing eviction. For more on this campaign, see https://www.righttocounselnyc.org/. Related to this topic, it's worth mentioning that Governor Hochul has set a goal of creating 800,000 new affordable housing units across the state. The New York State AFL-CIO is keeping an eye on this potential construction to ensure that it will be performed in accordance with the public works law and labor standards.
FAIR SHARE FOR MUSICIANS
From Fair Share for Musicians: "For more than a decade, musicians working on made-for-streaming movies and TV shows have been exploited by the multi-billion dollar media conglomerates that make up the Alliance of Motion Picture and Television Producers Association. Recording musicians performing on soundtracks are making 75% less on content premiering on streaming platforms. These musicians, like singers and actors, create unique performances that are captured in real time — yet, they are not being compensated accordingly for streaming media. This is because the entertainment industry has fundamentally shifted. Content now premieres primarily on streaming platforms rather than in movie theaters and on network television.
"This shift has resulted in considerably less residual income for musicians, threatening our livelihoods. In essence, the talent bringing scores to life is being commoditized without a fair share of the considerable profits made by companies such as Disney, Paramount, Universal, and Warner Bros. This practice is neither fair nor sustainable.
"Musicians, essential to the streaming economy, demand a fair contract which includes streaming residuals."
Local 802 members are taking an active role in this campaign. For more info, see https://fairshareformusicians.org
POLITICAL UPDATE
The New York State Senate and Assembly recently released their proposals for the next New York State budget. Both houses accepted the governor's extension and funding of the COBRA subsidy. This is good news for Local 802 members who fall off the union's health plan, because the COBRA subsidy allows a way to stay covered. (For more information on the COBRA subsidy, contact the Local 802 health office at 212-245-4802 or hbp@local802afm.org.)
In addition, the Senate proposal includes an extension of the New York City Musical Theatrical credit to include Off Broadway theaters. If this passes, it could improve Local 802's negotiating strength if we argue that Off Broadway producers now have more money at their disposal.
Please let me know if you have any questions, positions or concerns.
WE SUPPORT TOURING ARTISTS
As our members well know, life on the road is expensive. Actors Equity is asking the Broadway League for fairer per diem, improvements to housing and better coverage for stage managers & actors. We support this campaign! For more, see https://www.actorsequity.org/.
ROUNDABOUT THEATRE
I'm pleased to report that Local 802 has ratified a new contract with the Roundabout Theatre. For more information, contact theatre rep Theresa Couture at tcouture@local802afm.org.
MUSIC PERFORMANCE TRUST FUND
I'd like to remind members about this important benefit, which is posted here on the Local 802 website. Did you know that there is a fund to help pay for your live gigs that are free and open to the public? The Music Performance Trust Fund, which is a separate entity from the union, has been providing grants for over 70 years.
Local 802 has a dedicated staff member to help you apply for funding. MPTF gigs can take place in parks, schools, and public halls, as well as in hospitals and at nursing homes and retirement centers. You can even livestream a concert, as long as it's free and open to the public.
Local 802 cannot help you find the gig; you have to organize and book the gig yourself. And you must find a "co-sponsor," which means some entity that agrees to share the cost of the gig.  Co-sponsors could include a school, nonprofit organization, state or local government, or any kind of business, large or small. Livestreamed events must not contain any pre-recorded material and must be taken down immediately after the event. Finally, you must make sure that you pay your band under a Local 802 union contract, which we can provide. Other details apply; we can help with all paperwork and questions.
Many Local 802 members are successful in applying for funding; it just takes some creativity and some legwork.  The end result is a gig that puts money into your pocket and your band — and that provides free music for the public to enjoy!
Members of Local 802 may e-mail Marisa Friedman at Mfriedman@Local802afm.org for more info or to apply. You must apply no less than 30 days prior to your gig.
The MPTF aims to support over 250 live music performances in celebration of Jazz Appreciation Month, and later will be partnering with local businesses and organizations in events celebrating Juneteenth, as well as providing support for the Chicago Lyric Opera, the French Quarter Festival in New Orleans, the Make Music Alliance and the Broadway League's annual Curtains Up! event held in Times Square.
---
IMPORTANT HEALTH FUND UPDATE: MORE INFO ON THE CHANGEOVER TO EMPIRE
As we previously reported in Allegro, Empire Blue Cross/Blue Shield will replace Aetna as our network provider as of April 1. However, Empire does not expect to have mailed out individual ID cards by April 1.The many ways in which our fund's benefits are custom-tailored to our participants and diverges from any of Empire's own insured plan offerings has presented Empire with challenges. Empire assures us that our "census" (list of current participants) and benefit offerings will be online by April 1, but that participants will not have ID cards in hand by then. This will NOT prevent those covered by the plan from accessing medical help as needed after April 1.
If you need to verify eligibility over this coming weekend (Saturday April 1st and Sunday April 2nd), you may contact a member of Empire's Health Guide team at (844)-995-1737. They will be able to identify you based on your Social Security number. Dependents will be listed under the insured member's Social Security number, not their own.
Beginning Monday, April 3rd, you can reach out to Empire's "First Impressions" customer service team at 855-603-7981. Click here to download a PDF of a temporary card listing our Group ID number. Please note that this customer service number is only available Monday to Friday between 8:00 AM and 6:00 PM. The First Impressions team at 855-603-7981 is specially equipped to handle your inquiries. You may direct customer service to reach out directly to your healthcare provider if there are questions regarding your benefits and eligibility
Also, click here to download a PDF of a "Transition of Care" form to be completed and submitted to Empire if you have been receiving care for a life-threatening or disabling medical condition, and pregnancy past the first trimester.  If you fall into one of those categories and your healthcare provider is outside of the Empire network, you have the right to request continuation of services by filling out this form. If you meet the requirements, Empire may cover treatment for your condition as in-network for up to 60 days. You can also use the "Transition of Care" form to request case management. An Empire case manager can assist you in handling complex conditions, chronic illnesses, hospitalizations and other treatment needs.
For more information, please see this e-mail blast that we sent out to all Plan A participants.
In order to check on whether your healthcare providers are participating with Empire Blue Access, go to https://www.empireblue.com/find-care/ . You don't need to log in. Although you haven't been assigned an ID number yet, you can just enter the code CFT to search for participating providers.
NOTE: If you currently qualify for prescription benefits through the Local 802 health plan, you may continue using your Express Scripts benefits and card as usual. Our prescription benefits are not affected by the changeover to Empire described above.
In other news, the trustees have decided to continue providing free COVID tests to participants through at least the next quarter, into June. We'll notify participants of any changes to that benefit (if there are any) after the June trustee meeting.
If you have questions with any of this, please call (212) 245-4802 and ask for the Local 802 Health Benefits Department or send an e-mail to hbp@local802afm.org