A year in our lives
President's report
Volume 121, No. 3
March, 2021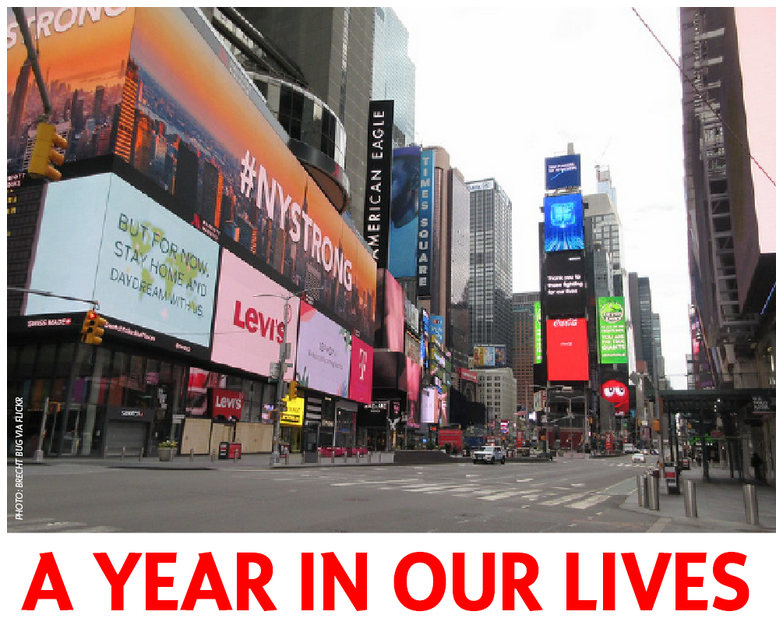 Reflections on 12 months of pandemic and the hopeful road ahead
As hard as it is to believe, the shutdown of our city and our industry is now almost a year old. It's been a brutal year of no work, no pay and no benefits for many musicians. It's been a year of social distancing, wearing masks, and not seeing our family and friends as we're used to. It's been a year without the usual live entertainment that we all enjoy and rely on. It's been a year without performing in a normal setting for audiences and our community here in New York. It's been a year of illness and death for so many of our loved ones. It's been a year that we've survived and that none of us want to repeat.
But it's also been a year of hope and change. It's been a year when we found new ways to communicate and even perform together. It's been a year of Zoom, video editing, recording and learning new tech. It's been a year of fulfilling new projects that we've finally had time to work on. It's been a year of figuring out what's most important to us: family, friends and loved ones. It's been a year of electing a new president, and a year where we finally allowed ourselves to feel hope again. And it's been a year of seeing the light at the end of the tunnel, with new vaccines and new projections for returning to an open society.
We only survived this year because we stuck together. That's also true for the union: the only way that Local 802 survived was through the hard work and generosity of our members. This we will never forget. The pandemic has forced the union to work in new ways — streamlining operations to maximize efficiency, strict financial austerity, double duty for all our staff — while keeping our focus on projects that benefit all members.
Our main focus in the past month has been pressuring local, state and federal governments to provide us with relief, because the recovery we need is too big for any individual or organization to do alone. As I've said many times, we are at the risk of a Great Cultural Depression. And, just as in the historical Great Depression, we need a massive rescue plan from all levels of government to help society get back on course. At its core, we need at least four things:
Direct payments to artists, including expanded unemployment benefits
A robust COBRA subsidy at the state and federal levels so musicians who have lost health insurance can continue it at little or no out-of-pocket cost
A pension rescue plan
Safe plans for re-opening live music, which includes publicly-funded gigs and/or gigs that guarantee that the employer covers musicians on a union contract. (In the near future, this could also include a "pandemic recovery tax" for producers of live entertainment that goes directly into the pockets of the performers.)
We've had at least one victory on the state level: the pop-up concerts that New York State is producing will now pay union scale, thanks to our efforts. (This included the premiere pop-up featuring Local 802 member Jon Batiste and the Stay Human band, which was covered under a union contract.) On the city level, we're still trying to pressure the city to make sure that the Open Culture pop-up program does not turn into a "musicians work for free" volunteer program.
To accomplish this, we've been meeting weekly with elected officials of all kinds and building the strongest relationships that we've had in decades. One example of this stronger relationship is our hosting Senator Chuck Schumer at our upcoming Local 802 virtual membership meeting on Friday, March 12. Register now and pre-submit your questions for the senator.
DIVERSITY SURVEY
As March brings in Women's History Month, I'm proud to announce Local 802's first actual demographic survey that will give us data on the background of our members, how they self-identify and other relevant data regarding their work lives. We hope to use this survey as a benchmark so we can track our ongoing improvements in diversity, inclusion and equity. The survey will also help us better understand and track our members' work so we can see where we need to improve our unionizing efforts and how much union work is actually happening. Finally, we'll be collecting hard data on how the pandemic has specifically affected your work lives. Right now, we're beta-testing the survey with a small group of musicians. As soon as we're ready, we'll send it out to our entire membership.
The survey is being produced in partnership with Maestra, a group that many of our members are involved in. Maestra was founded by Local 802 member Georgia Stitt to give support, visibility, and community to the women who make the music in the musical theater industry. Their membership is made up of female-identifying, non-binary, and transgender and gender nonconforming composers, music directors, orchestrators, arrangers, copyists, rehearsal pianists and other musicians who are an underrepresented minority in musical theater. The organization's initiatives include monthly educational seminars, mentorship programs, technical skills workshops, networking events, and online resources and partnerships that aim to promote equality of opportunity and to address the many historical disadvantages and practices that have limited women composers and musicians in the musical theater.
COMMUNICATIONS, FUNDRAISING AND ENDORSEMENTS
Donors including many members have responded generously to our #SaveNYCMusicians campaign. We've raised about $200,000 to benefit both our Emergency Relief Fund and our health fund. We're about to unveil our new Musicians' Cookbook fundraiser. Check out the latest at www.savenycmusicians.com.
Local 802 recently updated its health and safety recommendations for live performance.  Covid-19 has changed our working conditions on the job making health and safety a mandatory subject of bargaining for all groups returning to work. Learn more here.
We've started streaming videos of Local 802 sponsored events on our website and social media. Please check out our recent presentations on: Every Musician Insured; Saving our Pension Together; and our Diversity Summit.
We unveiled our Pension Action Center to put all of our pension activism in one place
We've strengthened our relationship with the Coalition of Broadway Unions and Guilds (COBUG), with whom we're partnering to pressure New York State to include a robust COBRA subsidy.
Throughout 2021, the Local 802 Executive Board will be endorsing candidates for our local races. The candidates we've selected have demonstrated a deep commitment to music, the performing arts, and the rights of workers throughout the city. At this moment in time, it's more important than ever to become involved in local politics, and we are confident these committed public servants will be essential partners for years to come as we rebuild our industry and our city. Check out our latest endorsements on our Endorsement Page, which is being continuously updated.
We've created a new political volunteer action group. Get more info and sign up here.
Dr. Don Greene has kicked off a monthly Zoom for our members that covers a variety of topics. Sign up here.
WHAT'S NEXT
As you read these words, the New York State budget and the federal Covid rescue plan (which is in the Senate now) should be in their final stages. We are constantly working behind the scenes and we'll keep you posted on how you can help out. At the very least, sign the petitions on our Pension Action Center and this one too for COBRA health relief. For more updates, please attend our March 12 virtual membership meeting. As always, send your feedback and union questions to membership@local802afm.org.