Let's Celebrate Jazz, Earth Day, and More!
President's Report
Volume 118, No. 4
April, 2018
April is Jazz Appreciation Month, and jazz is a critical part of the history of both Local 802 and New York City. Jazz is truly one of America's gifts to world music and Congress has even declared jazz to be a national treasure. This year is the second anniversary of the Jazz Mentors program, produced by the Council for Living Music and frequently held at Local 802. There have been 14 Jazz Mentors sessions (plus a few special events), all of which have been outstanding. I'm proud that so many Local 802 members have contributed their time and energy to this series. Jazz Mentors connects audiences with some of New York City's premier artists to discuss the business side of music, which is often ignored, feared or misunderstood by young or emerging musicians. Each forum features discussions with leaders of the jazz community about how to build and maintain a successful music career. We talk about representation, touring, protecting your recordings in a digital format, how to interact with streaming services, how to build a secure financial future, and much more. The informal setting allows for relaxed communication and a free-flowing exchange of ideas between the audience and the artists, encouraging full participation and interaction. The events are free and open to the public. In this issue of Allegro, please see stories on the latest Jazz Mentors program as well as the first Jazz Mentors Student Jam. We're also proud to feature a profile of Local 802 member Bill Kirchner by Todd Bryant Weeks and an interview with master bassist Christian McBride by Bob Pawlo.

April is also national organ donation month, and it's a fitting time to remember an amazing connection between Local 802 members Deryck Clarke and Mike Sayre. I promise you that you'll never forget their story once you read it.

Earth Day occurs this month on April 22 and please check out our stories by the Broadway Green Alliance as well as a personal story of environmentalism by Local 802 member John Arbo.

Finally, April 17 is tax deadline day this year (ugh!). Please see our tax tips for musicians.
HOW DO YOU GET TO WORK?
Some of you may have recently received an e-mail survey that we sent out about how musicians get to work. For many musicians, getting to rehearsal or a performance is hard and is seemingly getting harder. In 2017, musicians from Long Island were forced to endure the "summer from hell," while musicians living in New Jersey found themselves on the PATH and on unreliable New Jersey Transit. Musicians from Westchester, upstate New York, Connecticut and Pennsylvania are forced to choose between Metro North and a car. Even musicians in the five boroughs are struggling with a slow, broken, failing subway system. We're going to utilize the survey results to inform and improve our advocacy in this area. Stay tuned! If you have any questions about this effort, please contact Chief of Staff office at (212) 245-4802, ext. 176.
UNFAIR LIST UPDATE
It has come to the attention of our union that numerous musical productions have been scheduled at New York University this academic year. New York University and Vice Dean Ted Magder are currently on the AFM International Unfair List for misclassifying individuals as independent contractors and failing to provide musicians with the fair wages and protections that they deserve. NYU employs Local 802 members as independent contractors in its film scoring workshops as well as in theatrical engagements and other work. Local 802 members should not work at New York University, including – but not limited to – recording engagements, theatrical work, or any other kind of performance or recording work at Tisch School of the Arts and Steinhardt School of Culture, Education and Human Development. (NOTE: This does not include the duties that Local 802 members may have as NYU faculty.) Musicians should notify us if they are called for any work at NYU.
The AFM has also placed Steve Trudell and Trudell Orchestras on the Unfair List at the request of 23 locals, including Local 802. The locals have a primary dispute with Trudell because he engages musicians within the locals' service areas at rates of pay and under conditions that are substandard and therefore unacceptable. Trudell also refuses to provide pension and health contributions.
Joseph (Joe) McGinty and Carousel Studios in Greenpoint, Brooklyn remain on the Unfair List due to McGinty's engagement of musicians at rates of pay and under standards and conditions considered unfair and unacceptable in the industry. McGinty employed 15 musicians for a live concert sponsored by Lincoln Center and NPR held in Damrosch Park on July 25, 2017, paying them wages that are far below area standards and failing to uphold his obligation as an employer to pay state and federally mandated taxes and social security benefits.
Members are reminded that, pursuant to Article 8, Section 3 of the AFM Bylaws, members shall not render musical services for organizations, establishments, or people who are listed on the International Unfair List.
The full list is at www.afm.org/for-members/international-unfair-list. Any members who are called to play with any of the employers listed above should contact Recording Vice President Andy Schwartz at (212) 245-4802, ext. 111. Members can also anonymously call the Local 802 hotline 24 hours a day at (212) 245-4802, ext. 260. Remember, when musicians stick together, we have power.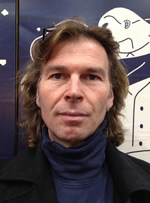 WELCOME, CHRIS!
We're pleased to welcome bass trombonist Christopher Olness as the newest member of the Local 802 Executive Board. Chris, a member of Local 802 since 1989, is a native New Yorker who attended North Texas State, Mannes and Juilliard. He played with the Orquesta Sinfonica del Estado de Mexico and has performed for dozens of Broadway shows, including "The Producers," "Les Miserables," "A Tale of Two Cities," "On the Town" and the current revival of "Carousel." He has also performed with the Orchestra of St. Luke's, Stamford Symphony, American Symphony Orchestra, American Ballet Theatre, Radio City Christmas Spectacular, Riverside Symphony, Manhattan Chamber Orchestra, New Jersey Symphony, New Haven Symphony, Springfield Symphony, New York City Ballet, Duke Ellington Orchestra, Mingus Big Band, Village Vanguard Jazz Orchestra, Maria Schneider Big Band, Woody Herman Orchestra, Bob Mintzer Big Band, Andrew Rathbun Big Band, Sound Assembly, Gary Morgan and Pan Americana, and many others. He currently resides in Peekskill with his 11-year-old daughter. Welcome, Chris!
NEWS FROM LINCOLN CENTER
Musicians who are playing in the production of "My Fair Lady" at the Vivian Beaumont Theatre at Lincoln Center will be covered under a union agreement with Local 802. Any time you're called to perform music at any of the Lincoln Center venues, please make a confidential call to the union so we can make sure that you're earning the wages, benefits and protections you deserve. Call (212) 245-4802 and ask for the president's office.
Finally, I would be remiss if I didn't mention our new agreement with the New York Philharmonic, which we reached last month. Contract negotiations are never easy, and as a new music director and leadership team take the helm at this institution, it is our hope that this agreement will mark the beginning of a new era which strives to retain the talent that fuels the institution's worldwide renown. The agreement calls for an increase of 4.5 percent in base scale wages. Local 802 member and cellist Nathan Vickery, who served as chair of the orchestra's negotiation committee, said that "the artistic standards that make the Philharmonic world renowned will remain highest when the musicians who make music each and every night are supported." As always, Local 802 will continue to negotiate the very best agreements we can achieve for musicians. Doing so will depend on everyone's unity and support.